Sebastian Vettel beat Lewis Hamilton on home soil to win what can only be called, a race for the ages. It started off with a disaster for pole sitter Hamilton as he was collected by Kimi Raikkonen at the start and was relegated to the 18th position. Force India's Sergio Perez was another loser at the start, albeit on his own.
"I cannot be totally happy about today's race. The incident at the start compromised my race: I lost the rear end trying to avoid the incidents ahead, spun and suddenly I was at the back of the field." Perez said after the race.
Meanwhile at the front Vettel was in the lead followed by Bottas, Verstappen, Raikkonen and Daniel Ricciardo. Then a gap before Hulkenberg (who finished better than the rest), Leclerc, Ocon, Sainz and Kevin Magnussen completing the top 10. By this point Hamilton was on the charge clearing the Williams. He scythed his way past cars that were not supposed to be fighting him and was on the tail of Ricciardo by lap 10.
"Aghhh…" ?@Charles_Leclerc vents his frustration as he exits the race#BritishGP ?? #F1 pic.twitter.com/DwdQdCMfis

— Formula 1 (@F1) July 8, 2018
The first pit stops were underway by the 18-19 with the runners below 10th place staying out in the hope of gaining track position. Kimi Raikkonen meanwhile, had to pit as he got a 10-second timed penalty. That played well into his hands as Ferrari elected to pit him earlier than the midfield. He was behind Ricciardo by the end of the first round of stops. Verstappen got first priority and made his stop before his teammate. For those of you who don't know, most teams elect to give the driver who is ahead on track the first choice in stops provided their pace differential is marginal. Hamilton and the runners who didn't pit, made their stops finally pitted around the 21 mark.
.@Ericsson_Marcus' race comes to an abrupt halt at Turn 1 #BritishGP ?? #F1 pic.twitter.com/Uj6IN4q3Xc

— Formula 1 (@F1) July 8, 2018
This meant that Sauber's points run came to a disappointing end. And it brought out the first Safety car. The battle down the field was boiling over with a chain of cars within DRS range of each other. Magnussen headed the train, followed by Alonso, Grosjean. Vandoorne and the two Williams' were behind this train in a race far away. Then to trigger a usual presence (i.e the Safety car), the increasing entropy of the battle couldn't be held any longer.
? A scary moment for @Carlossainz55 as his car nearly tips over during a collision with @RGrosjean #BritishGP ?? #F1 pic.twitter.com/OrCX0eYDbS

— Formula 1 (@F1) July 8, 2018
It was a racing incident but on further investigation the fault was with Grosjean who did not give Sainz room and lost control near the apex. Lap 35 onwards made this a classic. Hamilton and Bottas stayed out effectively gaining track position and were running 3rd and 1st.
LAP 43/52

Raikkonen muscles past Verstappen for P4 ?#BritishGP ?? #F1 pic.twitter.com/NZl2adoq3H

— Formula 1 (@F1) July 8, 2018
It was a Mercedes 1 3 and a Ferrari 2 4. All to play for and 9 laps to go. Raikkonen was catching up to Hamilton on the slower tires. Vettel was right behind Bottas for the lead. After a few laps of defending, Vettel made a surprise lunge to take the lead. At the back, Ricciardo and Verstappen were duelling with Max spinning out and retiring due to a fault.
LAP 47/52

VETTEL LEADS! He squeezes past Bottas at Turn 6 ?#BritishGP ?? #F1 pic.twitter.com/60qIV4johi

— Formula 1 (@F1) July 8, 2018
Bottas dropped down to 4th with Kimi muscling his way past. Vettel took the flag for his first win since 2009 and Ferrari's first since 2011. Kimi completed the podium with Lewis who finished a sensational second and bagged 'Driver of the day'. The post race debate was marred by comments of potential sabotage, with accusations that Raikkonen was either "daft" or was "deliberate" in taking out Lewis. Obviously those comments were absurd and both Hamilton and Raikkonen apologised to each other.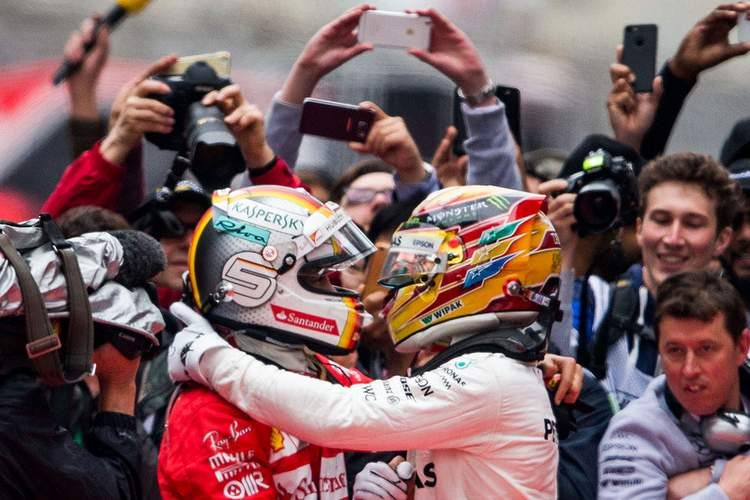 Vettel now seizes the lead yet again and in the process potentially dealing Hamilton a psychological blow. Hamilton isn't one to back down from the challenge as the carnival heads to the returning German GP.
by Rutvik Bhaskar Perepa
Rutvik Bhaskar Perepa is a student at The University of Manchester working towards a MEng in Mechanical Engineering hoping to be on a placement after Year 3. He has had the privilege to travel around his home country, India and discover the rich heritage and diversity. His personal interests include Food and travel, history, Sport among many others. Often found in discourse on various issues ranging Engineering to Religious Practices, he never shy's away from being expressive. He believes in being open minded, empathetic and analytical is the key to problems posed on a daily basis.