Unless you are still down in the dumps about England's exit from the World Cup and have been avoiding public places (just me?), you may have noticed that a special guest is on our shores. The President of the United States, Donald Trump, has arrived for a 4-day working visit to the United Kingdom
The Donald Lands
Trump arrived at Stansted Airport, north of London, early Thursday afternoon. He was flown by helicopter to the residence of the US ambassador to the UK in Regent's Park, central London, where a large steel security fence has been erected.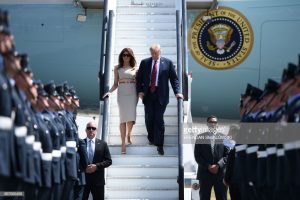 After spending some hours at Regent's Park, Trump then attended a black-tie dinner, hosted by Theresa May at Blenheim Palace, the birthplace of one of his heroes, Winston Churchill.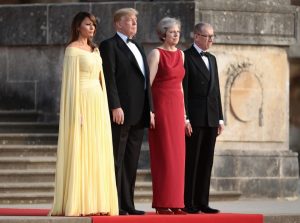 A crucial moment for an administration in crisis, May has her hands full. She must steward our 'special relationship' under the gaze of European and indeed world leaders, consolidate the possibilities of a post-Brexit UK-US trade agreement, a crucial part of her Brexit plans,  whilst making every attempt to be prepared for Tump's characteristically erratic outburst and criticisms.
The Dinner
Speaking at the dinner, May repeated her desire to conclude a post-Brexit trade deal with the United States.
"As we prepare to leave the European Union, we have an unprecedented opportunity to do more. It's an opportunity to reach a free trade agreement that creates jobs and growth here in the UK and right across the United States," she said, in remarks released by Downing Street.
"It's also an opportunity to tear down the bureaucratic barriers that frustrate business leaders on both sides of the Atlantic." She mentioned thousands of US companies having offices in the UK.
"And the strength and breadth of Britain's contribution to the US economy cannot be understated. The UK is the largest investor in the US, providing nearly a fifth of all foreign investment in your country," she said.
Whilst May's intention is clear, isolation is something she is all too familiar with. Her stance seems at odds with the general public.
Trump Not Welcome?
Whilst Trump is wined and dined in his reception with the Queen this afternoon at Windsor Castle, thousands of protesters are making placards, preparing to take to the street to show their dissent towards May and her governments' position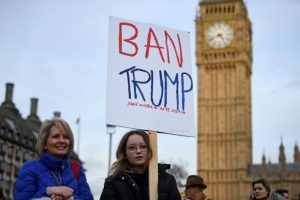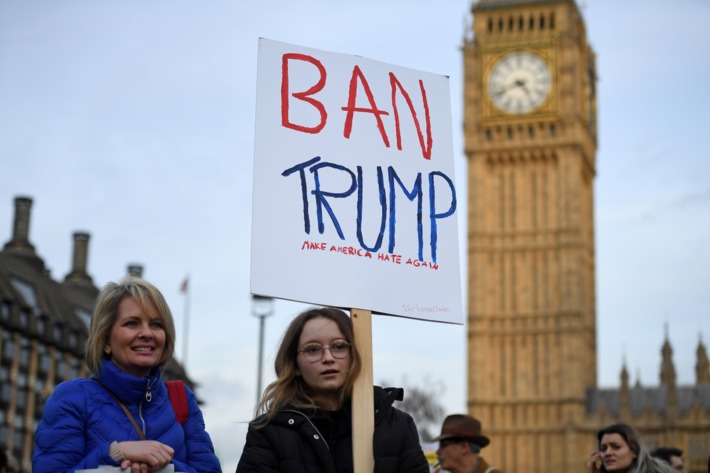 At least 70,000 people are expected to descend on central London to protest against Donald Trump when arrives in the UK for an official visit.
Demonstrators will make their way through the city on the "Stop Trump" march before a large rally takes place in Trafalgar Square. The organisers have described the protest as part of a "carnival of resistance" taking place across the UK in response to the US president's visit.
A controversial blimp depicting Donald Trump as an orange, snarling nappy-wearing baby will also be flown today during the protests, outside the British parliament in London.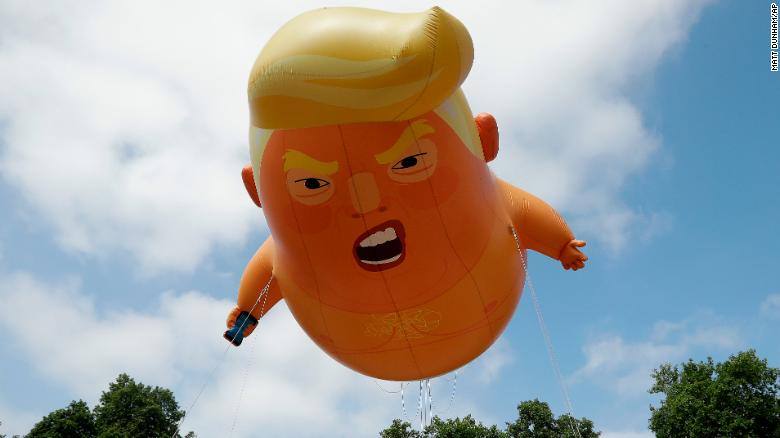 #Trump baby balloon slowly rises over Parliament Square, to cheers from the crowd below pic.twitter.com/yld6yUj7C1

— Eliza Mackintosh (@elizamackintosh) July 13, 2018
Blimp organiser Leo Murray explained that the giant balloon had been designed to speak to Trump "in a language that he understands, which is personal insults."
Now, this blimp is not without controversy. It was crowdfunded by over 1900 people and will be flown alongside the protestors, however some have argued that it is in bad taste and paints a nasty picture of Britain.  Here is one debate,
Sadiq Khan vs Piers Morgan
"I think they like me."
When asked by the Guardian's Ewen MacAskill how he feels about planned protests in London and elsewhere in the UK before his visit, Donald Trump insisted he was popular in Britain, citing his strong line on immigration.
But even Trump who routinely confuses delusions and reality cannot ignore the protests, public dissent and negativity which surrounds his visit here. Even though he will try to avoid hotspots of protest, the feeling in the air is palpable. One thing is clear, the British Public have strong feelings about Trump; 'Like' is not what I would call it.