So far in 2021, there have been over 121 mass shootings in the US. According to Standford University, a mass shooting is where three or more persons are shot in one incident, excluding the perpetrator(s), at one location, at roughly the same time. Excluded from the 121 tally are shootings associated with organized crime, gangs or drug wars.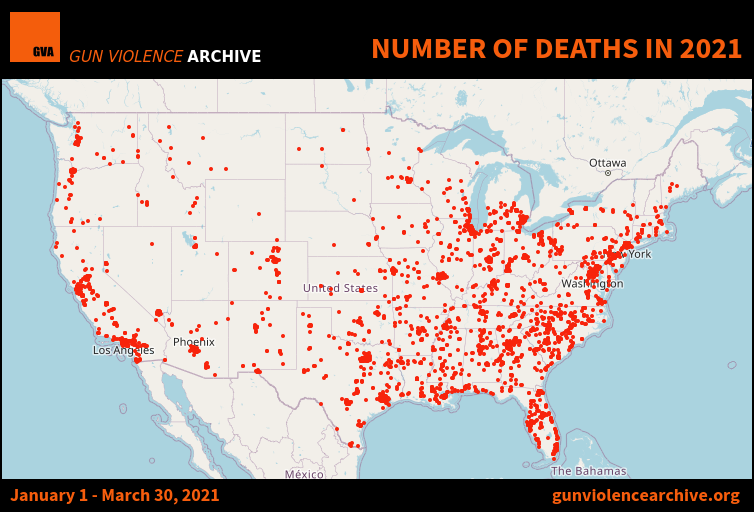 The rate of firearm deaths per 100,000 people rose from 10.3 per 100,000 in 1999 to 12 per 100,000 in 2017, with 109 people dying per day, being 11.9 per 100,000 in 2018. In 2010, there were 19,392 firearm-related suicides, and 11,078 firearm-related homicides in the U.S.
This month we saw two high profile mass shootings, in spas in Atlanta and in a supermarket in Colorado. Both horrific in nature and causing outcry from people across the world.
The question of gun control is one that often comes up whenever there is a mass public shooting and yet there is hardly any change.
"Every time there's a tragic shooting in this country, the left uses it as a reason to grab a gun of a lawful gun owner," said Lindsey Graham, the Republican senator from South Carolina. Ted Cruz, his Senate colleague from Texas, made a similar point in a Senate judiciary committee hearing a day after the Colorado shooting. "Every time there is a shooting we play this ridiculous theatre where this committee gets together and proposes a bunch of laws that would do nothing to stop these murders," Cruz said.
We asked two journalists what they thought about gun control.

Access to Guns is a right afforded by the American Constitution.  
Nevertheless, there should be some control and regulations on who can have them and what should be allowed when owning a gun. The Second Amendment is a fundamental right and should not be taken away. People can use firearms to protect themselves and their property, which was why the Founders felt the need to include this Amendment in the Bill of Rights. However, with the increase in shootings in local neighbourhoods, schools, concerts, religious settings, and more, there need to be some regulations for safety purposes.
Gun regulations do not mean the banning of all guns; it means more protection for citizens.
Mass shootings are increasing which turns one murder into numerous amounts of innocent people dying. With more restrictions, we can regulate who can own a gun and what access can be given to gun owners. While some shootings happen with illegally obtained guns, this restriction can be a step in the right direction to limit the number of firearms accessible to steal or use.
Moreover, banning or restricting the use of assault rifles can help decrease mass shootings. There is no reason for an individual to own an AK-47 for self-defence if their job does not require one. It seems to take the initial intent of what the Amendment was designed to do into something that causes more harm in the long-term. More importantly than this is ensuring that education about gun use and safety is given prior to gun ownership. Yes, there is a mandatory class that people must take to own a gun, but there needs to be more accountability. Gun owners need to truly understand their power when choosing this weapon because it is the literal difference between life and death.  

Which is more important, the right own a gun, or the right to live? Perhaps it is because I live in the UK and have never had the right to own a gun, or perhaps I dislike the way individualism has led to the acceptance and increase of people dying, either way the use of guns as a safety precaution makes me feel rather uneasy.
Mass shootings is for the most part a phenomenon unique to the US. Even during the pandemic, gun violence didn't stop. For some reason, we are unable to view gun deaths as an issue of public health. Because of this, countries like the US where guns are readily available, we have been unable to contain gun injuries and deaths and instead we have seen them increase substantially.
I do understand the issue that may arise upon making all guns illegal in the US particularly when it comes to over-policing black and brown people. I don't think banning guns will or should be an overnight thing, I think it will take time. The important thing is to start now, start by stopping the production of guns, start by tighter restrictions on who can own them and then phase them out.
Every firearm related injury or death leaves in its wake a trail of destruction, mental health issues and causes fear and panic amongst citizens. It is our future that is in question here. We need to stop talking about gun rights or control and start talking about the banning of firearms to save public health.