SIR Keir Starmer's popularity with the public has nosedived into negative territory – handing Boris Johnson's party a seven-point lead over Labour, according to a leading poll.
Britain's hugely successful vaccine rollout has given the country its biggest surge in economic optimism since records began, according to an Ipsos MORI poll. Commissioned by the London Evening Standard, it found that for the first time since 2015 slightly more people think things will improve over the coming year than think they will get worse.
And it will be music to the ears of the Conservative Party who have put on three points since February to reach a high of 45 percent.
Sir Keir's Labour party meanwhile have failed to make any headway and are still languishing at 38 percent.
On 15 March, 45% of YouGov survey respondents said Starmer was doing "badly". Only 32% felt he was doing "well".
Among Labour voters, dissatisfaction is growing: in December 2020, more than 50% of those asked felt that Starmer was doing "well". That figure has dropped by 14 percentage points, while the sentiment that he is doing "badly" has risen by 16. In the same period, among all voters, Boris Johnson's negative rating has dropped by eight points and his positive rating has improved by eight. Never mind, though: according to YouGov, at least Liberal Democrat voters – all 5% of them – still have faith in Starmer.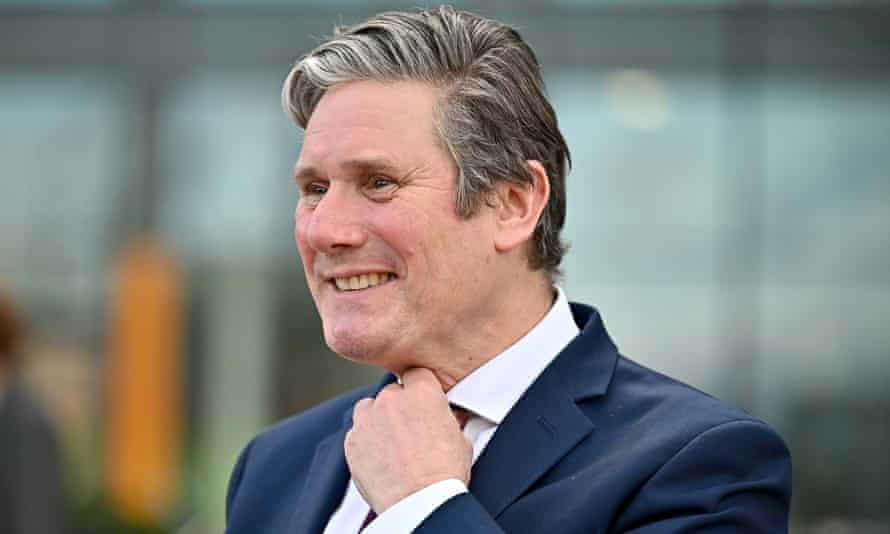 The picture doesn't get rosier for Labour as a party. YouGov reports that 55% of respondents took a "negative view" of Labour, a 16-point drop in favourability since previous polling. Other surveys back this up: an Opinium/ObserverUK poll saw the Tories take a three-point lead among voters in January, despite 51% of respondents admitting they "disapproved" of the way the government had handled the Covid-19 pandemic. Even some in the shadow cabinet are said to be concerned.

Leave Starmer alone!
The debate over whether Sir Keir Starmer is good enough to lead the Labour party is never-ending, and to many, it is starting to become repetitive. But for some reason, no one likes to mention what Starmer had inherited as party leader. The former barrister inherited a party that had the worst election result since 1935, a culture of alleged anti-Semitism and to wrap it all up, becoming a leader during a global pandemic. Starmer has not been the most inspiring politician, and many compare him to stodgy porridge, but it has only been a year. There are times that a year feels like a day, which is why we should leave Starmer alone.
Being the opposition leader during an unprecedented time is incredibly challenging because you have to balance between not politicising a crisis and challenging the government on what they are doing. If Starmer gets tough on the government, he gets accused of political point-scoring, and if he does nothing, he gets called weak. Starmer is in a lose-lose situation, and you question how on earth does Starmer do good in these situations.
That is why instead of calling for Starmer's head, the Labour party and its supporters should give him more of a chance. Voters should try and sympathise and support the only person that has a genuine opportunity to get Labour back into no.10. Give Starmer another year, and if nothing changes, then go ahead and find a genuine electable candidate to replace him. Great things are never achieved overnight, and this party, out of all of the political parties in the country, should know this.
A manager taking a relegation side to the Premier League summit in one season is unrealistic, and that premise alone should be applied to Starmer and Labour.   


Even the most staunch conservative person would have a hard time not feeling for Kier Starmer in some way.
It seems to be almost an impossible job, with Starmer taking charge of the most fractured Labour Party in recent history, whilst trying to go politically toe-to-toe with a seemingly unstoppable Conservative Party.
This is a party that suffered its worst defeat since the mid-30s, in the midst of handling an alleged anti-Semitic environment and is desperately trying to get back in touch with its core members – the working class – who felt so betrayed that they felt it necessary to vote against Labour.
The situation is shambolic. If the Labour Party was a football team it would be Arsenal, and Kier Starmer would be Mikel Arteta. He has his work cut out for him.
However, a reason why Kier Starmer is failing to win people over may be due to his image and public persona.
He seems to be quite tame compared to previous Labour leaders. He's a barrister by trade, and therefore may not be fully suited to the demands of a Labour leader, which includes maintaining positive voter perception.
He isn't assertive enough, even for an opposition party member. He does not seem to be able to have the courage to truly challenge Boris and the Conservatives, or at least not enough to make them think twice about decisions they make.
He seems timid and out of his depth, and it would be no surprise that Labour voters would have no confidence in him as a leader. However legitimate a point made be, image and public perception also play a role in an MP's career.
Another important reason is that Labour is in the middle of a huge rebuilding process in winning back the trust of the working class.
This will most likely take decades to achieve as many perceive the modern Labour Party as elitist and metropolitan, unable to recognise and acknowledge the 'real' world for the working class outside the Islington bubble.
To some, Kier Starmer's image represents a 'soft', repackaged version of Corbyn. A socialist and privately educated, he is everything the modern working class despise.
Until a 'private' person is out and a 'public' person is in, they will not hold a majority for a while. It's partly a Starmer problem, but mainly a Labour problem.