With Vice President Biden's inauguration just 7 days away, many are pondering what Biden's inauguration will look like but also what Biden's America could look like. What do the next 4 years look like?
Vice President Mike Pence will attend President-elect Joseph R. Biden Jr.'s inauguration on Jan. 20, an aide to the vice president said on Saturday, a split with President Trump's decision not to go.
The adviser revealed the decision four days after Mr. Pence hunkered for cover at the Capitol complex as a mob of Trump supporters who had attended a rally with the president overtook the building during the certification of the Electoral College votes.
Mr. Trump confirmed on Friday that he would not be attending the inauguration.
What is the inauguration and when is it ?
The inauguration is the formal ceremony that marks the start of a new presidency, and it takes place in Washington DC.
The only required feature is that the president-elect recite the presidential oath of office: "I do solemnly swear that I will faithfully execute the Office of President of the United States, and will to the best of my ability, preserve, protect and defend the Constitution of the United States."
Once he utters these words, Mr Biden will then take his place as the 46th president and the inauguration will be complete (but that's not all – celebrations follow).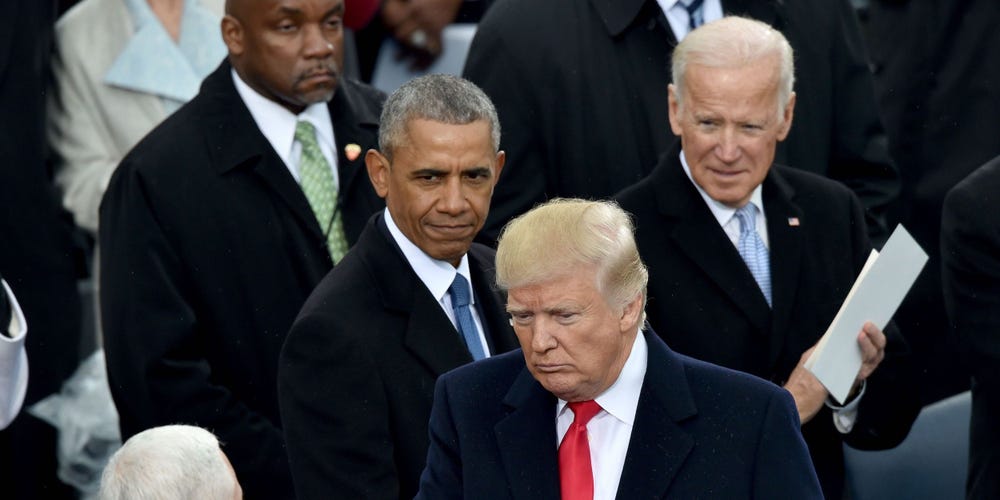 Kamala Harris will become vice-president once she takes the oath of office, which usually happens just before the president is sworn in.
By law, inauguration day is 20 January. Opening remarks are usually scheduled for around 11:30 EST (16:30 GMT) and Joe Biden and Kamala Harris will be sworn in at midday.
Mr Biden will move into the White House later in the day – his home for the next four years.
What will Biden's America look like?
For most of the world's diplomats, Joe Biden's foreign policy slogan "America is Back" is no metaphor.
On global issues from climate change, to non-proliferation and human rights, the US under the Trump administration had literally gathered up its papers and pens and left the meeting room. Biden's election victory and choice of committed internationalists to lead the foreign policy team, means that there will actually be someone sitting in what has been an empty chair.
Pundits are divided on what America will look like after a Biden administration is sworn in . Here is what two of our journalists make of the situation
Biden's America is daunting
Biden's America is daunting simply because America is divided, the deepest cracks have not to be healed and America remains a nation divided by race, class, gender, and more social issues.
Social media has now deleted Trump's account to the joy of others and to the dismay of others.
Biden lacks the intellectual or political tools to heal the gaping wound America so vastly leaks from. Neither did Trump.
The left has afforded Biden forgiveness in his support of the 1994 incarceration bill removing millions of black fathers from the home. His comments "I tell you if you have a problem figuring out whether you're for me or Trump, then you ain't black,". Biden assumed the black vote and unfortunately, still, people voted for him against the great white evil that was Trump. Malcolm X once said "White liberals are those who have perfected the art of selling themselves to the black man as our 'friend' to get our sympathy, our allegiance and our minds. The white liberal attempts to use us politically against white conservatives, so that anything the black man does is never for his own good, never for his advancement, never for his own progress, he's only a pawn in the hands of the white liberal." Biden and Trump, are they the same? We are pawns in the political game, whilst I do not want the captain of the ship to fail, I begrudgingly support Biden as he now runs America. However, I do not hold my breath.

In a perfect world, it would be wonderful if Joe Biden's presidency automatically restored balance to the world. Donald Trump's America left a lot of citizen's scared and bruised both metaphorically and physically. It is natural for Americans to be excited for a sense of normalcy after four years of absurdity.
The main excitement that Americans are longing for is things to go back to "normal." They want a leader to come up with solutions and not excuses, especially during the Coronavirus pandemic. Americans are expecting restoration on COVID-19 and the economy. During the 2020 elections, two of the top issues concerning Americans were the coronavirus outbreak and the economy. On top of COVID-19 and economic issues, a Biden presidency could mean reconciling with America's allies. America might be many things to the outside world, but the last four years have made American vulnerable to foreign adversaries. If Americans were a laughing stock before President Trump, they are a laughing stock now. A Biden Presidency will mean mending relations within NATO, the Paris Climate Accords, and some revisions to the North American Free Trade Agreement.
However, people shouldn't get overly excited for his first day either. One has to understand that Biden is coming into heavily partisan politics along with turbulent race relations. People are experiencing tremendous grief, and President-elect Biden has to realize that change will not happen overnight. Some raw and honest conversations need to be had. This is not an easy task, especially with Biden and Vice President-Elect Kamala Harris' past views on crime. While some may argue that Biden is a step in the right direction, one thing is certain, It has given people hope for the future.