The United Arab Emirates has been removed from the UK government's travel corridor list, the transport secretary has said.
It means that anyone arriving in England, Wales or Northern Ireland from the federation of states, including Dubai and Abu Dhabi, from 4am on Tuesday must self-isolate.
Transport Secretary Grant Shapps tweeted to say a 52% rise in new coronavirus cases meant the decision to remove the destination had to be taken "immediately".
A statement from the Department for Transport said: "The decision has been made following a significant acceleration in the number of imported cases, along with the number of reported new cases over the past seven days, which have risen in the UAE by 52%."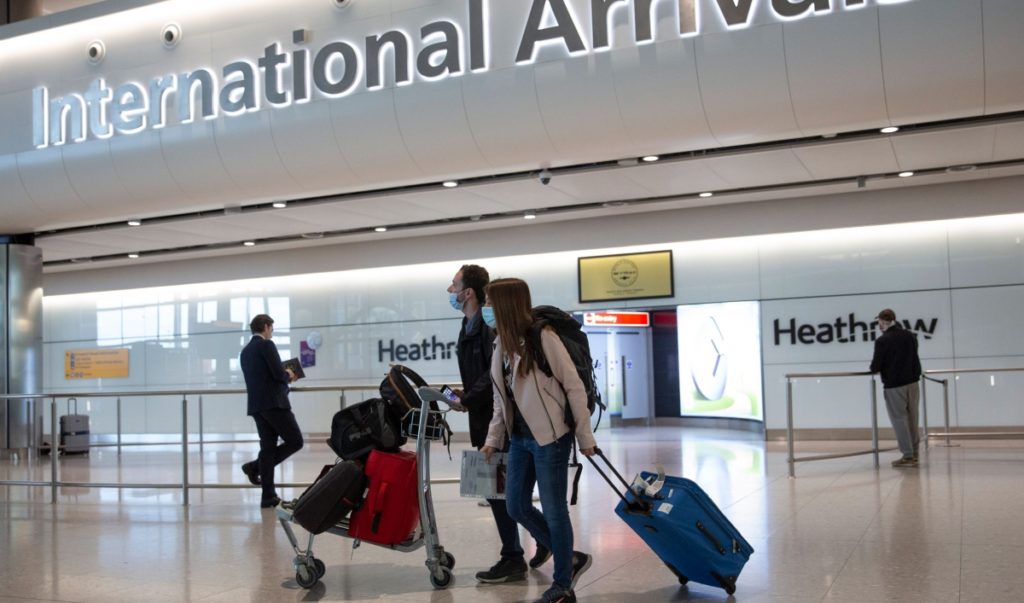 Mandatory COVID-19 testing introduced to bolster border measures
Just days ago, the Government announced that all international arrivals to England, including UK nationals, required to present a negative COVID-19 test taken up to 72 hours prior to departure
all international arrivals to England, including UK nationals, required to present a negative COVID-19 test taken up to 72 hours prior to departure
passengers will be subject to an immediate fine of £500 if they fail to comply with the new regulations on pre-departure testing
all passengers arriving from countries not on the government's travel corridor list will still be required to self-isolate for 10 days, regardless of test result
passengers will still be required to fill in a passenger locator form and be subject to national lockdown restrictions
Passengers arriving from all international destinations will be required to present a negative COVID-19 test result before departing for England to help protect against new strains of coronavirus circulating internationally.
Transport Secretary Grant Shapps has announced that from next week inbound passengers arriving by boat, plane or train will have to take a test up to 72 hours before departing the country they are in, to help protect against the new strains of coronavirus such as those seen in Denmark and South Africa.
Transport Secretary, Grant Shapps said:
We already have significant measures in place to prevent imported cases of COVID-19, but with new strains of the virus developing internationally we must take further precautions.

My first thought when this headline popped up on my news feed? Too little, too late. Of course, a move like this would have been impossible this time last year. Our knowledge of COVID was minimal at best and there was no testing system to speak of. In hindsight, the UK's most sensible move early on would have been to implement strict border policies of the likes of New Zealand, so to reduce the threat of the virus entering the country in great numbers at all. But in the absence of a time machine, we must make do.
Although there remains much to be desired in the government's overall approach to the pandemic, this move makes sense as deaths and case numbers rise, but its impact will be minimal at this stage. One positive of this move is that it- as of- yet avoids the problems of a "jab and go" system. At least 90% of people in 67 low-income countries stand little chance of getting vaccinated against Covid-19 in 2021 as many wealthy nations such as the UK jealously guard patents and, according to the People's Vaccine Alliance, have reserved enough doses to vaccinate their entire population nearly three times over. However, as vaccination programs begin to be rolled out across the world, only time will tell whether a more practical policy will remain in force, or risk further alienating developing countries against the backdrop of global financial struggle.

UK Airports and airlines have been demanding a coherent testing regime since last April.
The government's decision to finally announce this nine months later perfectly sums up their handling of the crisis.
Both sides of the political spectrum have questioned the government's handling of the crisis.
Covid-19 placed a bright hot spotlight on the poverty, insecurity and inequality we face in this country and the Conservative government's reluctance to properly address them.
Even when the government was faced with the question of profit or people during the christmas period.
They elected to ignore scientific advice and introduce a failed 'Tier System' that caused more confusion than anything as we find ourselves back at square one in a national lockdown.
A lot of Johnson's detractors today had the chance to vote for a man who's socialist ideals would have left us in a better position to cope with the effects of the pandemic.
It's absolutely true nobody could have predicted a global pandemic that brought the world to its knees, nobody could have foreseen the 80k dead and 3m confirmed cases.
But many, including Corbyn rallied against the austerity that was crippling the people of one of the richest nations in the globe.
Think of the struggling households that would welcome the free broadband for home schooled children or the rising unemployment and furlough schemes that would have been eased by the universal basic income that Corbyn had been keen on implementing.
Some might be lamenting the opportunity to place a man in charge who would have taken the humanitarian approach to all of this.