Scotland made it into Euro2020 after a dramatic penalty shootout against Serbia. 

Last week, Scotland made it to a major competition for the first time since 1998.
The first in more than 20 years, this was a major moment for the Men's Scottish side who have failed repeatedly.


For most of the team members a major tournament isn't strange to them thanks to their success at club level but a major international tournament is something else.  

Going into the game Serbia were heavily favoured to win due to the quality in the team. After a nervous game with plenty of chances on both sides, Scotland went one goal up with a beautiful goal from Ryan Christie and it all looked assured for Steve Clarke's men.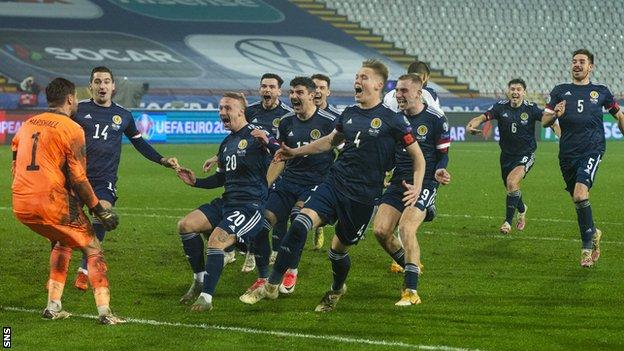 However, a last-minute goal from the prolific Serbian striker Jović meant the game went to Extra-time. Both teams held out valiantly to make it reach penalties where Scotland amazingly put all of their penalties in the back of the net. 

A bad miss from Fulham man Aleksander Mitrovic was the deciding kick for Scotland.

There is quality in Scotland's side and they won't be at the Euro's just to take part. 
Current Captain Andy Robertson will want to emulate his club career success and take his home country all the way.
With the help of Manchester United's Scott McTominay, Arsenal's Kiran Tierney and other Premier League stalwarts in Stuart Armstrong and John McGinn among others they certainly have the tools to create more magical moments. 

Scotland joins the competition with their rivals England in a group alongside the Czech Republic and Croatia. It certainly isn't an easy group. Ranked 4th in the FIFA World rankings, England see themselves as favourites to top the group, and Croatia still boast a the recent World Cup success as runners up.


It will require a miracle for Scotland to make it out of the group, but with football, anything can happen, this might be Scotland's golden chance. 

Euro2020 was set to take place in a number of locations across Europe rather than one country hosting the whole event. However, that has been thrown into disrepute thanks to Covid-19.
The Euro2020 is delayed till 2021 due to Covid but the men's Scotland team will be sure to prepare themselves for 11 June when it all kicks off.