The Toronto Raptors are Champions! All hail Emperor Leonard aka the Claw. The Toronto Raptors have managed to pull something off that was unthinkable at the start of the season. They have won their first ever NBA Championship with their first ever visit to the Finals. History was made. This was a win for the whole of Canada and a rebalancing of the power structure in the NBA. Beating the 2 time defending champions Golden State Warriors in the process with a 4-2 series win. To top it off they managed to claim the trophy right at the Warriors final home game at the Oracle Arena before their big stadium move and in the whole finals won every game at the Oracle!
Magician Masai
The trade that the 48 year old British born Masai Ujiri made for DeRozan to The San Antonio Spurs and for the Toronto Raptors to receive Kawhi Leonard a former Defensive Player of the Year and Finals MVP has not only paid of but its establishing Ujiri as a genius and a magician. Having previously won the executive of the year award in 2013 and now having a NBA Championship as an executive for the Toronto Raptors is an astonishing achievement for a man that only played 8 years as a basketball player himself. Originally being the GM he relinquished his role in 2014 and from there the Raptors consistently made the playoffs every year. Unfortunately the Raptors were always at the whim of Lebrons very own hands when he resided in the East losing every time they faced him. Now they have managed to secure their own Larry O'Brien trophy. Ofcourse his trade is a very high leverage one as they only managed to have Kawhi for a year but with a championship in their hands this will be a very compelling argument for him to stay. This scenario and what Ujiri envisioned couldn't have been written more perfectly if you tried.
This is a franchise set up in 1995, it's not one with heritage or history but that didnt matter this time against a potential dynasty in the Golden State Warriors. Kawhi Leonard has dragged the Toronto Raptors through the playoffs and especially hit rough patches when it came to the second round but since the conference finals the level of difficulty has ramped up but yet Leonard never buckled under pressure even when he hobbled into the final after suffering an injury against the Milwaukee Bucks winning that series 4-1.
The key to the Raptors win was their defence
This is by far the best defence the Warriors have faced in the Finals and it showed with their inability to have a high scoring output compared to past years, as well as facing several contested shots and without Kevin Durant being able to bail them out when the offense collapses it made it all the more difficult for them. The key moments were Game 3 and Game 5 with both Klay and Durant going out injured in these games swayed the favour heavily to Toronto as their cast was still relatively healthy.
Nick Nurse known for his stints in the BBL with the Birmingham Bullets, Manchester Giants and Brighton Bears received the head coaching job which raised some eyebrows especially after Masai Ujiri fired Dwayne Casey who was at the time named head coach of the year. After coach nurse failed to secure the win in Game 5 due to a costly bizarre time out at the end of the game killing his teams momentum, his tactical coaching was came into question especially being a Rookie Coach. However in Game 6 everything worked out for him at the final stretches of the 4th quarter. With this time having effective time-outs and players stepping up at high leverage moments. 33 year old Kyle Lowry also showed up in Game 6 with 26 points and 10 assists and although DeRozan was his best friend when they both played together, this is still a moment he will never forget and celebrate as he can now claim to be a NBA Champion. There we several doubts if he could perform at this level as his been known to not rise to the occasion so this was a crucial moment for him.
This is surely a bitter defeat for the Warriors who were heavily favourited to win but with injuries plaguing the organisation it feels like a rendition of the Warriors first win against the Cleveland Cavaliers in the 2015 NBA Final when Kyrie Irving and Kevin Love were both injured making it easier for Steph Curry and Co to overcome Lebron James. The Warriors will have to recoup and prepare themselves again for next year but the level of difficulty has raised even greater with lack of squad depth and injuries plaguing against them as well.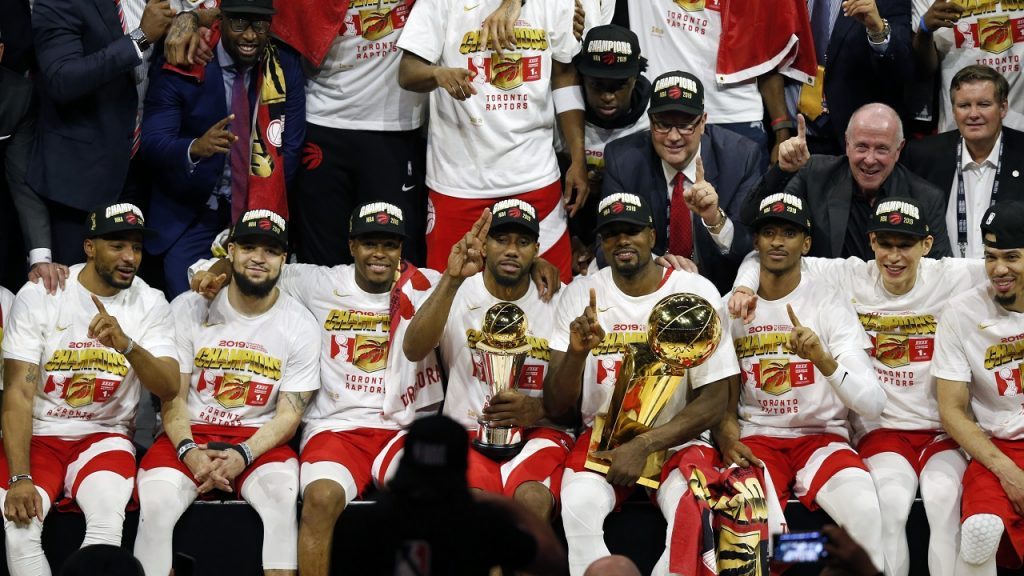 Finals MVP
Kawhi Leonard deservedly received the Finals MVP trophy with his scoring averages being 28 points per game, 9 rebounds and 4 assists. Whilst other players stepped up throughout the series none have been as consistent as he has and this now makes him one of three players that have won a Finals MVP with different teams. This playoff performance and the stellar will to win is one of the greatest feats we've seen in NBA history.
Will Kawhi leave Toronto?
With Kawhis free agency ending soon he has a tough decision to make. Whether he decides to leave Toronto and Canada and opt for a more warmer comfortable lifestyle in LA at the Clippers awaits to be seen. Talks of him going to the Lakers might be off the table now that they've acquired Anthony Davis in a trade agreement with the New Orlean Pelicans. Either way if he does leave Toronto that leaves their team in a very dire state, although they did amazingly as a collective with Gasol, Ibaka, Siakem, Lowry and Van Fleet, Kawhi is the deciding factor for them. The Toronto fans will still be incredibly grateful for what Kawhi did and could have never imagined at the start of the season that this is what it would be.
Should Masai Ujiri get a book deal for a tell all with his reasoning behind the trade that saved it all?