An already complex drama adds a new player
The remarkable political situation in the Indian state of Tamil Nadu, with enough intrigue, manipulation and scandal to make a Game of Thrones scriptwriter raise their eyebrows, has taken its latest twist. It comes through the intervention of Rajinikanth, a film star who can perhaps be best described as a kind of South Indian Chuck Norris. The 67 year-old confirmed his much-teased entry into the political world by announcing the first steps towards the formation of a new political party, one which will contest every seat in the Tamil Nadu legislative elections scheduled to be held in 2021.
The battle to replace a political heavyweight
The state is currently in the throes of a power vacuum, with uncertainty reigning ever since the death of J Jayalalitha, the then-Chief Minister, in December 2016. Herself a famed actor in Tamil cinema before turning to politics, Jayalalitha had risen to become the dominant political force in the region, having served a total of 14 years as Chief Minister, over six terms of office. Earlier in 2016, she had become the first Chief Minister in over 30 years to win direct re-election, exemplifying her popular influence in a state defined by the almost constant alternation of political power.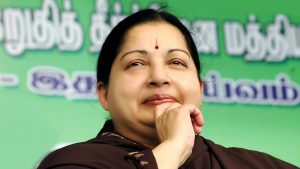 Jayalalitha, until her death the leading political figure in Tamil Nadu
The year since Jayalalitha's death has seen her party, the ruling All India Anna Dravida Munnetra Kazhagam (AIADMK) riven with infighting and controversy. V K Sasikala, Jayalalitha's former aide and protegee, had been one of the frontrunners to succeed her in the long term. Yet amidst swirling tabloid rumours about the nature of her relationship with Jayalalitha and the role her family may have played in the Chief Minister's death, Sasikala was jailed on charges of corruption, ruling out perhaps the most natural successor to Jayalalithaa.
This twist left the race for succession contested by two senior AIADMK officials: Edappadi K Palaniswami and O Panneerselvam (helpfully known as EPS and OPS respectively). After a lengthy power struggle that saw EPS wrest the mantle of Chief Minister away from OPS, the two eventually agreed to (at least temporarily) bury the hatchet with an uneasy power sharing arrangement, with OPS settling for the position of Deputy Chief Minister. However, as is often the case with reluctant alliances, voters have not welcomed this new-look AIADMK, with the party suffering a high-profile by-election defeat to party rebel TTV Dinakaran in the seat vacated by Jayalalitha.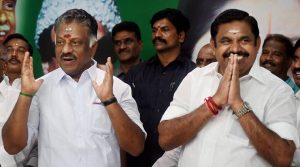 Meanwhile, the main opposition party, Dravida Munnetra Kazhagam (DMK), has similarly failed to capture the voters' imagination. Its leader, the 93 year-old M. Karunanidhi, is also a five-time Chief Minister, having first served in the role as early as 1969. It appears the he and his son, the interestingly named Stalin, are suffering from their inability to offer any substantial deviation from the status quo, given their candidate at the recent by-election performed so poorly that he forfeited his deposit. Overall, Tamil voters' confidence in the two main parties appears to be nearing rock bottom.
The movie star makes his big entrance
At this stage, you'd be forgiven for struggling to keep up with the runners and riders in the race for power in Tamil Nadu. In a sense, though, this is the whole point. Tamil voters are seeing a range of figures vying for the upper hand in the political free-for-all since Jayalalitha's death, but amidst the chaos no one name stands out as an obvious and convincing successor ahead of all the rest. This may be precisely why Rajinikanth has chosen this particular moment to make his intervention.
T 2758 – My dear friend , my colleague and a humble considerate human, RAJNIKANTH, announces his decision to enter politics .. my best wishes to him for his success !!?? pic.twitter.com/dByrmlZb2c

— Amitabh Bachchan (@SrBachchan) December 31, 2017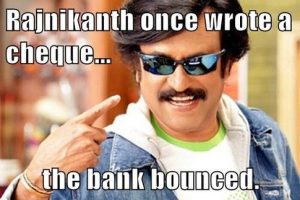 Often the recipient of Chuck Norris-esque jokes such as this, Rajinikanth boats a massive popular following
In a cinema-loving state such as this, the much-beloved action hero offers name recognition and a familiar face to voters in search of a strong and effective leader. Announcing his intention to join the political scene now enables Rajinikanth to best capitalise on the present power vacuum, capturing the attention of the Tamil electorate ahead of the other, less charismatic political figures. Equally, this still provides plenty of time for him and his party to develop their political platform and demonstrate their credibility in running for office before the elections in three years' time.
What does his announcement mean for politics in the state?
The statement in which Rajinikanth declared his political intentions was as vague as it was dramatic. He described the events since Jayalalithaa's death as having turned the state into a national "laughing stock", and suggested he was only entering politics now out of a sense of duty rather than any personal ambition. His scathing attack on the status quo of course went down well among the adoring supporters present at the speech, but it was not matched by much in the way of policy detail or ideological stances.
The closest Rajinikanth came to offering any substantial indication of a specific outlook came through his assertion that "we need a spiritual politics". While this may not seem like much, the term 'spiritual' can be seen to have significant connotations in traditionally secular South India. Combined with a quotation his speech took from the Hindu religious text Bhagavad Gita, this has led many to suggest that Rajinikanth will offer something of a break from Tamil Nadu's secular consensus and instead place an emphasis on Hinduism in policy-making, in line with the governing Bharatiya Janata Party (BJP) at a national level. If this is indeed the case, the BJP would surely attempt to take advantage of such a popular figure espousing consistent views with theirs by forming a political alliance with him, to make inroads in a state where they have previously had little success. A move towards a more pro-Hindu outlook may also provoke increasing sectional tensions with Tamil Nadu's substantial Muslim population, as has been visible since the BJP rose to power in many other states, but which Tamil Nadu itself has largely avoided.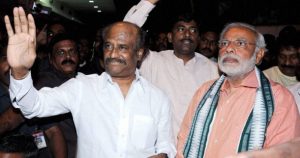 Rajinikanth (left) with Prime Minister Narendra Modi
However, Rajinikanth's political career is of course in its infancy. Until he and his new party are able to articulate a coherent policy platform we can rely only on speculation as to what his entry will mean for politics in the state and perhaps beyond it. However it plays out, the situation in Tamil Nadu is certainly worth keeping an eye on.