by Hannah Bamgbala
In October last year, Piers Morgan, Good Morning Britain's current presenter, was called out for "slandering" and "lashing out" on a guest who identifies them self as gender fluid. According to the Collins dictionary, gender fluidity is "not identifying exclusively with one sex rather than another". A person who identifies them self as gender fluid trusts that they can wake up one day and are 'man' and wake up another day a 'woman'. They don't believe that being born one sex limits them to being one gender.
Gender neutral clothing is something that had been commercially introduced in 2017. John Lewis, one example of a shop selling gender neutral clothing, decided that they would no longer be selling clothes targeted and labelled only at and for 'boys' and 'girls', but clothes for both i.e. gender neutral clothing. This change caused an uproar. Many were shocked and disgusted at the shop's decision. Some struggle to understand why their young child should be allowed to pick out clothing that goes against societies norm. For example, a little boy picking a dress or a little girl picking a blue top with a race car on it. John Lewis wanted to allow freedom of choice in their children's clothing collection and that's exactly what they did. They believe that children should be allowed to pick their gender and not have gender forced onto them. Someone commented on twitter, "Jesus gender neutral clothing isn't the end of the world it's just literally allowing children to express themselves freely. OUT OF CHOICE".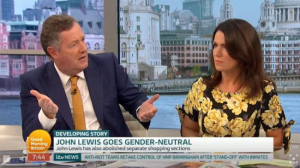 Piers Morgan was one of the many who commented on the shop's brave change. On twitter he wrote, "Britain is officially going bonkers". People who supported the change commented on Piers Morgan's "lack of an open mind".
Piers Morgan made it clear that he doesn't agree with the idea of people being both male and female. He stated to his guest on Good Morning Britain, "My problem with this is you can't be male or female… You're born one or the other. If you want to have an operation fine… I just don't get this gender fluid stuff."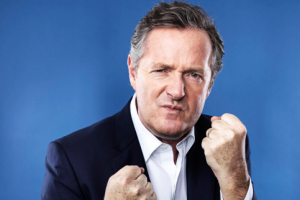 Twitter went crazy. There were many different opinions being thrown out and some people put forth some really strong arguments. It's clear that a huge amount of people support Morgan's opinion of gender fluidity being 'absurd'. On twitter, someone asked, "Why is gender fluidity so alien to you Piers, are you actually closed minded or is this just for column inches?", Piers didn't respond to this but someone else commented, "I agree with Piers. The world's going mad! We're born male or female unless medical reasons determine differently."
Interestingly, Piers made it known on social media that he didn't support gender fluidity but he has no issue with people having sex changes, right after he announced that Caitlyn Jenner would be coming on his show.
*BREAKING NEWS*
Airing on Thursday, my first ever Life Stories show with a transgender celebrity, @Caitlyn_Jenner.
And what a life story it is!
From male Olympic champion to Kardashian dad, to trans woman.
An unmissable & fiery (!) watch…
*THURSDAY, ITV, 9PM * pic.twitter.com/Twz5Dbcus7

— Piers Morgan (@piersmorgan) January 1, 2018
Piers managed to find a way to "rile up" Caitlyn Jenner through his question "How does your physique compare now to what it was then? Obviously certain areas we know…"
Piers Morgan interviewed @Caitlyn_Jenner and they had a frank discussion about transgender issues.@PiersMorgan's #LifeStories. Tomorrow 9pm @ITV pic.twitter.com/W7QFZgMlSI

— ITV (@ITV) January 3, 2018
The real question is, why does Piers Morgan not support people's decision to identify themselves as whatever they want to be? Is it a crime to want to be free? The world is changing every day and does being this closed-minded not limit people's freedom of expression?
Hannah Bamgbala was born in London and is of Nigerian descent. She is passionate about freedom of expression in both Africa and photography. Hannah is currently a Fashion Media and Promotion student at The University For The Creative Arts Rochester and is looking to pursue journalism, photography and styling once she graduates.