In their first ever managerial appointments, and with both facing testing circumstances off the pitch, Campbell and Bowyer are proving that sometimes the most unlikely figures can make great managers.
If you asked anyone the significance of the 2nd March 2014, or 2nd April nine years earlier, the majority would just stare back at you blankly. For Sol Campbell and Lee Bowyer however, these are arguably the two dates around which the public perception of their respective careers is formed. Campbell; a powerful and imposing central defender throughout his playing career was reduced to caricature by some, for his proclamation that if he was white he would have given the England captaincy for a decade. The legitimacy of this claim makes for interesting conversation, but the knee jerk reaction within much of the online football community was that Campbell was clutching at straws. Further bizarre comments have followed since and upon becoming Macclesfield Town manager back in November, Campbell had garnered a difficult reputation within footballing circles.
Bowyer meanwhile, while also a truly fantastic and underrated footballer, was involved in a whole host of controversies throughout his playing days. There is one however, that all these years later seems to stick in peoples' minds more than some of his other worse offences (more on that later). Instead, what's followed him his whole career was that unforgettable day at St James' Park when Bowyer was sent off for an on-pitch fight with Kieron Dyer; his own team mate.
Always a volatile personality, Bowyer has brought this passion with him in managing Charlton Athletic, and by guiding them back to the Championship this season, he has added to Campbell's equally outstanding first season as a manager. At the opposite end of the EFL, the ex-Arsenal man has done wonders to keep Macclesfield in the football league this season. Both Bowyer and Campbell's achievements have come against an unwelcome back drop too.
Chaos breeds character?
Campbell's achievements with Macclesfield must be tinged with an element of sadness, as he and the fans will know that the real work may not begin until next season. The club have faced considerable financial troubles throughout the year, paying players late on multiple occasions, with even Campbell himself facing two months without pay at one point. Set to appear back in front of a high court judge at the end of the season, this has been pushed back until 26 June, but you just feel it is delaying the inevitable. With this inevitable being a likely points deduction, Macclesfield could find themselves starting next season with a 12 point deficit.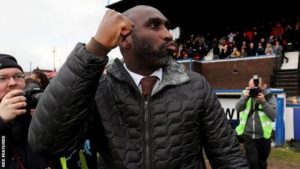 It must be a sickening feeling to know all their hard work could have been for nothing, especially considering the emotive way the players cancelled boycott plans this season through a 'duty to supporters'. Yet within all this turmoil, Campbell stood strong and somehow managed to keep the club in the Football League. He's been praised for this yes, but he simply hasn't been given the credit he deserves. Even taking the off-field troubles out of the equation, Macclesfield were cut 7 points adrift when he took over. By the final day they were 3 points safe. Added to that, Campbell showed a pragmatism beyond his level of experience in a managerial role. With his shrewd appointments of top level ex-pros Andy Cole and Shaun Goater, and with an emphasis on strong home form, he put everything you would want into a team fighting relegation. Yet besides a few congratulatory pieces, the media response has been rather subdued. He should be a candidate for LMA Manager of the Year.
For Bowyer, it's been more of a rebuilding job than saving the club from the brink, but he's had to face what can only be described as a farcical situation in the boardroom. Branded 'the worst owner in the country', Roland Duchatelet's reign at Charlton since 2014 has caused a number of fan protests. From not paying staff bonuses, to refusing to provide the youth teams with bottled water and even warning staff against eating crisps as he had scrapped the cleaning budget, it is fair to say Duchatelet is not a popular figure at the Valley. Fan protests have included throwing beach balls, plastic pigs and even packets of the aforementioned crisps on to the pitch.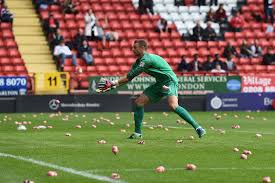 Yet once  more, by some sort of footballing chaos theory, Bowyer has managed to get the best out of his players in his time there. He only even became permanent manager in September, meaning he still hasn't managed a full season at the helm and yet has guided them back into the Championship for the first time in 4 years. Two young English managers then, outperforming expectations, all whilst shaking off their skewed reputations. Cause for raucous celebrations right? Well, not entirely.
Differing standards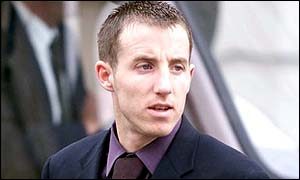 I said earlier that Bowyer's career involved far greater misdemeanours than just his fight with Kieron Dyer. In 2001, he allegedly chased and assaulted an Asian man down a street in Leeds with a group of men including team mate Jonathan Woodgate. Although Bowyer was acquitted of any charges, Woodgate was charged with affray and another man received 6 years jail time for grievous bodily harm. Since this acquittal, Bowyer has publicly insisted "I'm no racist", yet what some people forget is that this was not a standalone incident. Five years earlier, Bowyer was charged £4500 after an incident in a McDonald's where he threw chairs at counter staff and said "I don't want to be served by a Paki".
People will say that this all happened a long time ago, that standards of public scrutiny are higher now, or that he may well be a reformed character, but that is not the point here. Bowyer's route into management was via one coaching job offered up by ex-team mate Harry Kewell, before becoming Assistant Manager at Charlton and working his way up from there. Sol Campbell meanwhile, faced numerous rejections and even offered to work for free before finally being given a chance at the EFL's bottom club; a decision which many fans took pleasure in ridiculing at the time. This is disconcerting on so many levels.
Bowyer has done a fantastic job, there is no argument to be had here and I am not going to start one now. What does it say about British society though when a white player with a track record of violence and racism can make the transition to manager so quickly, while a black man whose only crime is that he comes across as a bit of an arrogant oddball is forced to scrape the barrel? Campbell's claim that he would have been captain if he was white still sticks in English footballing brains all these years later for the simple fact that it makes people feel uncomfortable. Maybe it's time to admit that he had a point?