Shamima Begum who is now 19 years old, ran away from school in Bethnal Green to join ISIS in 2015 just aged 15. Now Ms Begum wants to return to the UK. Ms Begum, who has just given birth to a baby boy, but previously has lost two children due to illness and malnutrition, is married to Yago Riedijk, a Dutch foreign fighter, who currently is in the Syrian Democratic Forces custody. This has sparked mass controversy as the question remains should someone who has been radicalized by ISIS be allowed back into the UK?
What is Isis?
ISIS started as an al Qaeda splinter group. It aims to create an Islamic state otherwise known as a caliphate across Iraq, Syria and throughout the world. The group is enforcing Sharia Law, whose origins are rooted in 18th century Islam, which would establish a society that reflects the regions 18th century past. ISIS is infamous, known for mass murders, alongside public executions, crucifixions and other inhumane acts.
The UK has suffered at the hands of ISIS and so many believe Ms Begum should not be allowed back to the UK. Although Kurdish officials have pleaded with the government to uphold its "legal and moral duty" to repatriate British citizens for trial, The Home Secretary has insinuated Ms Begum's return to the UK will be blocked.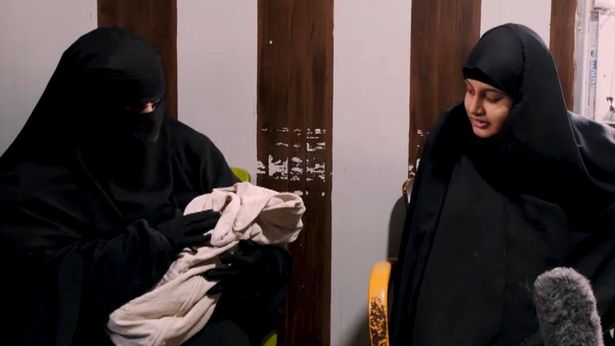 What is worrying is that Ms Begum is not the only girl to left the UK for Syria, alongside Kadiza Sultana and Amira Abase also from the same school (Bethnal Green Academy), left for Syria in February 2015. Unfortunately Ms Sultana was reported to have been killed in 2016 due to an air strike.
Ms Begum has asked for forgiveness "I have done nothing wrong", she says. She deeply regrets leaving the UK to join the Islamic state. However, Ms Begum also believes that the Manchester Arena attack was justified, because civilians in Syria have died due to airstrikes. This is rather concerning and the British public are fearful of her lack of remorse. She claims her experiences (in her own words) "made her stronger". Perhaps it is time Britain was just as strong in its refusal to let her back into the UK. Will this open the doors for others to return? What of Ms Abase and her views? how we deal with Shamima Begum will set a precedent for potential future cases.
Under the fear of further radicalisation it seems then that the UK shouldn't let her back into the country.
Some may argue that she deserves a chance and that is reserved for the optimists, who see the tender age of 15 as the main contributor as to why she should return back home. The cynics will not want this conversation to go any further than it already has. Will criminal charges be sufficient punishment for someone who left for 3 years to live with ISIS?
Prevention is better than cure. Why would we allow her back into the UK, and open ourselves up to risk? Ms Begum could esentially be a trojan horse and letting her in could open a can of worms, one the UK could not handle – especially in light with all the energy the Brexit negotiations are taking. No matter how young someone is or how much they have matured, they still pose a risk due to the psychological residue left by extremism and radicalisation. Let us not take our chances.