Luxury fashion brand Gucci has faced enormous backlash over its $890 balaclava knit top, resembling "Blackface". The black community is enraged. Hundreds of celebrities have boycotted the luxury fashion brand. Gucci has ensued a war on social media and it continues the trend of brands seemingly insensitive to the deeply racist history black people have faced.
Blackface is a form of theatrical make-up used previously and predominantly by non-black performers to represent a caricature of a black person. During the 19th century, it gained popularity and contributed to the spread of racial stereotypes including the "happy-go-lucky darky on the plantation" or the "dandifiedcoon".
Thus illustrating this could not have been a mere oversight by Gucci, how could a company like this make such a massive mistake?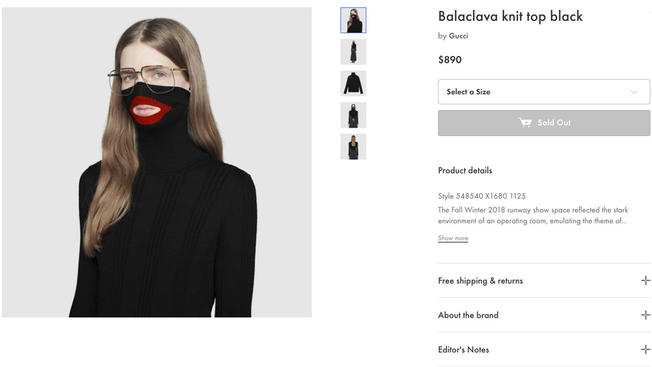 Gucci has since removed the balaclava and publicly apologised.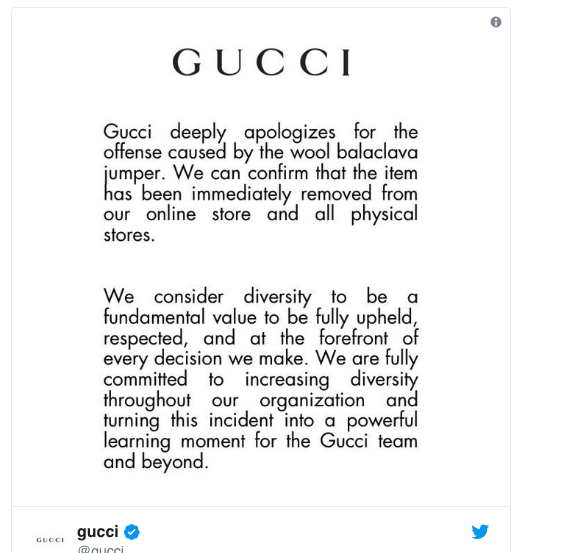 "We consider diversity to be a fundamental value to be fully upheld, respected, and at the forefront of every decision we make," the company said in a statement last week.
"We are fully committed to increasing diversity throughout our organisation and turning this incident into a powerful learning moment for the Gucci team and beyond."
Those defending Gucci are asking if the black community just take offence at everything. It is as if the black community want to find a racism element in everything. It could have just been an innocent misunderstanding by Gucci, it must be remembered that we live in a time where the darkness from the past is only just being uncovered.
Gucci should consider hiring a diversity manager in light of this scandal and perhaps could run risk management into what could be considered racially insensitive in the current political climate.
Not The First Clothing Scandal
Another argument has has arisen is with regards to H&M. why is it that the luxury brand Gucci has been boycotted but H&M still remains flourishing .
January 2018 saw the release from H&M of the green hoody with a black child with the words on the front "Coolest Monkey in the jungle". The same outroar ensued, but the hype died down. It should be noted that there has been no boycotting of H&M, will this be the same for Gucci?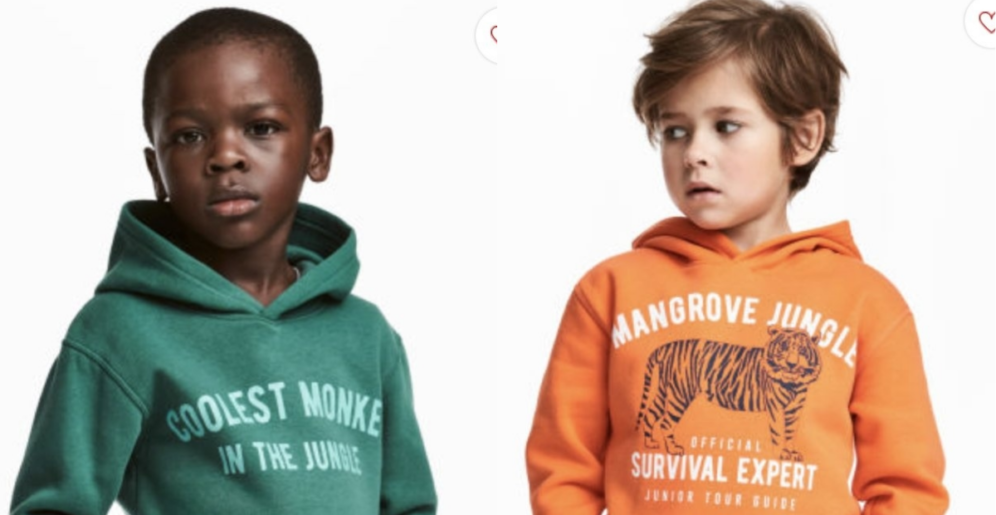 It seems as if the black community are yet again divided on this issue: those who see race in all its epochs and those who believe it was a genuine mistake. If the community decides to boycott brands, should the majority of brands be boycotted as many make money of the back of black labourers? There is no seemingly sustainable boycotting when the boycotting is seasonal.
Boycotting should and must be permanent.The loss of revenue alongside the backlash will implore Gucci to rethink their branding strategy. Maybe next time they will get it right and the Gucci gang will return. Or will the boycotters stay loyal to their moral standpoint.