On July 14, 2020, Nick Cannon was fired by ViacomCBS after making anti-white and antisemitic remarks during an episode of his podcast. Was Cannon guilty of racism or mere prejudice? It would appear that the plight of Jews has been made conditional. A white man can be racist against a Jew, but a non-white man such as Cannon cannot.
In her 2008 book History Lesson, American Classics Professor Mary Lefkowitz describes a chilling ordeal in which she faced a barrage of ostracism and antisemitism after confronting her colleague Professor Anthony Martin.

Martin had been teaching his students – at the respected Wellesley College in the early 1990s – a range of patently absurd conspiracy theories as fact, including the idea that ancient Greek culture had been stolen from Africa, and that Jews were responsible for the slave trade.

He taught directly from "The Secret Relationship between Blacks and Jews", a virulently antisemitic polemic that accused Jews of instigating a "black African Holocaust" and was derived mainly from Henry Ford's The International Jew: The World's Foremost Problem.

Lefkowitz was accused of disrupting "campus harmony", and told she was attacking Martin because he was black.

Lefkowitz's ordeal is simply one example of the attitude toward antisemitism in American academia. However, the erasure and hatred long ceased only to poison the narrow hallways of the universities, but have penetrated far into the popular culture over the past decade.

Last week, comments made earlier this year by rapper and comedian Nick Cannon on his CBS podcast went viral. Cannon referred to Jews and white people as "savages" and "closer to animals" than black people.

The comments were made during an interview with former Public Enemy member Professor Griff, who was kicked out of the rap group in 1989 for saying Jewish people "were responsible for the majority of the wickedness in the world".
Cannon's recent comments provoked much outrage. He was subsequently fired from ViacomCBS, although he has held on to his presenter contract for hit TV show "The Masked Singer".

Radio personality "Charlamagne tha God" defended Cannon following his sacking from ViacomCBS, claiming the incident only further proved "Jews have the power".

Former NBA star Dwyane Wade and rapper P. Diddy also waded in with their support for Cannon's comments.

Although Cannon has since apologised for his remarks regarding Jews, he has failed to reconsider those directed at "white people", and has complained that "his community turned against him" and called him "a sellout".

The apology, and the barrage of ongoing twitter support for his outrageous comments would seem to prove him correct.

The intersectional response to these chilling examples of antisemitism and anti-white hatred have broadly been that this African-American professor, and this collection of celebrities, despite their distasteful remarks, cannot be guilty of the evil of racism because they simply do not possess the institutional power required for racial oppression. Theirs is a much lesser crime of "discrimination" or ignorance.

Jews, it is argued, have faced lesser crimes than African-Americans and that today their plight is "lesser", despite experiencing centuries of violence, discrimination and genocide, making up over half of all hate crimes in New York City, and with over eighty per cent of the populations of Morocco, Qatar, Jordan, Bahrain, Kuwait, Tunisia, Libya, Algeria, Yemen, Iraq and the UAE professing overtly antisemitic views in a 2014 poll.

The plight of Jews has been made conditional. A white man can be racist against a Jew, but a non-white man such as Cannon cannot.

Jews are defined as "white" when it suits the narrative to demonise them, and non-white and "other" when discussing white antisemitism.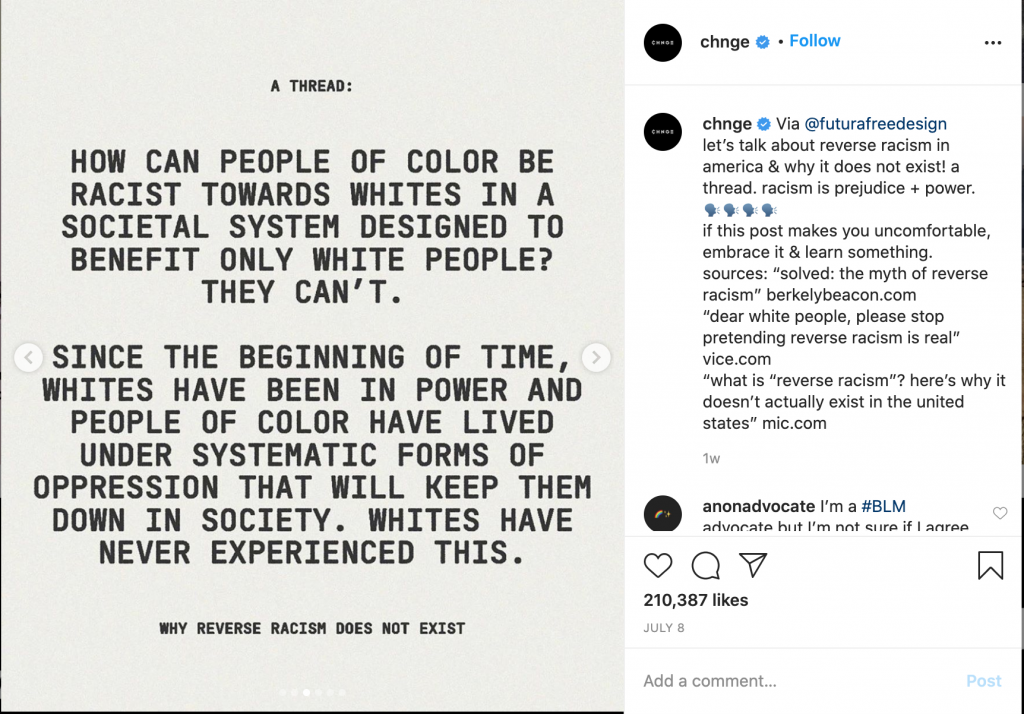 Yet are racialised hatreds such as antisemitism as simple as white versus "non-white"?

It is not a fact of even recent history that white people have never faced racialised hatred. It is not a fact that white people have anywhere and everywhere dominated power, even if it is historical power that the intersectional crowd argue is required for a group to be capable of racism.

A glance over the details of thousands of years of human history will reveal a tangled web of empires, communities and nations, thousands of which involved no white Europeans whatsoever.

In 2020 a survivor of a British-Pakistani grooming gang recently recounted how her abusers shouted "You white sl*g. You white c*nt," as they repeatedly raped her, and how police refused to act upon her testimony and physical injuries, or categorise the incident as racially-motivated.

In China, job advertisements often expressly exclude African migrants or set a lower salary for African applicants. Earlier this year African migrants in Guangzhou were forcibly evicted, banned from restaurants and harassed in the street.

The idea that racism is a crime of which only "white" people can be guilty, and in fact, they all harbour inside as some original sin is not based on historical nor psychological evidence. The attempt to erase the complex question of racism across time and place is not a push to correct an inaccurate definition to reflect reality. Rather it is a concerted effort to redefine a concept to reflect the Foucaldian ambition of redefining truth itself as a mere reflection of power, as opposed to an undeniable fact.
Is the solution to this warping of racism as a concept to recast groups we perceive as aggrieved in certain situations, as eternally overpowered and oppressed by others? Of course not.

Occurrences of racism and discrimination are complex across time and place, and to cast one group as a perpetual victim and others as forever empowered ignores the complex web of historical and contemporary culture and legal structures so to silence critics of the "woke" agenda as either intellectually blinkered or morally reprehensible.
Is the solution to the soft treatment of the likes of Nick Cannon and Anthony Martin to subject them to censorship and cancellation? I do not think that silencing anyone changes their mind, but instead gives them the impression that nefarious forces are at work to silence their fearless professions of truths.

The solution is instead, to counter bigotry and inaccuracy where we find them, and to face the world with a grip on reality rather than a debunked academic lens for the sake of caving to what is popular.