In lieu of the recent BLM protests, many forgotten injustices have resurfaced, including the case of Shukri Abdi. Although the movement is a predominantly American initiative, racial tensions have extended beyond the shores to the United Kingdom as many were recently seen protesting on behalf of Shukri's family in Manchester. 12-year-old Shukri was found dead in the River Irwell in Bury, Greater Manchester on the 27th of June 2019. Her death raised many questions regarding the Police's remissive handling of her case and the general prevalence of Police negligence amongst BAME communities in the UK.
The case
The specifics of Shukri's death have been thoroughly contested throughout the past year. Shukri's family were Somali refugees who had settled in the UK in 2017 as part of the 'Vulnerable Person's Resettlement Scheme.' Having recently migrated from a Kenyan refugee camp, Shukri was described by her peers as bubbly, slightly introverted and eager to make friends. The events before her supposed accidental demise have been looked upon sceptically by her family members who stated that it was out of character for Shukri to be playing near water due to her inability to swim. Despite this, a criminal investigation was not launched as the Police believed the incident to be a tragic mishap that happened whilst the young girl went to 'cool off.' Previous complaints of bullying and anti-social behaviour towards Shukri had also been made to her school, Broad Oak Sports College (since rebranded as Hazel Wood High School) and were dealt with ineffectually as she continued to face such incidents. Alongside this, despite there being no post-mortem, Shukri's body was found with visible bite-marks and abrasions.
These suggestive circumstances led many to believe that Shukri's death had not been an accident and the Independent Office for Police Conduct reintroduced an opportunity for a more comprehensive investigation as a result of the influx of investigative incompetence complaints and the surmised nature of her 'cause of death'. As the case came to prominence once again during previous months, the Mayor of Greater Manchester, Andy Burnham announced on BBC Asian Network during his appearance on the Big Debate, that the case would be looked into once more. Shukri's family solicitor commented on how the Police handled the situation and talked deplorably about the way in which Zam Zam Abdi (Shukri's mother) was summoned to the Police station on the Friday of Shukri's death to receive a report.
Types of Police negligence
The palpable issue that comes to the fore as a result of this tragic incident is the level of trust vested into institutions such as the Police and how, over the years, there has been a distinct undercurrent of negligence regarding cases involving black and coloured bodies. When looking at Shukri's case, the lack of a criminal investigation despite several indicative contextual factors that made it somewhat obvious that there was an element of foul play involved, shows that there has been a clear subversion of Police procedure. However, this was not an isolated incident of Police negligence. Police negligence is an umbrella term used to describe instances where police fail to investigate a crime properly, where a suspect dies in police custody or where there has been a failure to follow specific procedures.
Within the wider context of the recent racial discord, police negligence can extend beyond simply failing to properly investigate a potential crime scene. In the UK in particular, the Police's role in inflaming racial tensions has manifested itself through the fact that the Police are 8 times more likely to target Black citizens in stop and search procedures – this is a measure that could potentially fall within the remit of Police negligence. Section 60 of The Criminal Justice and Public Order Act 1994 states that a Police officer can stop and search in anticipation of violence if he/she reasonably believes that incidents involving serious violence may take place in any locality in his/her Police area. The keywords in this legislation are 'reasonably believes.' All stop and search instances are therefore completely dependant on Police discretion as opposed to perhaps a more authentic statistic analysis of the locations Police officers are mandated to monitor. The notion of racialised negligence and pre-existing understandings of certain multi-cultural localities, therefore, contributes to the idea that entrenched prejudice within one of the most important facets of our judiciary, is exacerbating racial tensions in the United Kingdom. By narrowly construing how reasonable the judgement of many Police officers is, it becomes increasingly difficult to ignore the impact of personal opinions have in day to day situations.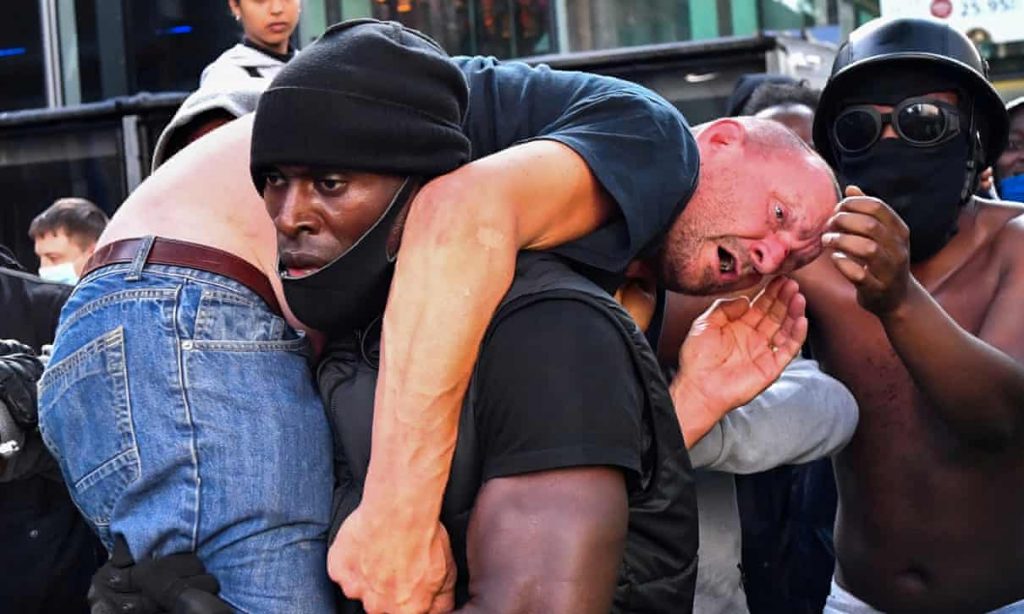 The above image of BLM protester Patrick Hutchinson carrying the anti-protestor now identified as Bryn Male (a former Police officer) to safety instantiates this very point of interventional biases existing within state institutions that should ideally remain neutral. It is unclear how Males' contempt for the BLM movement may have been evinced during his career as a Police officer, however, it is likely that it would have adversely affected BAME groups in British society due to the emphasis placed on personal discretion in statutes that authorise racially inflammatory procedures, such as stop and search.
Potential solutions
Therefore, potential racial bias has been indentured into our legal code allowing personal affiliations to cloud the principles of law and in turn cause procedural failures – giving rise to tangible Police negligence that has affected the lives of many. The last prong of discussion to consider is the best way to combat the problem. When looking at Police negligence in cases such as Shukri Abdi's, where a failure to investigate a potential crime scene occurred, it could be argued that Police officers should perhaps be given more extensive training in dealing with situations involving BAME victims, particularly refugees who may not be accustomed to the UK's formal procedures. Notwithstanding this, in instances where Police negligence involves a failure to abide by rules, there is scope for wider legislative reform. Setting more indiscriminate objective standards for the requirements of stop and search measures may help tackle part of the problem. The problem is, however, so vast that a more holistic package of measures needs to be implemented in order to compensate for the various pitfalls of the existing system.