The 2019 NBA playoffs have kicked off and already there looks to be some upsets looming from Game 1. With unlikely results both in the Eastern and Western Conferences surprising fans and pundits alike, its going to be an entertaining first round.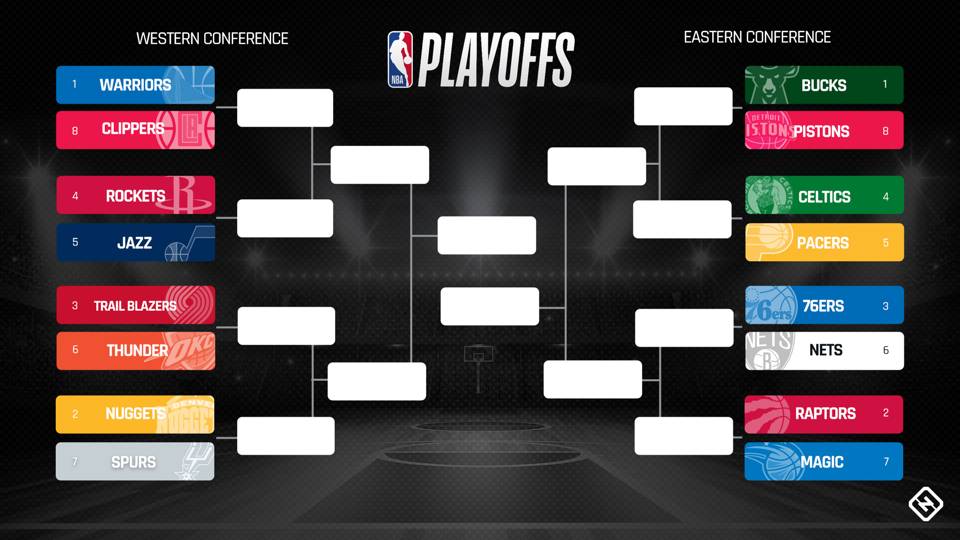 Philadelphia 76ers vs Brooklyn Nets

The underdog in this game, Brooklyn Nets, won the first game of the series 111-102 to take home court advantage from the Philadelphia 76ers. The Sixers were shocked to lose to a Brooklyn Nets who haven't been in the playoffs for the last 4 years. With the likes of Embiid, Butler, Reddick, Harris and Simmons, this should have been a straight forward series for Philadelphia.
As in the regular season, Ben Simmon's lack of shooting ability continues to hinder his team on offence. In addition to this, not honing any formidable post moves is unimpressive for someone at his size and overall capability. D'Angelo Russell was the leading scorer for the Nets with 26 points on his play-off debut and his co-star Dinwiddie helped with 18 points of his own.
Jimmy 'Buckets' Butler kept the Sixers in the game with a play-off career high 36 points, but it wasn't enough alongside Embiid's 22 points. Off the court, however, Joel Embiid and Amir Johnson were seen on a mobile phone on the Sixers bench. This stirred quite a bit of controversy but it's been reported that Amir Johnson was checking on his ill daughter.
In game 2, the Sixers will certainly have to step up their offensive performances and be tougher on defence. Ben Simmons will have to step up massively and Tobias Harris will have to pull his weight also. This is a team that's meant to reach the Eastern Conference Final so they need to start playing like it quickly.



Toronto Raptors vs Orlando Magic

The Toronto Raptors, like the 76ers, also suffered a shock defeat to an Orlando Magic team that also hasn't been in the playoffs since 2012. With no stand out performances, a collective team effort on defence and offence saw this Magic team dispose of a strong Raptors team. It's a good sign that a team ranked 8th in defensive ability in the regular season is translating in the playoffs which proved vital down the closing minutes of the game.
DJ Augustine's 25 points for the Magic and decisive game wining shot aided the 104-101 win against a Raptors team consisting of Kawhi Leonard, Pascal Siakam, Marc Gasol and Kyle Lowry. Lowry failed to notch a single point in the the game having seven shot attempts. He was the only member of his team to not score. Whilst Leonard scored 25 points and Siakem 24 in their loss.
The Raptors will have to regroup for game 2 and be more cohesive in their approach going forward, likewise Kyle Lowry will have to attempt to put the numbers up that he's capable of. Orlando Magic hope to have another team effort with more offensive output to take a 2-0 lead back home.


Golden State Warriors vs Los Angeles Clippers

The Golden State Warriors took a commanding first win in their series against The Los Angeles Clippers. Even though their performance wasn't stellar, the star power they possess was enough, winning 121-104. Steph Curry became the all time number one 3 point scorer in the playoffs passing Ray Allen and doing it in a considerably shorter time span.
Scoring 38 points on the night with 15 rebounds and 7 assists, he helped the Warriors cruise to victory but it wasn't all still waters as Kevin Durant landed himself in a face off with Patrick Beverly that got them both ejected from the game. Durant took the bait that Beverly laid out but Beverly certainly didn't expect to be ejected as well.
This season has seen an upturn in Durant's bravado behaviour as the 2x Finals MVP being ejected a total of 19 times this season, second most in the league.
The Warriors will hope to finish this series in a sweep to have ample resting time for a sizzling semi-final conference round against the Houston Rockets. But the Clippers will certainly have something to say about this.


Portland Trail Blazers vs Oklahoma City Thunder

The number 3 seed Portland Trailblazers, took on the number 6 seed, the Oklahoma City Thunders ending in a 104 – 99 for the Blazers. Damian Lillard scored 30 points to Russell's 24, but Westbrook managed to produce another triple double with 10 rebounds and 10 assists.
Dame's co star in CJ McCollum managed to put 24 points on the board whilst Westbrook's co-star Paul George put up 26 points and 10 rebounds. The difference maker was former OKC player Enes Kanter, who had a monster stat line of 20 points, 18 rebounds and 2 assists. OKC had ample attempts to tie the game or even win it but wasted it with 3 shot attempts that didn't fall for them on the night. The Blazers hope to close their game two to bring them closer to the next round of the playoffs.
Overall there is plenty of opportunity for teams to turn it around a slow playoff start so don't count anyone out just yet! There could be many surprises in store to come!
Keep up with TCS Sports for more NBA Play-offs news