Trumps bid to see 'America great again' leaves government workers paid in beer, meals and even Broadway tickets!
It's 33 days into the longest ever government shutdown in US history and the countdown continues on what appears to be a ceaseless case of Trump v. America. Imagine this, it's a cold Wednesday morning, another day on the job. There are bills to pay, a family to feed and your own general well-being to sustain. You know there is a role to fulfil; a duty to serve your country as a government worker and yet you aren't being paid, well at least not in money. What do you do?
For more than an estimated 800,000 government employees this is the sad reality and with the shutdown coming up to its fifth week, if the government doesn't reopen today furloughed federal workers are looking at yet another week with no signs of a paycheck.
How did the government shutdown begin anyway?
The partial government shutdown began on the 22nd December when President Donald Trump, supported by his fellow Republicans, demanded a $5bn budget to fund a wall along the US-Mexico border. The demand then hit an impasse. A situation in which no progress could be made due to the disagreement between Trump and the Democrats.
Who is actually affected?
Well, the primary party to take the hit would be the government workers in the nine sectors that have shut down, some including the departments of Commerce, Justice, and the biggest area affected by this is the Transportation Security Administration.
From the beginning of Trump's presidential campaign to his current reign in power, the construction of the wall has sparked mass discussion, more notably concerning the blatant discrimination towards the idea of a literal divide erected between two countries. The U.S. President who isn't one to hold back when it comes to voicing his opinion took to Twitter today to share his new slogan: "BUILD A WALL & CRIME WILL FALL!". But it seems the backlash sparked by the thread of tweets wasn't just about the plan going ahead, but rather his inadequacy to fulfil his promise during the campaign which placed funding responsibilities on Mexico.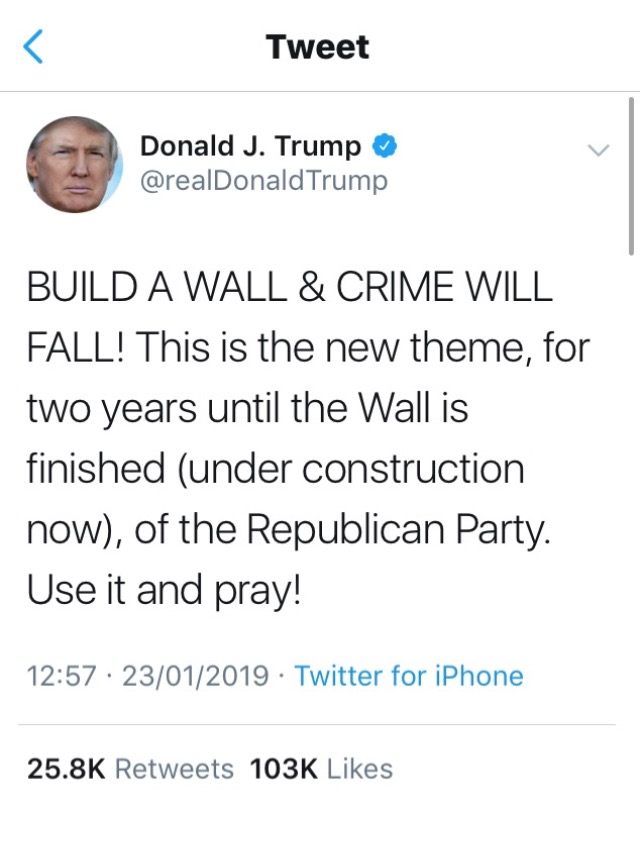 As relentless and immovable as Trump may stand in his decision, it does not dismiss the fact that a country is suffering at the hands of a political cross-fire.
Is beer enough to keep payless workers on the job?
Thousands of government employees have turned to food banks for help with many urging others to donate various items from food to vouchers to beer.
Video:Source:Youtube/CBN
Famous musicians, Gene Simmons and Paul Stanley from band KISS offered TSA employees free food from Rock and Brew restaurants in the airports they worked at and even 'Beautiful the Carole King Musical' offered free tickets on select nights. Yet for the workers who are under strain, the question still stands: 'Is this enough to keep the government workers going and for just how long?'
This moment, unfortunate as it is, is an iconic event to be duly noted in history. A wall that was made to divide two nations, in turn inspiring a sense of community and cohesion, an entire nation joining forces to help those carry on doing their job. Trump may be trying to build a wall but it looks like his country is breaking down another.