Last month, US Attorney General William Barr instructed the Bureau of Prisons to schedule the execution of five inmates. This move represents a dramatic reversal in most recent federal use of capital punishment, which is being federally reinstated in the US after 16 years.
"The Department of Justice has sought the death penalty against the worst criminals, including five murderers, each of whom was convicted by a jury of his peers after a full and fair proceeding," William Barr said in a statement. Currently, thirty US states allow capital punishment, however in four of them, governors have issued a temporary ban on the death penalty. Twenty states have totally abolished capital punishment, with New Hampshire become the latest US state to do so in May 2019.
An Eye For An Eye?
Though widely unpopular, there are number of reasons as to why supporters of the death penalty believe agree with its federal reinstatement. Barr said: "We owe it to the victims and their families to carry forwards the sentences imposed by our justice system." This argument could be seemingly depicted emotionally fuelled than rational, though justice is and should be served appropriately, the eye-for-an-eye argument could be regarded as oversimplistic and of course, should be treated on a case-by-case basis.
Jeffrey Dahmer was an American serial killer and sex offender who committed the rape, murder, and dismemberment of 17 men and boys from 1978 to 1991. He was also a cannibal, and due to the horrific nature of his crimes – the families of his victims argued that he was deserving of the death penalty, though he was only sentenced to life imprisonment. Dahmer was bludgeoned to death by a fellow inmate in 1994. Former Ohio Representative, James Traficant, said Dahmer "should have been sentenced to death by a jury, not by a bunch of thugs in a prison".
However, if asked why Dahmer should have been sentenced to death, it's likely Traficant would have given a response relating to the retribution owed to victim's families, essentially the justice argument. Though our emotional and moral compass is an appropriate guide to justice, when it comes to the death penalty, rationality has to take the wheel.
A Hopeful Deterrent?
Colleen Long, journalist for Japan Today, stated: "President Donald Trump is calling for a new death penalty legislation as answer to hate crimes and mass killings" in the hopes of deterring potential mass shooters and murderers. However, death penalty psychologists say killers that are often motivated by a particular ideology are highly unlikely to be deterred by punishment in general, let alone the death penalty.
"In fact, in the case of terrorism, it might be worse than that because you have the very real possibility of creating martyrs" stated Gary LaFree, head of Criminology at the University of Maryland. Earlier this year, in April, John William King was executed in Texas for the murder of James Byrd Jr. in a racist attack. In 1998, he and two other acquaintances tied Byrd Jr. to the back of a pick up truck and dragged his body for three miles along as asphalt road, before dumping the remains of his body in front of a church. In 2015, white supremacist Dylann Roof was sentenced to death for killing nine people during a church service in South Carolina.
"Look at Dylann Roof", said Miriam Gohara, a Yale University law professor who studies the death penalty. "He has been sentenced to death, and that clearly did not dissuade people." Evidently, this proves that the death penalty does not work as a deterrent for mass shootings, and may even encourage people who are prepared to die for their radical causes.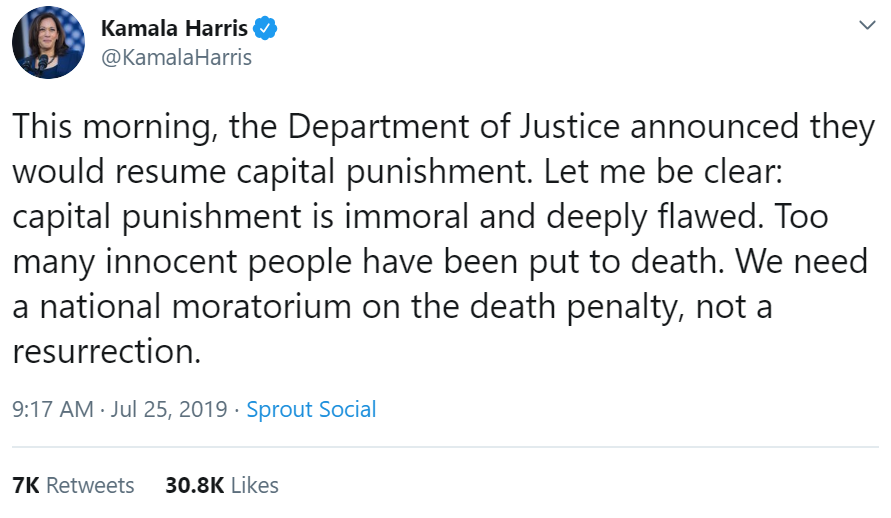 Opponents argue that the death penalty is a violation of the eighth amendment of the US constitution, which states that US citizens are free from "cruel and unusual punishment". In a tweet, Kamala Harris states that the death penalty is "immoral and deeply flawed". Whether states decided to impose or to ban the death penalty, its important to assess whether their decision will serve well-deserved justice and whether this decision is more emotionally fuelled than rational.