Last month Serena Williams made headlines after breaking out in tears and ending a post match press conference early.
Williams was speaking to the press after a loss to upcoming starlet Naomi Osaka.
The loss meant that 39-year-old missed an opportunity to make history by winning a record tying 24th Grand Slam singles title.
The question that elicited tears from Serena was in regards to her uncharacteristic 24 errors she committed during the match.
We're not crying, you are. 😢 @serenawilliams breaks down after her defeat.

WATCH: @Channel9
STREAM: https://t.co/7uAf53PWTv #9WWOS #AusOpen #AO2021 pic.twitter.com/YvxywOeFfk

— Wide World of Sports (@wwos) February 18, 2021
Williams holds the most Grand Slam titles in singles, doubles, and mixed doubles combined among active players.
Her 39 Grand Slam titles put her joint-third on the all-time list and second in the Open Era.
Despite not announcing her retirement, the word was on the lips or rather fingertips of fans and critics alike for Serena.
Many were ready to crown 23-year-old Naomi Osaka as the new Queen of the court and saw her latest bout with Williams as the proverbial passing of the torch.
Williams hasn't indicated that she plans on slowing up any time soon, but the latest reaction to the press conference poses the question if she is given the respect her career deserves?

Like millions around the world, when Grand Slam season approaches, my twitter account doubles as a Williams' super-fan account.
I, like many, grew up in an era where Serena Williams was as much a tennis player as she was a metaphor for sporting prowess, dominance, skill, tenacity and winning.
However despite this, there is still one record that eludes Serena. Grand slams won, which is still held by Margaret Court
It's worth noting that, for many, Serena is already regarded as the best player of all time, defying critics as her incredibly successful career continues to flourish in its fourth decade (she turned pro in 1995).
Margaret Court, the woman who currently holds the record for Grand Slam titles, won most of them at the Australian Open (11) at a time when professional players rarely entered the draw.
Serena already holds more Grand Slam titles than any other player — including men — since the inception of the Open Era.
Many want Serena to break this final record because it would be the perfect way to end a history shattering career however during the Australian open, we were all forced to grapple with the sobering reality that this may not happen.
Naomi Osaka who went on to win the tournament outplayed Serena, doing something we have become accustomed to seeing Serena do to other women on the tour.
Sport analyst Stephen A. Smith has suggested that the young Japanese Naomi Osaka may be one of the reasons for Williams' retirement.
During an interview he explained: "The bill came up altogether. She lost and the specter of retirement has become overwhelmed with physical problems and age. But there is always the side of the personality that says to try again, only one is missing."
I hope this is happening to Serena. But I believe that the tears in the press conference after the lost semi-final are due to a wall that she sees in front of her.
This wall is called Naomi Osaka and it looks pretty immovable at the moment.

With a career spanning over twenty years and 23 Grand Slam titles, it is safe to say Serena Williams is one of the greatest athletes of all time.
However, she doesn't get the respect that she deserves. To say that she gets valued as many other athletes is not true.
It can be argued that Naomi Osaka outplayed her and that much is true; however, the comparison between iconic athletes being outplayed is extremely different than when they talk about Serena's skills. 
For example, during the Australian Open, commentator Chris Evert counted Serena Williams out before the Open began. Williams made it to the Semi-Finals, which was a lot further than most people counted her. The commentators expected her to lose in the third round.
In other sports such as the NFL, they glorify players like Tom Brady. He is nicknamed the "G.O.A.T" in the sport even though his skills have declined immensely since he started the league, and rightfully so, he is not the spring chicken he used to be.
The difference in respect between these two aging players is seen when both players lose a match.
When Serena Williams loses or displays any emotion, she is spoiled, shows unsportsmanlike conduct, and suggestions are made that she should retire.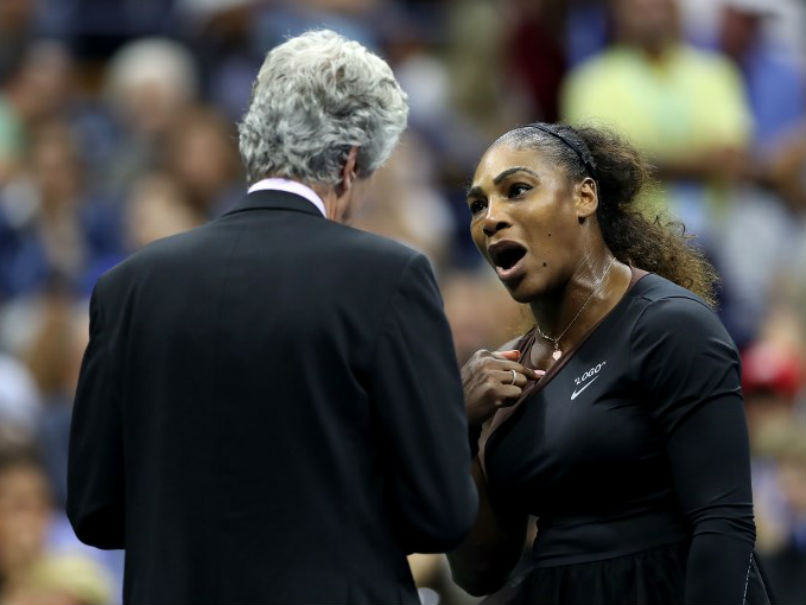 When Tom Brady rushes off the field without talking to the opposing team after a loss, commentators pacify his behavior and call him passionate about the game. If Tom Brady doesn't play the best, it is usually "oh, he is off his game, but it will get better next week." It is unfair to call one player the G.O.A.T and hope for his return but say that it is time for Serena to hang it up.
Society treats black women differently than they do a white man. With more years and more titles than most popular male athletes, she deserves that respect and more.