What did wearing all black at the Globes actually represent?
Considering all the accusations that were brought to light at the end of 2017 the "Time's Up" initiative was started to support victims of sexual assault, not only in Hollywood but everywhere in the world. The initiative was thought of intime for people to show their support for the movement by wearing black to the Golden Globe awards.
While no one knows exactly why the colour black was chosen, there are many things that it can be said to represent.
Black may represent the people that have been blacklisted since speaking out.
Just seeing this after I awoke, I burst out crying. There it is, confirmation that Harvey Weinstein derailed my career, something I suspected but was unsure. Thank you Peter Jackson for being honest. I'm just heartsick https://t.co/ljK9NqICbm

— Mira Sorvino (@MiraSorvino) December 15, 2017
There are actresses who claim to have been blacklisted after experiencing some sort of sexual assault in the industry. For people like Mira Sorvino, the accusation was confirmed last year in the light of the Weinstein Scandal by filmmaker Peter Jackson.
Black may represent mourning.
For a lot of people, they're burying the old. They are saying that there is a new standard of accountability in Hollywood and that things must change. "And for too long, women have not been heard or believed if they dared to speak their truth to the power of those men. But their time is up. Their time is up. Their time is up." Oprah Winfrey – Golden Globes 2018
Black is sleek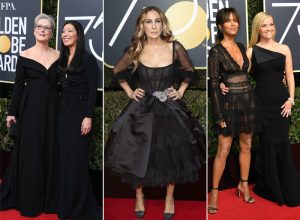 Black is known for being the colour that suits all. It is very possible that it was simply chosen because it is a colour that everyone would be able to look elegant in. Black is known for being the 'in' colour. It's the reason we see that certain colours are referred to as 'the new black'.
Black may represent strength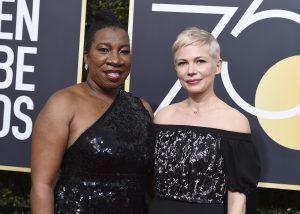 The strength of women like Tarana Burke (who founded the #MeToo campaign) has been exemplary in this period. Everyday women and activists have become the foundation of this movement, some of whom were seen to accompany some of the A-Listers to this years Golden Globes.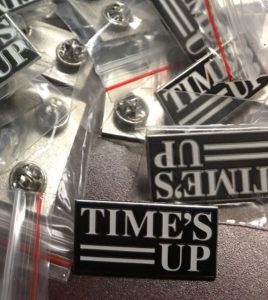 Not only did the Golden Globes feature an abundance of black this year, we also saw the introduction of the "Time's Up" pin that was worn in support of the initiative. It was worn not only by women but by men too. We saw it worn from people like Justin Timberlake to the cast of Stranger Things. The pin shows a stance of solidarity with the victims and a sense of faith in the initiative itself.
Whilst wearing black and pins is a brilliant start, it can only mean something if the campaign doesn't end here. There must be more action which is something we're starting to see with the initiative. With a legal defence fund of over $16 million which is increasing daily, there is hope that eventually time will be up.
More can be read on the Time's Up initiative at www.timesupnow.com.