After months of rumours and typical May-like indecisiveness, on the 8th of January 2018, the PM sought a cabinet reshuffle in an attempt to inject some much-needed life into her Brexit 'suicide squad'.
Senior positions remained unchanged, but some new talent was added to the ranks especially the cabinet office.
Theresa May sought to strengthen her authority with the cabinet reshuffle EPA
However, despite her best efforts, for May, it appears as if, as soon as she has two good weeks, a bad one follows for good measure. Monday was no different. The headline from this reshuffle will be that after a tumultuous 2017, May is yet to consolidate authority over her own cabinet. If this is the case about her front line, what can we hope and expect as Brexit negotiations coalesce.
The reshuffle saw one senior minister refuse to move and another resign from the government.
Justine Greening, refused to move from Education to the Department for Work and Pensions, while Jeremy Hunt refused to move from his health post and even had his role expanded. Their defiance created chaos on a day on which Mrs May hoped to reinforce her authority.
Just In: Justine out
Mays plan was to move Greening to the Department for Work and Pensions, following reports that she had started cosying up to teaching unions and was not passionate about the governments' policy of creating new grammar schools. Instead of this move, Greening hung May out to dry and resigned.
In a dig at the Government, Greening explained that she was standing down because enhancing "social mobility" meant more to her than a ministerial career.
Justine Greening leaving Downing Street after quitting Cabinet on Monday evening. Getty Images
According to the BBC, Friends close to Ms Greening explained that she expected to stay on, and that 'other incompetent and disloyal MPs had been allowed to stay or given expanded briefs.' The news, therefore, came to her as a shock.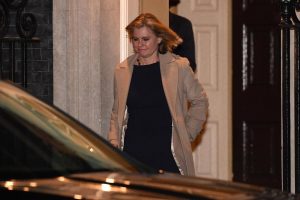 Greens exit is a blow for the Conservative party. A party often criticised for its London centric outlook, Greening represented a fresh Northern perspective which some argue broadens the government reach and support. As also one of the few female and LGBT Cabinet ministers, her move back to the back-benches could be symbolic of the place of LGBT issues during this Brexit focused year.
Downing Street said that Mrs May was "disappointed" that Ms Greening, who remained inside Number 10 for more than three hours of tense talks, had declined the offer of the DWP. Damian Hinds was appointed education secretary after her departure.
Health Secretary is like a rash that won't die.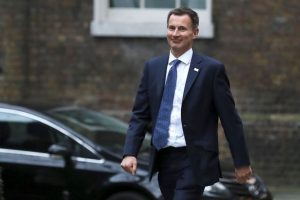 Even staunch critics must now agree that Jeremy Hunt's survival skills are commendable. Even though May had wanted to move Hunt, after protesting her decision and refusing to move, May was forced to keep him in health and also expand his role for good measure. He is now responsible for two of the biggest challenges facing the government, both of which provoke constant political heat and regular, high-profile pleas for extra billions of Treasury spending. Problems he must now deal with include, Britains ageing population, budgets, especially adult social care budgets, accident and emergency waiting times and much more.
Jeremy Corbyn (Leader of the Opposition)  said the reshuffle was a "pointless and lacklustre PR exercise".
Here are some tweets we found during the reshuffle,
The idea of a #cabinetreshuffle makes me think of turning over the compost heap on my allotment. Lots of worms and bugs come wiggling out but it's still the same old shit.

— Peter Davey (@PedroYevad) January 8, 2018
https://twitter.com/ShehabKhan/status/950293146776285185
Theresa May has had several opportunities to remove Jeremy Hunt but has declined every single one

There could not be a clearer indication that she has absolutely no regard for the welfare of you or your family#CabinetReshuffle pic.twitter.com/P69NAAAwhq

— NHS Million ? (@NHSMillion) January 8, 2018
Good to see the @ScotTories talents being recognised in the #cabinetreshuffle ?

— Joanna Cherry QC (@joannaccherry) January 8, 2018
That Jeremy Hunt is allowed to remain as Health Secretary given his history with the NHS, and take on social care at a time of the worst #NHScrisis in history- is further reminder that Theresa May endorses his track record & cares not one jot for the public.#cabinetreshuffle

— Dr Lauren Gavaghan (@DancingTheMind) January 8, 2018