In an increasingly dangerous and unpredictable world, 'securonomics' was the buzzword permeating from the Labour Party's Conference 2023 in Liverpool. Entrusted with the responsibility to protect Britain, what does 'securonomics' really mean?
Through 'securonomics' the Labour Party is proposing a foreign policy that begins…at home. The fact that the most notable foreign policy announcement of the recent Labour Conference came during the Shadow Chancellor's speech, and not the Shadow Foreign Secretary's speech is telling in and of itself. In a world of interconnected economies and globalized trade, national security is economic security.
Shadow Chancellor Rachel Reeves announced during her speech at Labour Conference that "globalization is dead" and a Labour government would instead pursue a policy of 'securonomics'. Below, we dissect what this really means and if globalization truly is dead.
What does 'securonomics' mean?
Labour's 'securonomics' can be understood as the fundamental belief that economic security must precede overtures abroad. This means securing supply chains and building production capacity in areas where the UK is currently over-reliant on other nations, particularly unfriendly ones. "We are living in an age of insecurity", argued Reeves, in reference to the geopolitical events of Brexit, the COVID-19 pandemic, and war in Europe.
A Britain seeking to play a leading international role must first strengthen its capacity to be self-reliant, "in a world where our adversaries may turn off the taps to energy supply, or remove access to critical technology (…), Britain needs to be more resilient."
'Securonomics' is about Britain 'standing tall' and 'reaching out'
Economic resilience, as outlined above, embodies a figurative reference made repeatedly to Britain 'standing up'. While Shadow Foreign Secretary David Lammy's speech at Labour Conference 2023 was symbolic of a Britain, having stood tall, that would reach out to allies and renew its partnerships, "a strong Britain is not a lonely Britain but a United Kingdom whose alliances give us strength."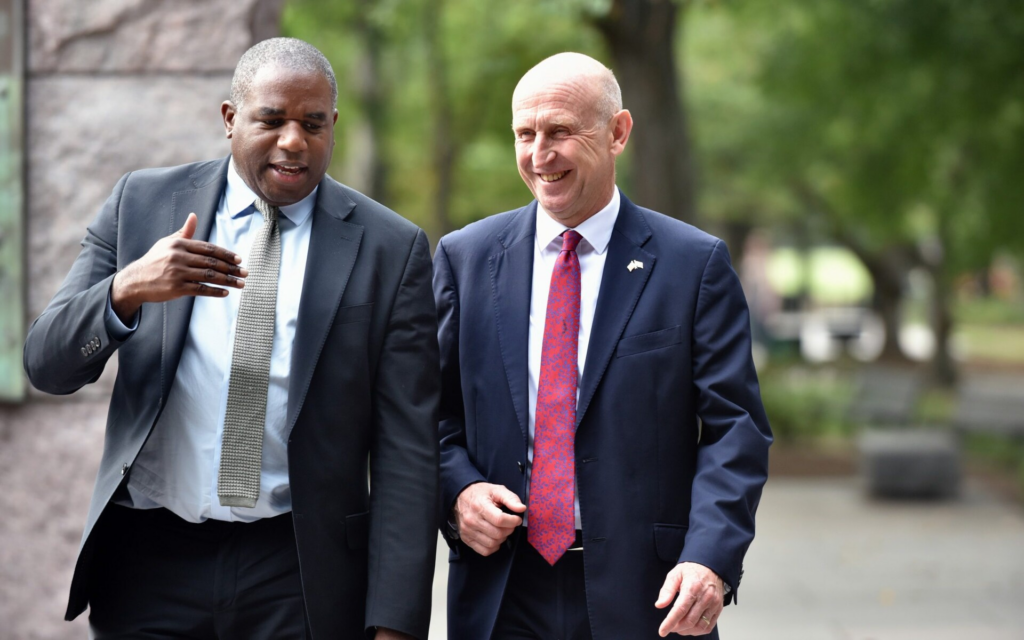 Lammy referenced the Labour governments of the past and their role in the formation of key international security alliances, such as the North Atlantic Treaty Organization (NATO) and the United Nations (UN), suggesting a Labour government would not deviate much from Britain's longstanding and leading role in the international community.
Together, 'standing tall' and 'reaching out', not only underpin Labour's 'securonomics' approach to governance but also embody the broader Labour campaign to re-establish public trust by presenting itself as a party of fiscal competence and sensible politics. Protecting the economy demonstrates fiscal competence whilst pledging to strengthen Britain's existing commitments to its alliances such as NATO is intended to forge a clear distinction between the current Labour Party and its predecessor led by Jeremy Corbyn, who was a vocal critic of NATO.
How would Labour implement 'securonomics'?
'Securonomics' would entail investment in UK industry to increase self-reliance when it comes to critical infrastructure. It would require onshoring jobs in parts of industrial supply chains formerly sent abroad returning to the UK. This in turn demands the upskilling of the UK populace to complete such roles. Labour calls this a bottom-up approach to achieving economic growth and national security simultaneously, whilst advancing the general population's interests.
'Why 'securonomics'?
'Securonomics' is symbolic of the wider dissolution of boundaries between domestic and foreign policy, and industrial policy and national security, which we are seeing across Western governments in response to the increasingly unpredictable and dangerous world taking hold all around us.
The United States government's £350bn Inflation Reduction Act (IRA) leverages private sector investment into domestic manufacturing and critical infrastructure capacity through government subsidies. In doing so, it hoped to accelerate industry shifts toward emerging technologies and securitize its economy.
Australia, Germany, and the EU have all followed suit with similar initiatives. The UK Labour Party's 'securonomics' approach is merely a variation on a common theme emerging in the West – secure at home to stand tall whilst reaching out and engaging abroad with like-minded nations.
Globalisation isn't dead, only now it has a protectionist streak.