The infamous former PM has not held ministerial office since being forced to resign in the wake of defeat in the Brexit referendum in 2016. Now he's back as foreign secretary amidst the latest cabinet reshuffle – Braverman's out, Cameron's in.
Prime Minister Rishi Sunak has sacked the Home Secretary Suella Braverman, installing Foreign Secretary James Cleverly as the new Home Secretary, and paving the way for the shocking return of former Prime Minister David Cameron as the new Foreign Secretary.
The cabinet reshuffle comes in response to growing pressure on the Prime Minister to reign in his 'unhinged' and 'out of control' Home Secretary following Braverman's recent comments accusing the Metropolitan Police Force of racial bias in its policing of pro-Palestinian protests. Braverman's comments, describing the protests as 'hate marches', had been accused of intentionally stoking racial division and even inciting violence as clashes erupted on Armistice Day between far-right hooligan groups 'defending' the Cenotaph and police desperately trying to ensure they did not meet with pro-Palestinian protestors.
The Prime Minister hopes the return of former Prime Minister David Cameron into the fold at a time when multiple significant global events are occurring will bring valuable leadership and experience in the Office of Foreign Secretary. While the new Home Secretary James Cleverly is experienced, well-liked, and diplomatic, much the antithesis of the incumbent former foreign Secretary Suella Braverman.
Below, we offer an analysis of how it is possible for David Cameron to become Foreign Secretary when he is not even an MP, some of the driving forces behind Sunak's decision, and what the future might hold.
Can Lord Cameron steady the ship?
Seven years since stepping down from his post as Prime Minister, David Cameron has returned to parliament. This time, he will not be answerable to the electorate. He is not an MP meaning he has not been democratically elected to represent the interests of the British public, yet now holds one of the four Great Offices of State. Without a ministerial position, for Cameron to become Foreign Secretary he had to become a Baron and a life peer in the House of Lords. King Charles duly obliged and approved Cameron's seat in record time.
Whilst the move has few parallels across British democratic history, there is precedent. Lord Peter Carrington was Margaret Thatcher's Foreign Secretary from the House of Lords, held in high regard until he stepped down following a failure to foresee the Argentine invasion of the Falkland Islands in 1982.
Of course, even without the constitutional complications, the appointment of David Cameron is not without controversy. He is the man who took Britain out of the European Union. He has recently been at the centre of not one, but two lobbying scandals. First on behalf of Greensill, where he worked as an 'advisor' while lobbying none other than Rishi Sunak himself for support amidst the company's collapse, and more recently on behalf of the Chinese government.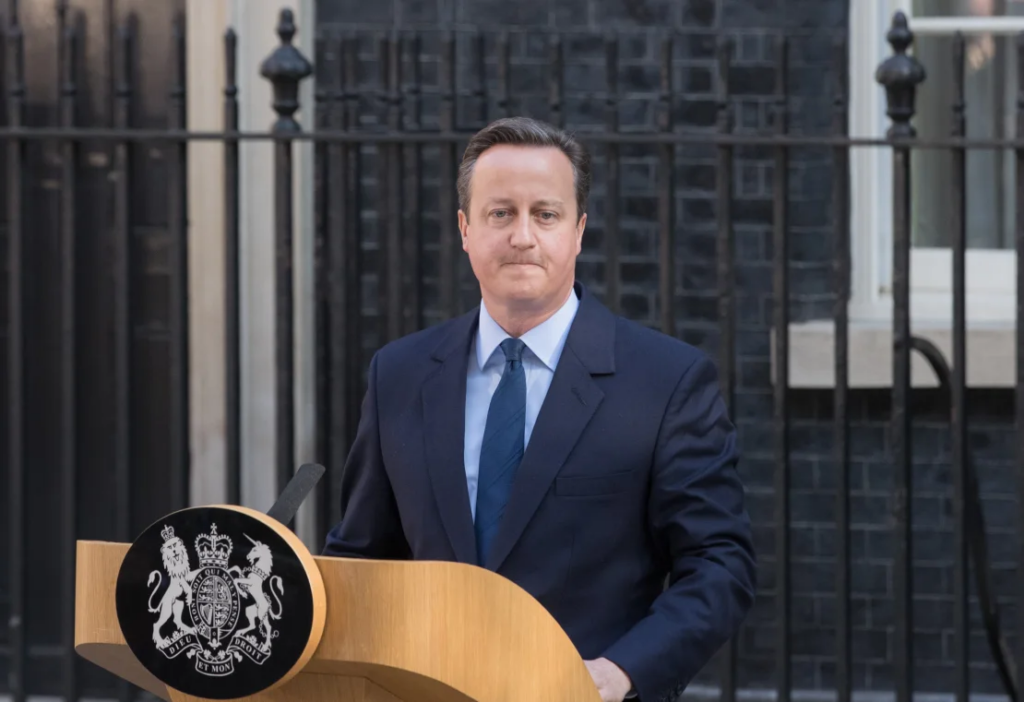 He was the architect of the 'golden era' of UK-China relations. Until recently, he continued his close working relationship with China as vice-chair of a £1 billion China-U.K. investment fund, a role which according to parliament's intelligence and security committee, may have been engineered by the Chinese state to legitimize Chinese investments through a reputable figure.
At the Conservative party conference, last month, the Prime Minister pledged to be the candidate of change and an inflection point from previous Conservative governments. Instead, he has brought back Cameron out of the political cold and back into the mainstream.
The implications of Cameron's appointment are yet unclear, but speculation is rife
Some assert that Cameron's appointment is a sensible move, bringing experience and stature to a cabinet severely lacking. Some insist it is a damning indictment of the current crop of Conservative MPs that none are deemed to have the calibre necessary for the position of Foreign Secretary. While others will remember Sunak's pledge, just last month, to be an agent of change at the Conservative Party Conference. During his speech, Sunak criticized the past 30 years of British politics, arguing each of his predecessors had failed to lead and instead sought to appease, alluding to the need to resist identity politics and in broad support of his former Home Secretary Suella Braverman's stances on cultural issues.
Cynics might argue the appointment of Cameron is now an attempt to obfuscate such views and instead appease more moderate Conservative voters who were critical of Braverman, and thereby the government's role in causing public disorder. Cameron is, after all, a moderate Conservative often accused of being a closet liberal.
Whatever you believe, it is evident Cameron has a political pedigree. What is less clear is Rishi Sunak's long-term plan for governing. His reign continues to be highly reactive resembling a constant political firefight with no clear vision for the future. Right-wing, left-wing, centrist? It is true that politicians should not be strictly wedded to ideology, and there is always room for nuance but Rishi Sunak changes position on the same issues on a weekly basis. If David Cameron is the answer, then what is the question, Rishi?