The football content site and YouTube channel's sacking of presenter Poet due to his past sexist tweets has caused a huge stir online, but it didn't have to be like this.
A 2018 study found that 70% of employers are now scrutinising candidates' social media history during the hiring process. Social media has become so ingrained in everyday society that it often provides others with the first idea of what makes up our personal 'brand'. You can no longer afford to be anything less than squeaky clean online. It is a warning we are constantly being reminded of, but the benefit of hindsight is not a luxury afforded by the internet.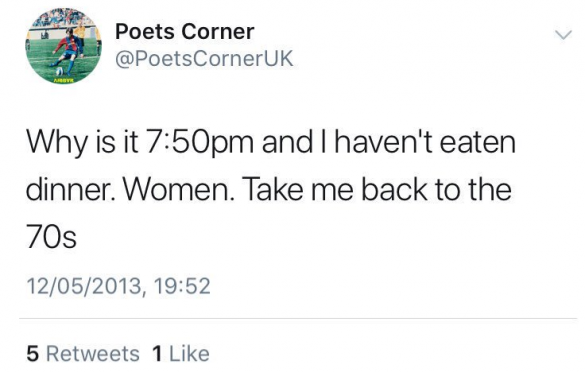 This is a reality realised by presenter and content creator Poet, who left Copa90 last week after a Football365 published a now deleted article exposing a series of Poet's sexist tweets from the last eight years. The article was published in response to Copa90 releasing their attempt at an inspiring video in support of women's football and this summer's World Cup. This video has also since been removed from YouTube by Copa90, but can still be found here via MSN video. Poet appears multiple times in the video, with commenters feeling it was inappropriate and hypocritical for someone with his history to suddenly be given a platform to champion equality.
Once the story broke and began circulating online, this unsurprisingly resulted in Poet's association with Copa90 being 'reviewed', not terminated, but with the added caveat that he would not be appearing in any content until further notice. The full statement is below, but it was much of what you would expect. Generalised waffle about how it was at odds with their values, how they had only just come to know of the tweets and that they would be 'tightening' their procedures in the future.
Hypocritical from Copa90?
Besides the societal failings that led Poet to think these things in the first place, this was the first failure. Make no mistake, Poet deserved to face considerable punishment for his part in all this. His supporters were quick to reel off the excuses that the tweets were "from years ago" and that he was a reformed character, but this is simply untrue. Poets tweets show a long, drawn out level of misogyny that Twitter user @_BabsJ points out in her excellent blog 'That Baba Girl' lasted publicly until as near as 2018. The tweets were unacceptable and you cannot expect to behave as he did, while remaining the public face of an organisation. Yet despite all this, there is still something about Copa90's response that just doesn't seem fair.
For starters, there is the claim that Copa90 had only "recently become aware" of the content being posted by Poet on his personal Twitter. If it was the case that this all happened well in the past then this would seem like a fair admission. It is though, difficult to believe that no one at the channel was aware of anything one of their main creators was sharing from last year right back to 2011. What they have done in their statement is try to lay all blame at Poet's door. This entirely misses the point.

When Poet's tweets were first shared, it was not simply him who was being called out, but the hypocrisy of the entire organisation. In an era of woke capitalism, Copa90 insisted on publicly making a huge song and dance about their support for women's football, while failing to acknowledge their own mistakes. These include a 2013 series called 'The Strip Show', which involved getting semi-naked women to try on a variety of football shirts. Curiously, none of this was mentioned in their blanket statement, but when pressed on this their response was just to copy and paste the same response over and over.
This raises questions over how serious Copa90 truly are in their pledge to provide a platform for everyone. Yes, actions speak louder than words and they didn't need to make that video, but the fact they did represents a huge missed opportunity. It could have been a chance for them to admit past failings like 'The Strip Show', announce their change of direction and most importantly, reveal a new creative team. In the end, they did only one of these things. With a core fan base of adolescent boys and young men, clearly Copa90 were not prepared to take the inevitable hit that this would bring to their viewing figures; something that is indicative of the final failure.
But how did social media react?
There will be those who disagree with much of this article, there may even be some who feel the need to voice their displeasure, but it is guaranteed not to receive the same level of abuse directed at others online. Why? For the simple fact that it was written by a man. This whole debate had potential to be a nuanced discussion around progress, education and social media, but as soon as the trolls caught wind of a handful of women calling Copa90 out it descended into farce.
What is it about society that allows this underlying hatred of women to thrive online and still exist below the surface? In place of any reasoned thought that women might actually have every right to be offended by Poet and Copa90's poor behaviour, as always the default response online was to place all blame with the female species for simply existing and having a voice. This is nothing new, but highlights how damaging publishing content like 'The Strip Show' to a wide audience can be in the long-run. Ironically, all this circus has done is underline the need for media outlets like Copa90 to run effective campaigns that promote equality and educate their audience.
Once the dust settles, things will undoubtedly progress, but at the time of writing Copa90 are yet to build on their weak initial statement. But by publicly resharing this to every response on Twitter they have made yet another error, as it has been pointed out this leaves women more vulnerable to further abuse. Each one of these mistakes brings us further away from the core message in their original video. This is 2019: support women, strive for equality, celebrate all forms of sport. The Women's World Cup is the biggest sporting event of the summer and a trophy that England could genuinely win. I for one, can't wait.