26 people have lost their lives, dozens are missing, and 500 million animals are believed to have perished as a third state of emergency is declared in Australia since the bushfires began this Summer. Have we reached the brink or are we peering into the abyss of irreversible climatic change? Whatever the case, "unprecedented" may need to be replacing to describe extreme weather this decade.
Seen from Space? Sure. How about New Zealand?
Raging bushfires have illuminated the New Zealand skyline bright orange more than 1,200 miles away. A Sydney suburb was the hottest place on earth over the weekend. Penrith January 6th reached 48.9C, a record that had stood for 80 years until recently. Canberra has the worst air quality in the world accordingly to Swiss group Air Virtual having peaked at 7,700 Air Quality Index (AQI) at 1am Wednesday, shutting down the city – readings over 200 are considered hazardous to human health.
Homes in Turramurra, just 10 miles from downtown Sydney were threatened as thousands of firefighters deploying fire-retardant, long hoses and helicopters to hold back the blazes. More than 85 fires are still burning in New South Wales NSW, with half out of control.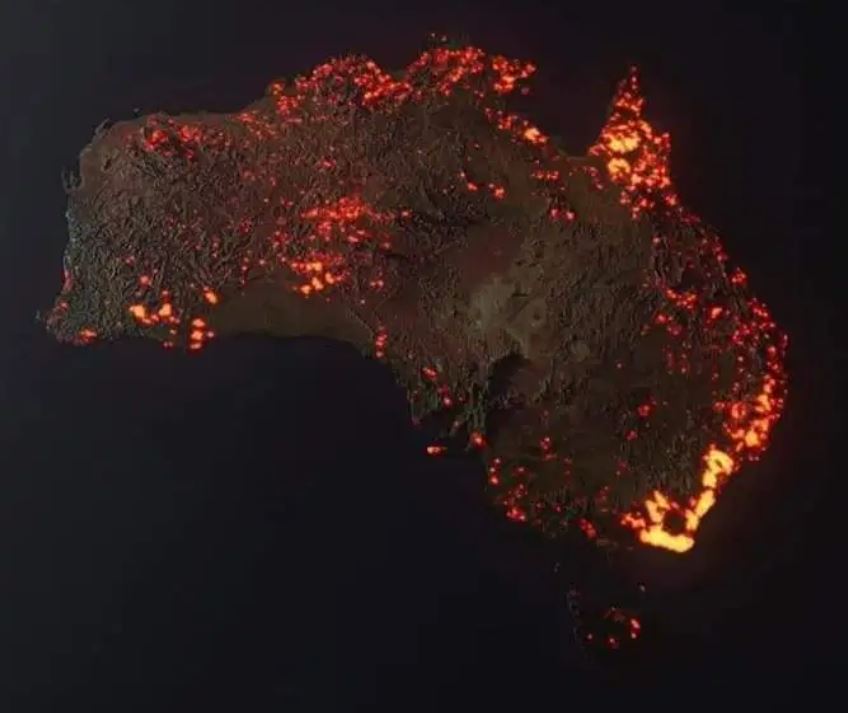 To put the fire damage in NSW into perspective, the 2019 Amazon fires destroyed 900,000 hectares, and the 2018 California wildfires some 800,000 hectares. NSW has lost at least 4 million hectares since 1ST July. The fires are not dissipating but growing with no real end in sight. 10,000s have been forced to flee their homes, and a third of Adelaide's vineyards have been razed.
Many Australians are asking whether the ferocity of these bushfires come down to climate change, with leading firefighter representatives and authorities demanding action to address the issue. Australia's Bureau of Meteorology state the country has warmed 1C since 1910, with most since 1950. The government has come under criticism  for inadequate firefighter and response funding, poor preparation, with the Prime Minister being on holiday in Hawaii "sleeping at the wheel" and lack of back burning efforts. So which is it?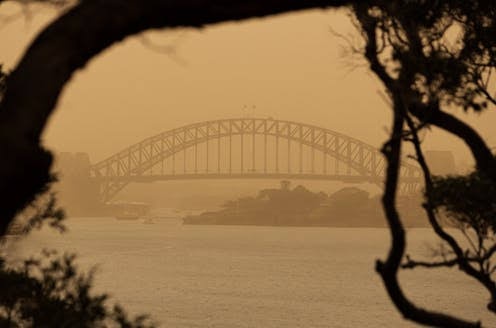 What are bushfires?
Bushfires occur because of a combination of large quantities of combustible materials and hot, dry weather conditions. During such periods of high risk, a fire may start through deliberate action (arson), negligence, or natural events (like lightning) – or some combination (broken glass litter in strong sunlight).
Australia has large expanses of bush around her capital cities. During summer heatwaves, the bush can dry out and become highly flammable. The oil in many native plants – such as eucalyptus – can increase the risk of fire as well. Over a period of years, the undergrowth and the ground cover of dead leaves and branches can build up and become a dense combustible mass. This debris or bone-dry trash holds oil vapour from the eucalyptus. When fires pass through, this oil vaporises and burns explosively.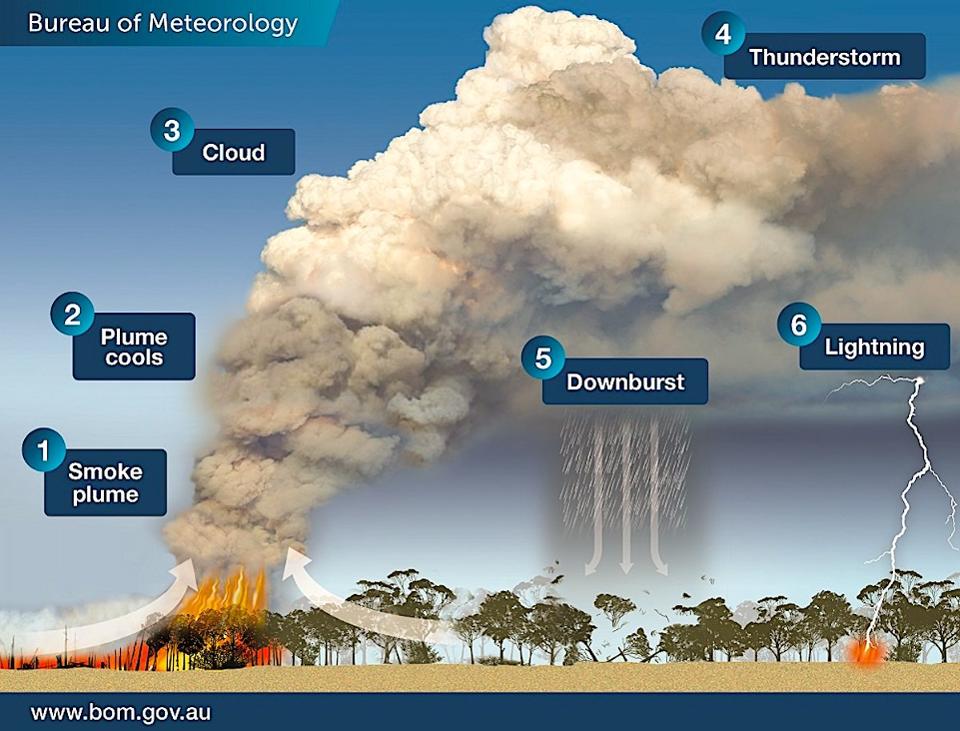 Why are the flames so terrible?
Australia is a dry continent, lacking vast inland river systems like the United States. Water mismanagement has turned the rivers into trickling streams as drought has gripped the country for years. Political conservatives have granted cotton and rice growers carte blanche access to the water, stockpiled in large dams and reservoirs, furthering stressing a system on the brink. On the other side of the fence, you have Green parties vehemently opposed to hazard reduction burn-offs. Add it all up, and you have a large fuel load with no water to put the fires out. Towns are left trucking water in to survive. Arrogance and complacency in not listening to the private landowners, farmers and native aboriginal peoples who have practiced burn-offs for thousands of years, have left us with the current catastrophe.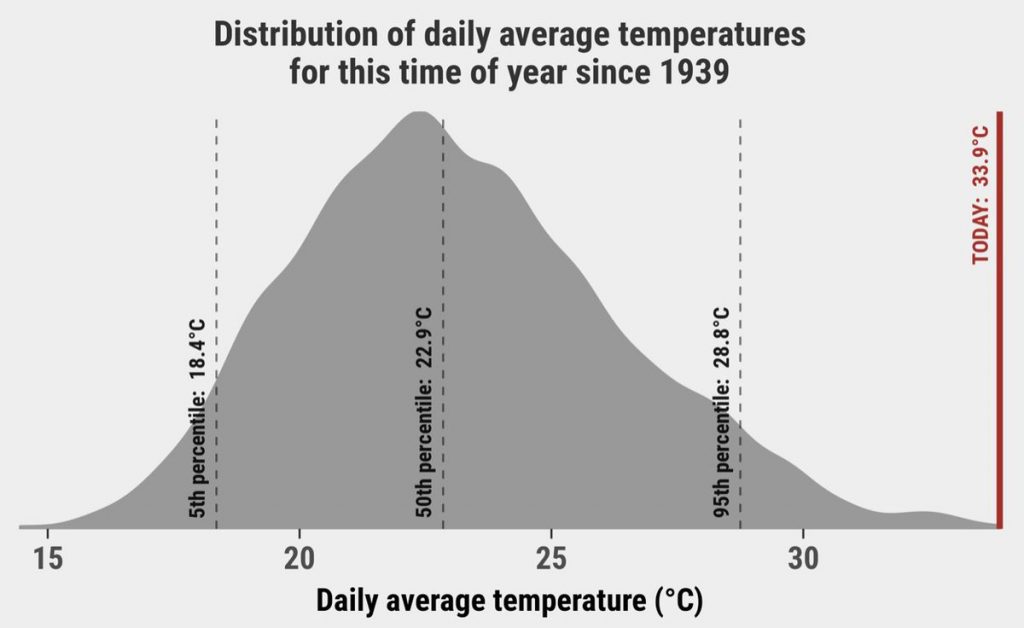 3 years drought in eastern Australia has been a normal phenomenon, "accelerated by climate change" says Michael Roderick, a climate researcher at the Australian National University. The record breaking summer temperatures in the mid 40 degrees centigrade, and high winds combined with a tinderbox landscape create the perfect storm for fires, making them an inevitable force of nature which the Australian population can try and manage, but once they reach a certain intensity, they cannot be stopped by humans.
Climate Change
Chris Field, environmental studies director of Stanford University, commented that the sheer scale and intensity of the bushfires are "one of the worst, if not the worst, climate change extreme events" he had seen. Mike Flannigan, a fire scientist at the University of Alberta in Canada, said Australia's fires are "a prime example of climate change".
While the Australian government's 2019 wildfire briefing report stated, "Human-caused climate change has resulted in more dangerous weather conditions for bushfires in recent decades for many regions of Australia."
Australia has had bushfires for millennia. But this is far from business as usual. These are earlier, fiercer and more widespread now than in living memory.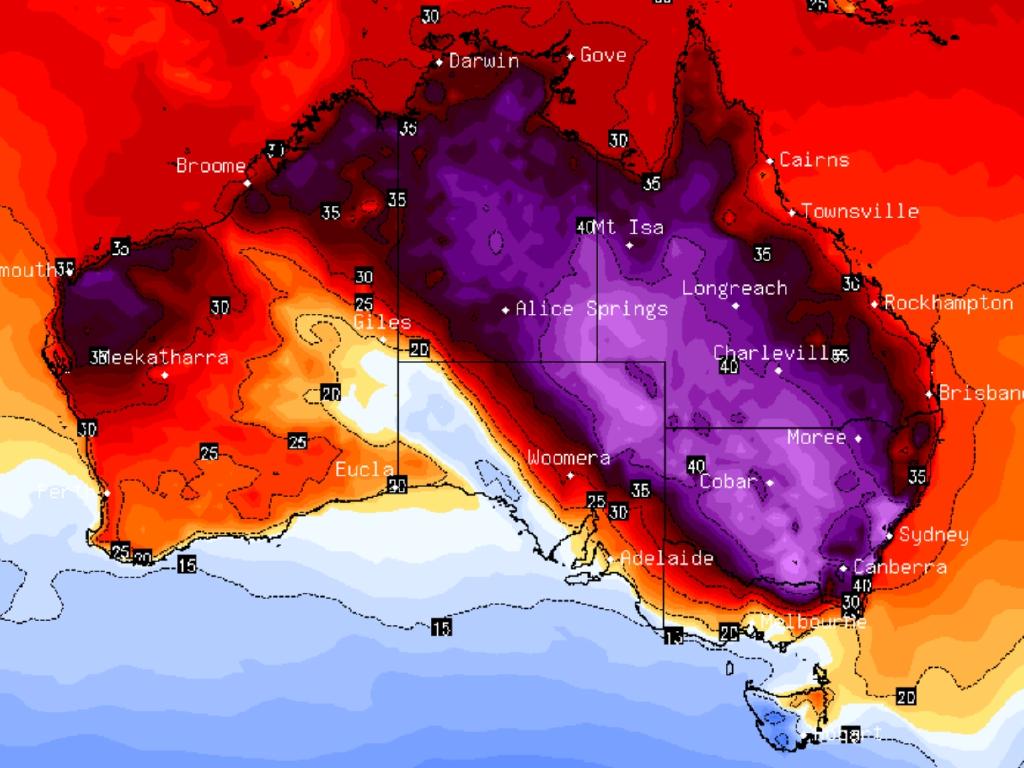 Australia's hottest day ever may be an isolated blip were it not for the record to be exceeded two days later, each one topping the last on what was historically 80 year standing records. Wheat production is down 40% since 2000 as plants struggle to cope with drought conditions and excessive heat.
The anthropogenic global warming makes the drier, hotter, longer bushfire seasons where planned burns can easily spiral out of control. The seasonal window for safe burn offs is narrowing year on year.
Former State Fire Chief
Two factors, however, that have not received adequate press attention are the lack of strategic response and strategic preparation.
As former State Fire Chiefs call for a summit on bushfires, expert and Scientist David Packham explains that it has nothing to do with climate change and everything to do with fuel-loads.
"Maximum fire intensity you could extinguish with anything was around 3 to 4 megawatts per metre. Last Saturday in Victoria reached 70 megawatts per metre. Far greater than can be controlled by any means available to mankind. The only thing that will stop the fires is rains or it running [sic] into the Pacific Ocean. Every time the policy of fire control fails, the fire management have just asked for more money. They have had the whole east coast burn and conveniently can attribute this to climate change and ask for more money."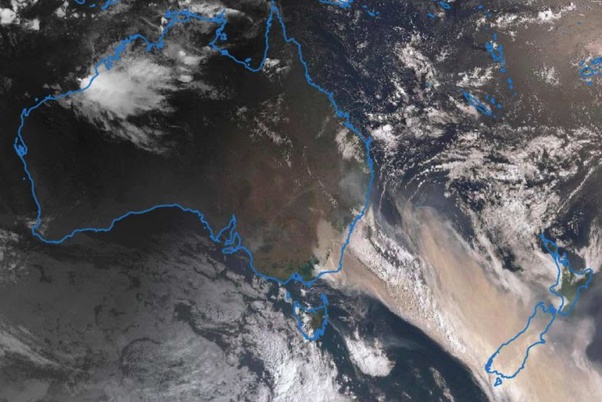 "The only thing that can be controlled by humans and original inhabitants of Australia for 60,000 years is the fuel. And that is by burning. Providing it is done how the indigenous people want it done: mild, small trickling fires over the surface during the cooler, wetter months."
PM Scott Morrison's Political Future Up In Smoke
There can be no doubt, the bushfires caught the Australian government flat-footed. There is no better evidence than the Prime Minister's holiday to Hawaii despite weather forecasts from the Bureau of Meteorology in Australia, information on hazard reductions, climate change models and yet no merging into a bushfire forecast. Morrison failed to meet 23 firefighters who had raised concerns in August about the fire season priorities and preparation.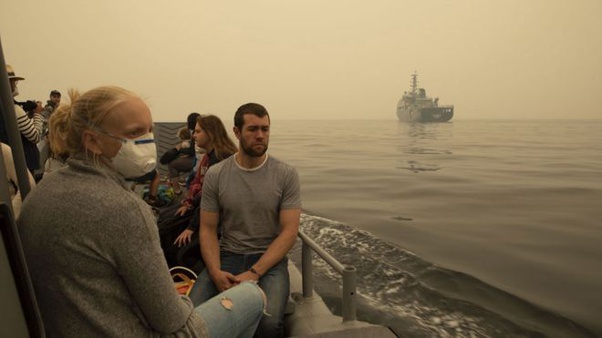 Is the Government to blame?
Lack of Statistical Modelling Reflective of Wholly Inadequate Preparation
You may not be able to predict a solo arsonist, but it should be patently clear by now there are several morons in Australia who would toss cigarette butts out their car window or dump BBQ charcoals without any regard for fire hazards. Regardless of whether you warn them. These acts can be estimated by statistical modelling. There was no such strategic forecast. And lo and behold, no preparation based on such forecast.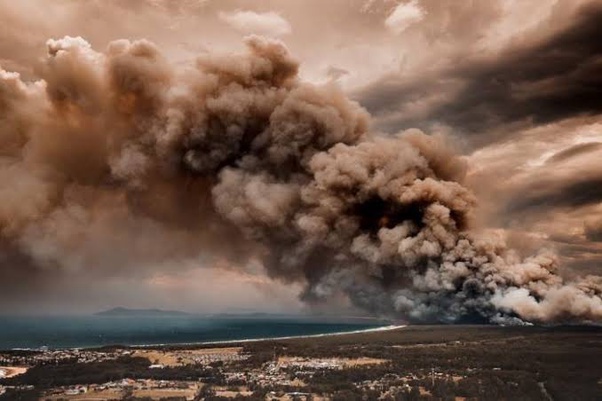 As result, brave firefighters tackled blazes as those had forced to last century. Israeli drones with Infra-Red vision are deployed in their nation to detect fires when they start and can douse the flames with a swift waterbomb. Russian Be-200s scoop water from lakes and bays without landing in a mid-air pirouette, thus flying several sorties in quick succession.
Australia is a relatively rich country, and the losses this Summer alone will dwarf any equipment hire you can imagine. They can afford state of the art firefighting. This does, however, require strategic direction from the top down or from the bottom up where government has failed their people.
Green Policies Nonexistent
Meanwhile, Australia's National Government's environmental policy includes no price on carbon, no plans to phase out gas, no plans to phase out coal, with their federal environmental approvals for Adani Carmichael coal mine and offshore oil field exploration and drilling in the Great Australian Bight. There is no policy on Great Barrier Reef protection. No plans to transition workers from fossil fuel industries and manage structural economic transition. The emissions reduction targets of 26-28% by 2030 on 2005 levels are largely in line with wider transition globally by 2030 among developed nations. The Climate Solutions Fund is seeking to reduce greenhouse gas emissions in Australia through the existing Emissions Reduction Fund without extra funding.
Modern Land Management and Indigenous Experience
Not only have the Australian government refused to do anything about climate change or listened to experts in land management fields, but indigenous people haven't been listened to.
They have controlled bushfires and managed the land effectively for centuries.
Lack of world awareness.
People around the world associate Australian bushfires as routine "standard run of the mill" affairs. They sure care for California, Notre Dame and the Amazon rainforest. The bushfires on the continent completely dwarf all previous 2019 media covered fires combined, and yet radio silence until very recently because of 60 Minutes Australia, social media and celebrity campaigns to raise awareness. Why it took a singed mother koala holding her baby amid charred eucalyptus forest to spur global compassion is beyond this writer.
Alternative Perspective
Bowing to the court of public opinion
Attributing the bushfires to climate change is rather clutching at straws. Peddling such narratives while fires rage killing animals in their millions and destroying lives is a travesty atop the suffering.
As in California, there has been a movement in Australia by the Greens to cease hazard reduction burns as these remove the habitats of animals living among the dead sticks and grass.
Local and federal governments bowed to the court of public opinion to curtail firebreaks and forcing manual slashing instead of backburning in national parks and private land.
Unintentionally, these "do-gooders" turned millions of acres into tinder.
People protest without having a clue what they are talking about.
The government listened, and now the land that the protesters think they were protecting is decimated with hundreds of millions of wildlife burned to death, billions in property damages, billions lost in economic disruption and thousands traumatised by fleeing certain death only to return to ash and dust.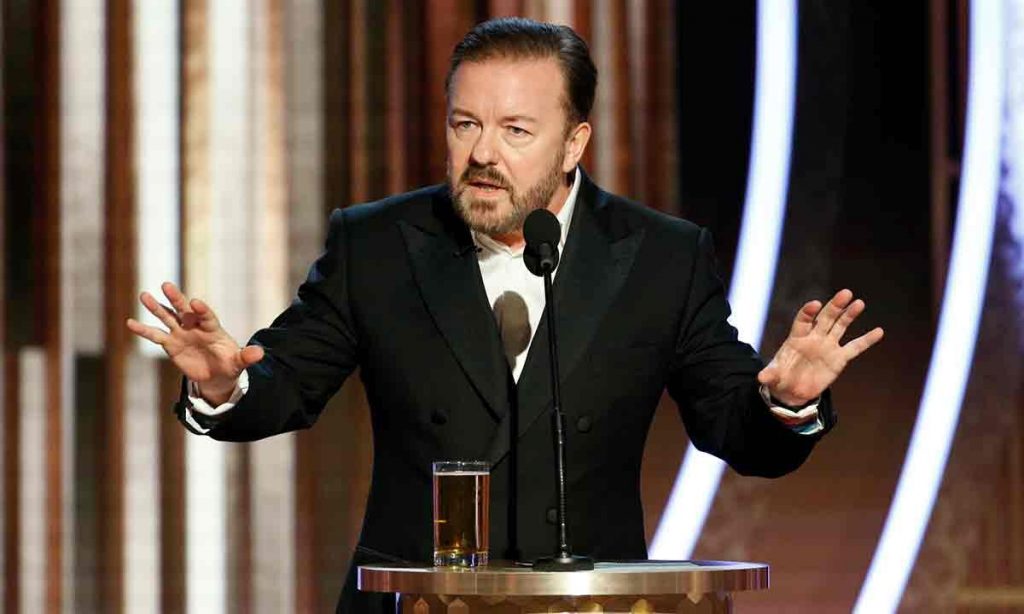 If Ricky Gervais' mixed reception for hosting the 2020 Golden Globes went down in flames, his message to the winners deserves repeating for those at the back: "So if you do win an award tonight, don't use it as a political platform to make a political speech. You're in no position to lecture the public about anything. You know nothing about the real world. Most of you spent less time in school than Greta Thunberg. So, if you win, come up, accept your little award, thank your agent and your God and f**k off. OK?"