With the traction surrounding Black Lives Matter in the summer, one may be inclined to think that Black History Month in October would have carried on in the same vein. Black History Month instead was underwhelming. Combined with the infamous ever present threat of COVID, the world, that once stood on the edge of racial tensions and divides, has moved on.
Instead during the month the spotlight was thrust upon Nigeria and the call to #EndSARS.
SARS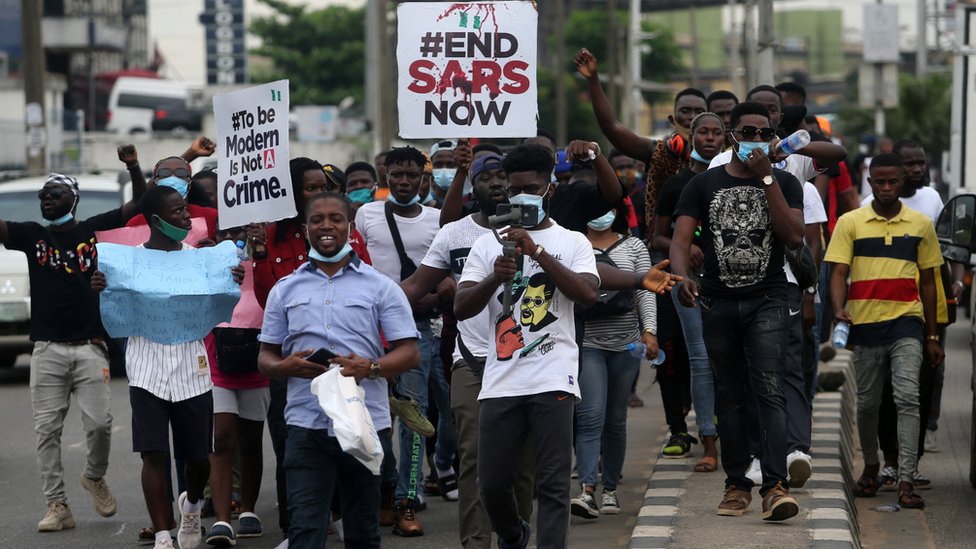 SARS was a special branch of the Nigerian Police Force created in 1992 to deal with crimes associated with robbery and firearms. The group became controversial for its links to several human rights violations, illegal stop and searches, illegal arrests and detentions, extrajudicial killings, sexual harassment, and brutalising young Nigerians.
The Nigerian authorities failed to bring perpetrators to justice, thus highlighting deficiencies in Nigerian police accountability contributing and exacerbating these inhumane violations. Social media was full of hashtags #ENDSARS. the group was disbanded 11th October.
Symbolic Victory Isn't Actual Victory
Social media has become a powerful weapon in spreading good news and companies have begun to realise this.
Social app Bumble "spread #MyLoveIsBlackLove after Research showed that 3 in 4 Black people in the UK (79%) believed there is a lack of relatable stories and images about dating as a Black person in the UK. The hashtag. #MyLoveIsBlackLove aimed to better represent the breadth of Black Love. In this campaign, there were high profile activists, musicians, sports athletes and influencers. Undeniably black love is political and showing black love is a great way to showcase black unity."
Royal Mail gave us "four post boxes to mark the beginning of this year's Black History Month." Each of the postboxes are "painted black, with striking gold trims". Each postbox also features a person from the Black community. Significant members from the community were features on special stamps. Sir Lenny Henry CBE; Yinka Shonibare CBE RA; John Barnes, Nicola Adams and Marianne Jean-Baptiste were some of the individuals featured.
While both these ideas are fantastic, they do nothing to remove systematic racism. Many black activists wanted real and tangible change. Some will argue that postboxes and hashtags are nothing more than virtue signalling and tokenistic.
As Malcolm X said: "The white man will try to satisfy us with symbolic victories rather than economic equity and real justice". Malcolm X's words reign true to this day is a time where we believed we would be "judged by the content of our character and not the colour of our skin".
None of what has happened is real justice, its corporate pandering to the people, thinking they care when in fact it just makes business sense. Businesses need to do what makes money and with the creation of the Black Pound, Black History Month and the death of George Floyd conversations around race has dominated the atmosphere, conjoined with ethnic minorities more at risk of COVID, to add salt to the racial injury. From casual conversation to political conversation, race was at the forefront of your existence since May 2020.
I feel there is collective fatigue as we did the "race" marathon earlier in the year with the George Floyd death. Black History month was underwhelming, labouring and an example of the fatigue that we face when having those uncomfortable conversations about race. Now with race front and centre of everything people have grown exhausted, best characterised in the below tweet.
Twitter user @Katie23626427 was sick to death of hearing about black culture, I wonder how she would cope being black combined with the microaggressions, being followed in Sainsbury's, and other supermarkets, assumptions that your father isn't in your life alongside other crass and crude stereotypes.
Race, for such a long time has operated on invisibility. The past events in the year have brought a revealing light to the darkness that race has created. Now, race is more visible than ever before, backs are up to the wall and hairs stand on edge. Black History Month was underwhelming because people were overwhelmed.
Shaun Flores is from Trinidad & Tobago, the home of carnival
In 2018 he became a TEDx speaker speaking on the failures of multiculturalism. He is also a commercial & fashion model.
MA in Race Media and Social Justice
BA in Criminology & Sociology
He hopes to study a PhD 'The absence of paternal masculinity in the black home'.