This week, Birmingham Univiersitys ACS ( Afro-Caribbean Society) came under fire for allowing a non Afro-Caribbean student to run for a position on the ACS committee. Our journalists Muhammed Oleolo and Munya Raradza give their views on the scandal.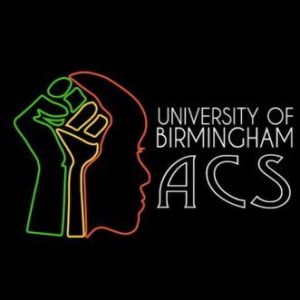 No Door Should Ever Be Closed at University – In Defence of Dita

by Muhammed Oleolo
I just felt obliged to defend my best friend because she's been coming under some fire recently @_ditaxo pic.twitter.com/NwufKIiUrh

— stain (@martinologunja) March 11, 2018
So this girl, Dita, has apparently done the unthinkable. She's encroached on a space meant for black people exclusively. She, in merely announcing her running for the role of Secretary of the University of Birmingham's African-Caribbean Society, has chosen to occupy a space that was not her's to take.
I don't buy that point of view for a second.  In fact, the people attacking her right to run are playing a very dangerous game.  I've worked on successive ACS committees and I can say that in my experience, I have seen few stand for a position with a motivation as altruistic as this: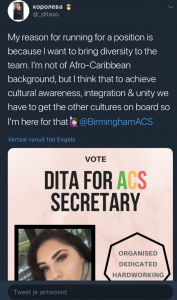 That's not to say I am personally excited by her platform. Is there something extremely cringed about the phrase, "intergration & unity"? Absolutely! Does "cultural awareness" actually mean anything? We shall see.
My point is that the very nature of university is that it opens doors to the wider world. Who are we to close any of those doors on people, especially without hearing them out.  One could say, she has a right to run, but she's unfairly taking one of the very few positions of leadership that black people occupy on campus.
There are two reasons why I disagree. First of all, finding a place on a university society is often a democratically acquired office. The only requirement is to be a member and to do one's job diligently. There's nothing about being white that precludes one from executing a secretarial role for the ACS effectively. Secondly, ACS is not a monolithic cultural society in essence but operates that way de facto. Would we have the same outrage for White Africans? Arab Africans? Perhaps people that don't look stereotypically Bantu or West African like Habeshis and Somalis? Almost certainly, most ACS' are cultural only in that they serve as a link-up spot on campus for the Nigerian and Ghanaian diaspora. Most ACS committees need to depart from the London-based, West-African Christian Identity that they embody in order to embrace the pan-cultural ethic they are meant to embody.
A voice speaking in a different tune to everyone else is never a bad thing. Let Dita stand and we'll see if her vision can bring diversity to the mono cultural ACS landscape!
Sorry Dita There's a Waiting List
Munya J. Raradza
In recent days, the debacle over a white student running for a secretary role in Birmingham's ACS sparked a lot of reaction on twitter. It caused many black students to reflect and think about the significance of Afro-Caribbean societies within UK universities. As an alumna of the university, the events that unfolded were frankly embarrassing. It was a shame to see my ACS mistake people's criticisms, for hate speech or bullying. On one hand, I agree with the society's stance to allow for any paid member to run for a committee position. However, there is a bigger question at hand. Why would such an individual feel responsible for spreading 'cultural awareness' for an ethnic group of which she is not part of? Supposedly, all in the name of 'integration' and 'unity'.
In regards to the recent launch of a non-African/Caribbean UOB student's campaign for a position on the ACS committee, can we first as a committee, assure everyone that we do not endorse any of the hate or bullying that she is receiving.

— University of Birmingham ACS (@BirminghamACS) March 11, 2018
Yes, this particular student may have all the administrative skills needed to fulfil the duties of this role. However, is she ideally suited for it? No. Although, many Afro-Caribbean students primarily join their university's ACS to make friends and party, the society also has social/political duties as well. Whilst I was at the university, the ACS organised a plethora of career events. Highlighting to me a demand for black talent within a variety of industry sectors. They proved to be extremely helpful. In the organisation of such events, what insight can a white student offer? What about when black students become victims of racism and prejudice. As what was suffered by a black student at Nottingham Trent University. What practical advice can she offer to help the committee address these issues? As ACS secretary, part of her role will be to inform students of such opportunities, as well as make them aware of such instances.
I am sure she means well. But it is clear that her cultural experience is incompatible with furthering the cause of Birmingham's ACS. It is not invalid, but it is definitely incompatible. ACS's were created in the spirit of 'integration' and 'unity' primarily amongst black students within UK universities. Of which, there is still a plentiful amount of work that needs to be done. Frankly, we still need to get more Carribean and Afro-Latino students involved in such societies. As well as improve black Muslim representation and also integrate black LGBT students. So sorry 'Dita', I'm afraid there's a waiting list.
UPDATE: Since these articles were written, Dita has tweeted the following:
— королева ?? (@ditadeluxe_) March 12, 2018
Would you like to join in on the conversation? Have your say on Twitter.