Titanic, Romeo and Juliet, The Beach – these films all have one thing in common… Leonardo DiCaprio and his heart-warming smile, never-ending charm and swoon-worthy looks caught on camera. There is no denying that our Leo is a very attractive man, as well as an extremely talented actor with an impressive and impossibly long repertoire. He finally won an Oscar in 2016 (hooray!) which was, by general consensus, long overdue. What's more, he is one of the few Hollywood stars that has actively and continuously campaigned for climate change action. By many measures, Leonardo DiCaprio is the perfect man.
It is no surprise that the worldwide heartthrob has had a string of beautiful girlfriends, many of whom boast model credentials. Take Gisele Bundchen, for example. A superstar in equal measure to Leo, the pair embarked on well-documented youth fuelled romance. After it ended, Leo grew older and his succeeding girlfriends, well, didn't. This graph, released on Reddit, tells it all: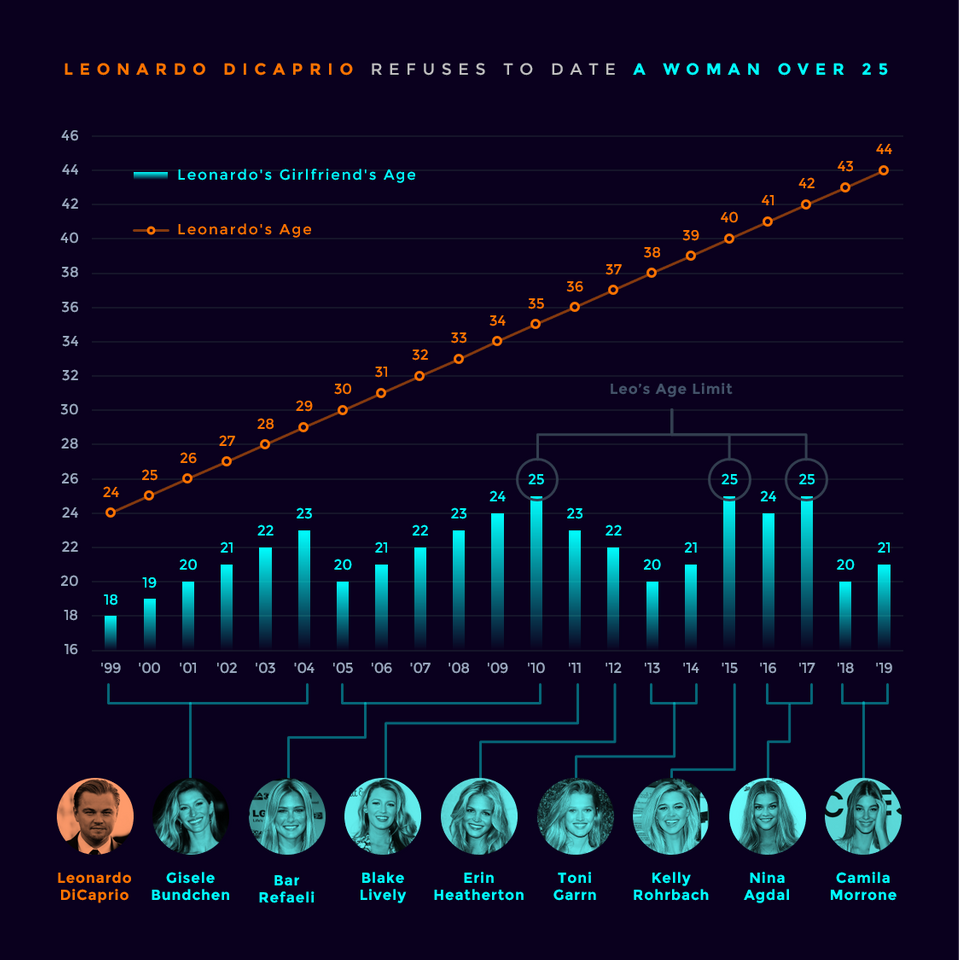 Undertaking the opposite policy to all good drinking establishments, 44 year old DiCaprio operates on a 'no entry' (into a relationship) policy for anyone who looks over the age of 25. As the renowned actor grows older, his girlfriends stay the same age.
This was evidenced at this year's Cannes Film Festival. DiCaprio attends the event every year, sporting a black baseball cap and questionable facial hair. He was pictured snapping photos of current girlfriend Camila Morrone, who is 21. The Daily Mail quipped that Dicaprio proved he was the "ultimate Instagram boyfriend" as Morrone posed in a delightful polka dot dress. While their relationship is common knowledge, DiCaprio and Morrone do not attend any public press events together nor do they discuss their relationships in public. This has been the case for all of DiCaprio's previous girlfriends as well.
Nancy Jo Sales describes DiCaprio's 'Pussy Posse', writing "the group's core members constitute a frat house of young men" who attend the hottest clubs and parties wing-manning DiCaprio. Allie Jones writes that "when he's single, Leo goes to Cannes to meet new models. When he's in a relationship, he brings whichever model he is dating, and also meets new models". DiCaprio's penchant for young women cannot be dismissed as coincidence, but rather purposeful trophy hunting. While it is wrong to criticise relationships simply for the existence of an age gap, can deliberately seeking out models over twenty years one's junior be seen as acceptable behaviour? Combined with the supposed girlfriend ban on discussing a relationship with Leo, it all seems to come across a little creepy.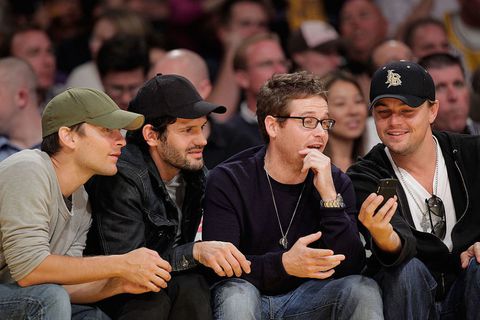 DiCaprio is not the first superstar to take advantage of his Hollywood status to pursue younger women. Tyga and Kylie Jenner became associated with each other when Kylie was just 16. Musician Moby has recently come under fire after suggesting that he dated Natalie Portman while she was at university in New York. Portman told Harper's Bazaar that "I was surprised to hear that he characterised the very short time that I knew him as dating because my recollection is a much older man being creepy with me when I just had graduated high school." Despite the #metoo movement, Moby initially refuted Portman's recollection, before admitting how flawed his argument was over Instagram:
It is patronising to suggest that the models DiCaprio dates are unaware of his age, status and relationship history. Yes, they are all under 25, but they are also all consenting adults with successful careers in their own rights. However, it is surprising that there has not been a more public backlash towards Leo's love-life tendencies. He has faced nowhere near the amount of criticism that Madonna, Britney Spears or Mariah Carey received for dating younger men.
While women are smack-handed the predatory term 'cougar', Leo's secretive relationships reserved for models go uncommented on, illustrating the ongoing disparity in society's attitudes to men and women's sex lives. DiCaprio's behaviour might not be categorically unethical, but it is certainly questionable in the precedent it sets for what traits should be valued in a partner. Perhaps Leo deserves more flack, (and that is coming from a girl who once changed her surname on Facebook to DiCaprio).
Flora graduated from the University of Manchester with a degree in Drama and English Literature in 2017, and is now living in London. She has experience in education and charity work, and enjoys discussing gender, environmental issues and arts and culture. In her spare time, Flora enjoys acting and is a fervent fan of comedy.