The Swiss tennis legend won his 100th ATP men's singles title in Dubai on Saturday, becoming only the second man in history to reach the milestone.
Eighteen years after his first ATP tournament victory in 2001, Roger Federer has edged closer to Jimmy Connors all-time record of 109. At 37, it is unlikely that Federer will have too many opportunities to overtake Connors in the standings, but his achievement should not be underestimated. In winning the Dubai Tennis Championships on Saturday, he moved six clear of Ivan Lendl in third, 10 ahead of Rafael Nadal and 27 in front of current world no.1 Novak Djokovic. When you compare the level of prestige in the titles won between Federer and Connors, the feat becomes even more impressive. Connors' eight Grand Slams are dwarfed by Federer's 20; a record for men's singles tennis.
Now very much in the twilight of his outstanding career, it seemed fitting that Federer should win this title against a player just beginning to form their own. Stefanos Tsitsipas, the 20-year-old Greek challenger is already seen as a star of the future, after a brilliant year in which he reached the semi-finals of the Australian Open. It was very much a case of master vs apprentice on Saturday though, with Federer recording a straight sets 6-4 6-4 victory. A win for Tsitsipas could have brought things full-circle, with Federer's first ATP title coming when he was just 19. Here are some of the greatest moments from his illustrious career since that moment.
That final (Wimbledon 2008)
Ironically, arguably the most memorable moment of Federer's career is a final that he didn't even win. Considered by many to be the greatest tennis match of all time, this was the day that someone finally put a stop to Federer's dominance at SW19. Played over 5 sets; 4 hours, 48 minutes of play and numerous rain delays, it was a true epic. The third final in a row between Federer and Nadal, it represented much more than just one match. This was the highest point of an enduring rivalry between two of the sports' greatest competitors. Such was the spectacle, that by the end of play it didn't really matter to neutrals who the eventual victor was. Both players were champions, but Nadal was overwhelmed in victory and Federer typically graceful in defeat. The post match interviews with both players said all there is to know.

"I must congratulate Roger, he's still the No1, he's still the best, and he's won five times here. But now I have one, and that's very important to me."

Rafael Nadal. Source: The Guardian

"I tried everything, but Rafa's a deserving champion, he's the worst opponent on the best court."

Roger Federer. Source: The Guardian
If anyone thought this signalled the end of Federer's dominance in world tennis, they were to be proved wrong just one year later.
Clay day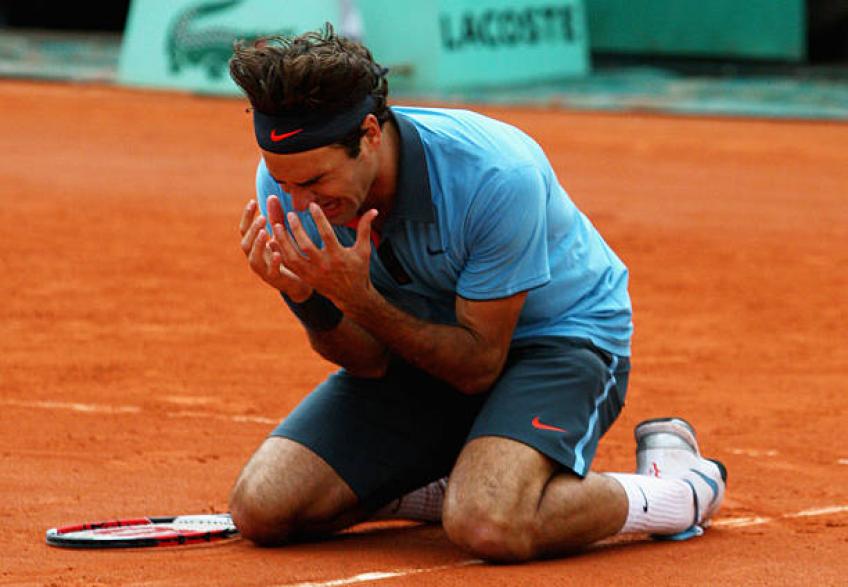 It's rare for Federer to lose his cool on court, but this was the scene at the 2009 French Open final, when he broke down due to sheer relief after clinching victory. His first and still only French Open win, on his unfavoured playing surface was down to a mixture of fortune and determination. Nadal's shock early exit to eventual runner-up Robin Soderling, handed Federer a route to the title that had long alluded him. In winning that day, he not only overcame this mental hurdle, but he also equalled Pete Sampras' all-time record of Grand Slam wins and finally won the coveted 'Grand Slam'; all four of tennis' premier achievements. By winning the French Open and subsequent 'Grand Slam', Federer could now be definitively talked about in the upper echelons of tennis greats.
How does he do that?
Becoming almost a trademark of his game, whenever he pulls this shot off, everyone in the stadium is left with the same question. How? Nicknamed 'the tweener', it's a trick-shot commonly seen in tennis, but few have been able to use it consistently as a winner like Federer does. First coming to international attention against Djokovic at the 2009 US Open, Federer was still using the move against Tsitsipas at the Australian Open in January. Typical of a player who has always played with such freedom throughout his career, sometimes as a spectator you just have to watch and admire.
The comeback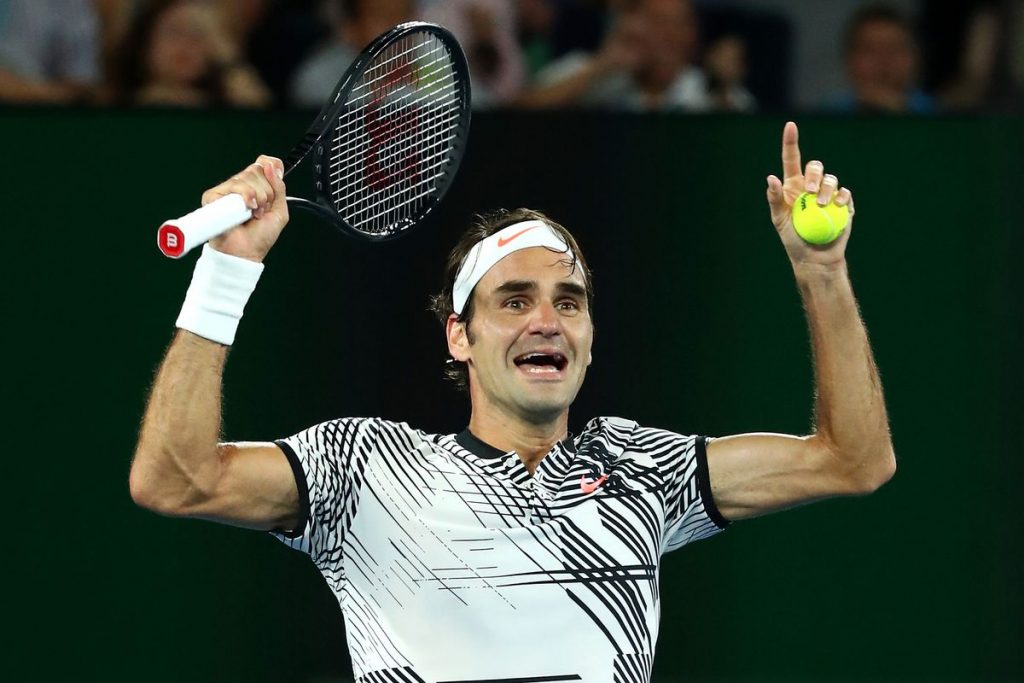 While obviously still playing and still dreaming of reaching the 2020 Olympics (where he would be on the eve of his 39th birthday) many thought Federer was 'finished' long before this year. Having not recorded a Grand Slam final victory since 2012, even the most die hard Fed-head could have been forgiven for not expecting any wins in 2017. Well, those expectations were well and truly dashed at the Australian open, where he beat old rival Nadal in another five set final to record his first Grand Slam title in close to five years. The evergreen 35-year-old then followed this up later in the year with an eighth Wimbledon win, before successfully defending his crown in Australia again in 2018.
Watching the veteran during this period; still winning tournaments by gliding across court in his trademark style felt almost like a Hollywood film where the old-pro comes out of retirement for one last hurrah. It was simply a joy to behold as a spectator. Now, with this 100th victory, long may it continue.