By Rutvik Perepa
This year's NCAA Basketball saw one of the most explosive collegiate stars since the likes of Anthony Davis and Blake Griffin. We take a look at the projected number one pick in the 2019 NBA Draft, Zion Williamson, and discuss whether he really will live up to the hype.
Zion was visibly upset, but gave Michigan the credit they deserved in the post-game interview. Williamson then gave a short reflection on the year, summarising that the team culture and the family atmosphere played a big part in the very successful Duke team. He once again showed out with a game-high 24 points and 14 rebounds and said there's a "high possibility" he has played his final game with the Blue Devils. "Everybody that beats Duke is ready to put that on the wall because that's the program that (Krzyzewski has) built," Michigan State coach Tom Izzo said. "I do think we beat arguably the best team in the country, but there's another game coming up."
The hype behind Zion Williamson
Zion Williamson was very hyped coming into college from high school owing to his outrageous dunks on YouTube. He has all the highlight reels, but experts doubted his skills until he exploded onto the college basketball scene playing with the Duke Blue Devils under Coach Mike Krzyzewski, who also coaches Team USA Basketball.
Zion, who stands at 6ft7 and 285 lbs is projected to be the number one pick in the 2019 NBA Draft, as agreed by virtually all basketball analysts. He plays both the small forward and power forward position, and with his dominant size and athleticism, Zion has the ability to explode to the rim with an unstoppable force.
In addition to his physical dominance, Zion has excellent passing ability and can even be counted on to play the point guard position. In the ACC Championship game, Williamson led the team with 21 points on 7-11 shooting in a 73–63 win over 12th-ranked Florida. He joined Kevin Durant as the only freshmen in the last 20 years to average at least 25 or more points and 10 rebounds per game during a conference tournament.
Rebounding, passing, scoring, defensive energy and general tenacity with that 'Competitor Gene', are Zion's highest upsides coming into the NBA, especially his defense and obvious skill in creating opportunities to score. He lacks in shooting glaringly but then again, so did superstars like LeBron James coming into the league, it's a skill that can be worked on.
What is also a questionable transition, is utilizing the 285 lbs of mass to score as effectively and effortlessly as he did in college, but he does make up for that in the initial stages with his willingness to pass the ball.
The race to sign Zion
Zion Williamson is again the most hyped prospect since perhaps Anthony Davis in 2012 and LeBron James in 2003. He is also without question extremely marketable to the point where some analysts have suggested the idea of him possibly receiving a billion dollar lifetime sneaker deal. He will realistically be one of, or even the highest payed rookie in history in terms of a sneaker deal.
Social media has of course drastically fast tracked Zion's basketball fame and as a result increased his market value. However, no one can question his likability, being described as a massive personality in the locker room and an all-around nice guy on his college campus. It's clear Zion has a charisma that people are drawn to, and this will work wonders in his business career as well as his basketball one.
The Nike PG13 explosion issue in a game against arch-rivals, North Carolina Tar Heels, saw Zion big up a knee injury that sent the media into frenzy. Nike main competitors, Adidas, Under Armour, would be pleased to say the least, but the possibility of Zion striking an even larger sum with Nike that includes compensation, is certainly on the table now.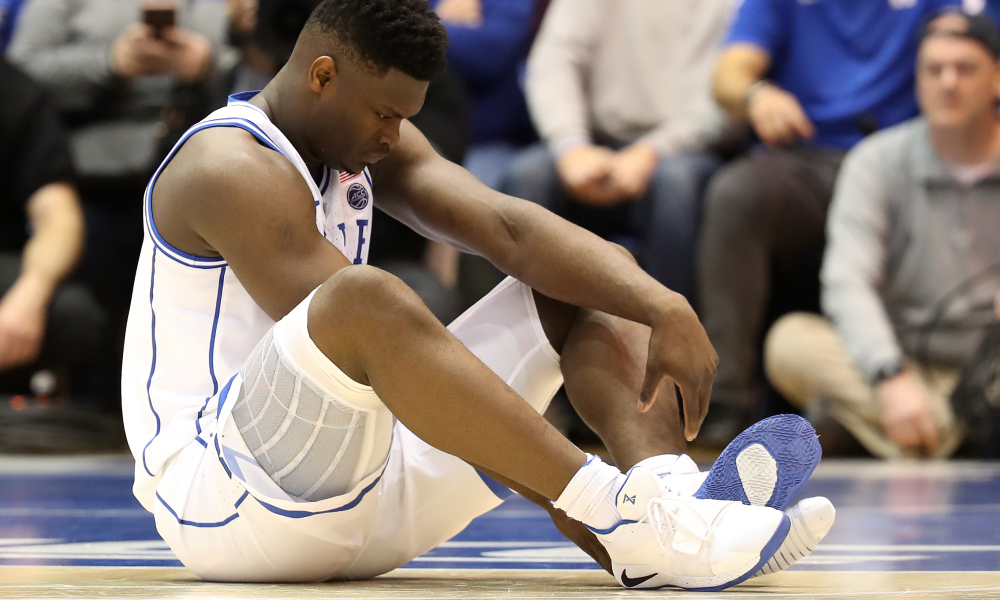 Since Duke crashed out of the NCAA tournament, how Zion Williamson will fare in the NBA has been the discussion in sports studios across America. In collegiate basketball, Zion is truly a man amongst boys, however at NBA level there are countless players with his physical ability and athleticism.
So the question now is: does he have the skill and composure to perform on the new and greater stage that is the NBA. Whatever the case, Zion Williamson will bring a lot of attention to whichever team pairs off with him in the draft. The NBA awaits Zion Williamson with all anticipation and excitement at the prospect that he could be a phenom with the X factor of a Lebron James. At this point however, only time will tell.
Do you think Zion will live up to the hype in the NBA? Check out our live poll on Twitter and let us know what you think!
Our contributors are friends of The Common Sense Network who write for us from time to time. We love hearing fresh perspectives from people in different spaces. If you would like to become a contributor contact us at hello@tcsnetwork.co.uk