Tyson Fury announced his return to the sport of boxing wearing a £9,000 chinchilla fur jacket, sitting in a Range Rover singing 'Return of the Mack' by Mark Morrison.
It is safe to say that he has truly been missed. Tyson Fury, the self-proclaimed 'Gypsy King' and the former undisputed heavyweight champion, yesterday was cleared to fight again by the British Board of Boxing Control (BBBoC). But how did we end up here? And more importantly, what does this mean?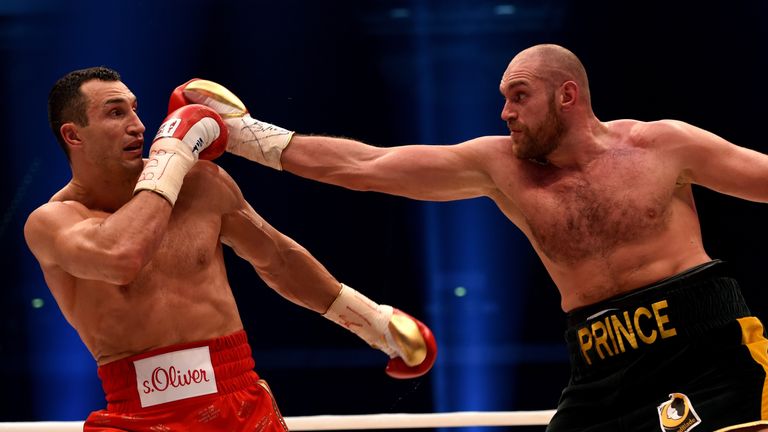 Tyson Fury outboxing the great Wladimir Klitschko back in October 2015 (Source: Getty Images) 
In October 2015, Tyson Fury defeated Wladimir Klitschko to become the unified heavyweight champion of the world. Having fought his way into a mandatory title shot, he defeated the long-reigning Klitschko in a style to earn a unanimous points decision. It was here when Fury's life started to take a downward spiral. Within 48hrs of winning 3 of the 4 world titles available in boxing, he was stripped of the belts for not choosing to participate in his mandatory title defence. Instead, he had signed a contract to fight Klitschko again. Ironically, this is the first belt Anthony Joshua won. Next, the BBBoC charged him, alongside his fellow boxing cousin Hughie, on the grounds that they tested positive in a drug test.
The Fury's claim that the nandrolone found in their urine samples was due to eating an uncastrated boar. In fairness, Nandrolone is a chemical which can naturally be found in boars. After this, depression and cocaine usage followed. His rematch with Klitschko was cancelled and his remaining belts were relinquished. He blew up to over 18 stone. His relevancy in the division dwindled. In the meantime, a certain Anthony Joshua rose up the ranks. 
Anthony Joshua battled against Klitschko to secure a world title in front of 80,000 at Wembley Stadium. (Source: Action Images/Andrew Couldridge) 
Joshua is well-spoken, media-conscious and an advertiser's dream, all opposites of Fury. He has been well known for calling fellow boxers like Tony Bellew and David Price 'gay lovers'. His views on women are vulgar. In an interview with iFL TV Tyson was caught saying  'a woman's best place is in the kitchen or on her back'. Joshua is pitted to win the BBC Sports Personality of the Year, while Tyson has become a Twitter and Instagram cult hero for his funny videos and unrestrained tweets.
The contrasts between them are strong. If Tyson fury can return to the form he produced against Klitschko, a fight between him and Joshua would be the most competitive heavyweight fight we have seen in a generation. A true 50/50. It has shades of the classic Ali-Foreman bout. With Joshua being the powerful strong George Foreman with a knockout streak of legend. While Fury takes the role of Ali, returning for a long-term ban, donning flashy skills and light on his feet. They really form the antithesis to each other. Boxing is one sport where you need to pit a hero against a villain to truly become great. Floyd needed Pacquiao. Tyson needed Holyfield (Ear biting fight). And Joshua needs Tyson Fury. When you add Deontay Wilder, Joseph Parker, Dillian Whyte and Daniel Dubious to the equation, you realise that we have once again entered a golden generation of heavyweights who will entertain us for the next 10 years. Along the way, controversy will come. Doping tests will be failed and memories will be branded onto the minds of the masses. These are the nights I cannot wait to witness.