You might be forgiven for smiling. This does sound like long awaited good news for those, all over the world, hoping Donald Trump may come down a peg. However, this democrat victory at best is a mixed bag of giveaways.
On Tuesday 12th of December 2017, Doug Jones, a Democrat, won the Alabama senate race, filling a seat vacated by Jeff Sessions, now the attorney general. This seat hadn't been won by a democrat in over 20 years, namely because of Alabama's deep conservative leanings.  The race reached a nail biting conclusion where the difference between the totals was just 1.5%, far above the 0.5% margin, which gives either candidate a right to request a recount if they are prepared to pay the costs.

Despite Jones being declared the winner by most of the mainstream media and a concession by Donald Trump himself, Roy Moore has refused to concede the election stating simply that "its not over".
Congratulations to Doug Jones on a hard fought victory. The write-in votes played a very big factor, but a win is a win. The people of Alabama are great, and the Republicans will have another shot at this seat in a very short period of time. It never ends!

— Donald J. Trump (@realDonaldTrump) December 13, 2017
What are the implications?
This victory has pretty significant ramifications for the US Senate, for republicans on Capitol Hill and also Donald Trump's post election mandate.
The divide
The victory is particularly stunning because of history. At another point in history a Republican candidate would have won in Alabama by close to 32 per cent. No Democrat has won in a statewide election in Alabama since 1992. However on Tuesday, with over 1.2 million vote cast, the election was decided by less than 10,000 votes.  According to TWP (The Washington Post) an exit poll showed  97 per cent of black women supported Democrat Doug Jones, who made his name prosecuting the murderers of four schoolgirls, killed in the infamous bombing of the 16th Street Baptist Church in Birmingham, Alabama, in 1963.
At the same time 74 per cent of white men supported Republican Roy Moore, who stands accused of seducing and sexually assaulting schoolgirls in the 1970s and '80s and believes homosexuality should be illegal.
White women were still overwhelmingly in favour of Judge Moore by 65 per cent to 33 per cent, but among women who have a daughter under 18, 65 per cent said they supported Doug Jones.
These voting lines reveal something about the conservative skew among older, white Americans, but also something about their preparedness to believe their candidate is a paedophile.
The Senate
Republicans in the senate must brace for impact. Although the victory may not have a major legislative impact, it makes life and indeed some decision making more difficult for Republicans.
The election will reduce the Republican majority in the Senate to 51-49, meaning Republicans can only afford to lose one vote – in the event of a 50-50 split, Vice-President Mike Pence will have the casting vote.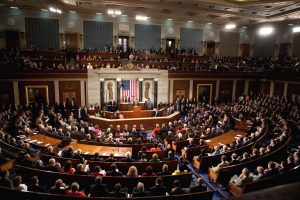 The party will still have time and majority needed to pass through controversial pieces of legislation like the tax-cut bill, however decision making after that will become considerably brittle and rigid.
Luther Strange – the Republican appointed to replace Mr Sessions as an interim senator in February – is likely to remain in the seat until early January.
What about Donald Trump? 
Perhaps the biggest impact this election has will be on Donald Trump. Now, it is probably too early to declare the coalescing or even beginning of an anti-Trump wave because Moore was in many ways a very flawed candidate.
Roy Moore was an awful candidate & should never have gotten to the Senate. But make no mistake, just like in VA, Dems are energized, focused more on the middle class & those struggling to get there, & things are looking better & better for 2018.

— Chuck Schumer (@SenSchumer) December 13, 2017
CNN, for god sakes, stop giving Roy Moore so much coverage for being a racist, homophobic,misogynistic, pedaphile, and start giving Doug Jones more coverage for being a better choice for Alabama!

— Dana Goldberg (@DGComedy) December 11, 2017

Some have framed the election as a battle between decency and bullying, where decency won. However for Donald Trump, who threw the full weight of his support behind Moore, held campaign rallies for him, even when other leaders in his party were hesitant, this defeat has to be disheartening. The two candidates he supported in Alabama this year — first Luther Strange, and now Roy Moore — have lost, both rejected by the public.
The defeat could be seen as representing a rejection of Trumps politics and his approach in dealing with allegations made about him. It suggests that allegations of past sexually predatory behaviour cannot just be dismissed in a kind of numb, nonchallannt manner we have come to know Trump for. If Roy Moore had won the seat, it would have been a vindication of some sort that American voters don't care about such things. This line has become harder to argue.
Whilst this is far from anti-Tump momentum, it is indicative of a shift in attitudes, at least in Alabama. If this can happen in Alabama, then it can happen anywhere. People are waking from their numbness to these issues.
Jones' victory has evoked fresh optimism and anticipation of the congressional elections in November 2018 and even the presidential race of 2020.
It seems as if we just might make America great again after all.