Given the recent goings-on in America, and here in the UK, regarding police brutality and a seeming lack of compassion from public authorities for minorities, I decided to look into the nature of the relationship between public authorities and the people. It seems to me that there are a number of feedback loops that help sustain and widen this seemingly never-ending divide. In this article, I try to shed light on a few.
If there's anything I have to say on this issue it's that we do need more cooperation. Understandably, that's not as easy as it sounds. If the answer is to break barriers down then the obvious questions that follow from that are of course "Well, which barriers? and what, or who is placing them there in the first place?". I for sure cannot answer all of those questions – I don't know all of them or even some of them for that matter. But, I do have pretty good reason to believe the lack of trust is one, if not the first barrier, which we need topple – and will require a combined effort do so. I will get back to how I think we can do that at the end of this article. For now, please read a summary of what I came to realize whilst looking into these issues.
First and foremost, there is a growing lack of trust for the police within the British people. Black people distrust the police the most, compared to all other ethnic groups (GOV.UK), and the three most important factors, influencing whether a group trusts or doesn't trust the police, seem to be quality of contact, the degree to which police are seen to treat everyone fairly, and quality of action. Generally, it can be said that people perceive the police to be dealing with matters that do not matter to their communities. It follows that this perception brings frustration as people infer from it that the police either do not care for or are not listening to their voices – They do not believe that the police are on their side. Knowing this, alongside the data which shows that police tend to believe in stereotypes of other people, is troubling.
For example, if many of the police take popular stereotypes about the black community to be true, such as having a proclivity for violence, gangs, and being anti-public authority then they are far more likely to behave with prejudice when interacting with members of this community. This contributes to the poor quality of contact and feelings of disrespect, and unfair treatment, felt within the black community, furthering their distrust and lack of confidence in the police.
It seems, to me, that the negative perceptions of black people, experienced by the police, lead to prejudice which then propagates the negative perceptions of the police, by black people leading to more apprehension and a general lack of the willingness to cooperate, analogously propagating the police's perceptions. It's a cycle.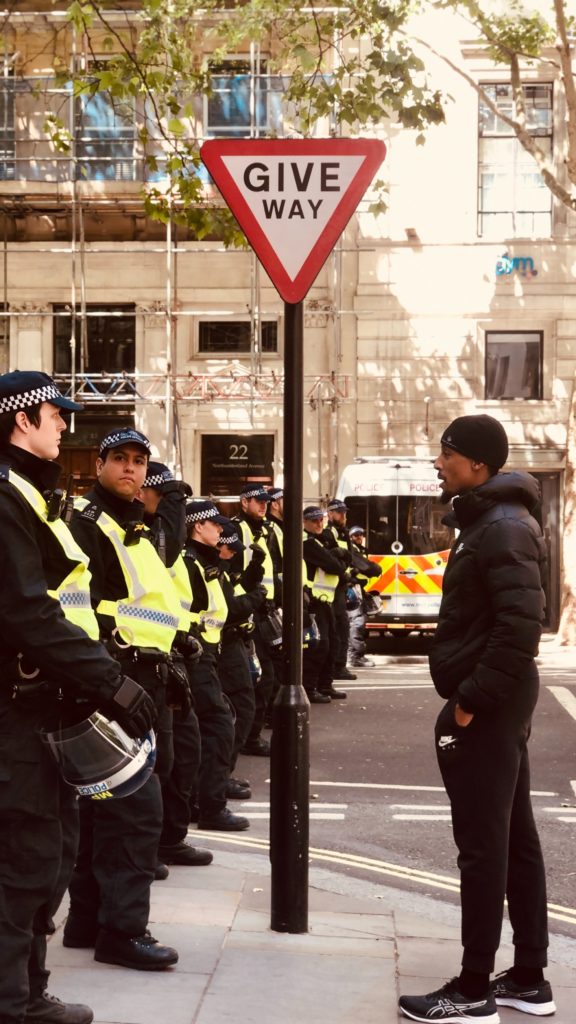 I strongly believe trust and rapport are of such significance here. The most alarming negative externality of this damaged relationship between the people and the police is the reduction in crimes being reported. A reduction in crimes reported means a reduction in crimes solved and criminals apprehended. Analogously, this means a reduction in the risk of committing a crime and, consequently, more crime being committed – if you accept that a reduction in crimes reported is also indicative of an increase in criminal matters being dealt with outside of public authority, then that is even more frightening. The pressure to deal with injustices, coupled with no reliable authority to deal with it for you, may result in people putting theirs and others' lives & safety at risk in order to resolve these issues.
As I mentioned in the beginning, I think that building trust is the first step towards pulling these two sides (of really of the same coin) together. Trust is a key part of all relationships. Furthermore, I think we could all agree that trust requires at least a degree of transparency and accountability. Accountability because I need to be able to judge whether or not you're upholding your end of the bargain and transparency (or you could say visibility) because, well, I need to be able see whatever it is before I can hold you accountable for it.
I think that once that basic degree of trust has been established we can then move towards collaboration and participation. Communities should have a say in the decisions made regarding the safety and betterment of their communities. The engagement between public authorities and minorities is terrifyingly low. How can you strive to help communities you've never even met, and aren't even willing to? It's like a doctor trying to help a patient without asking them what's wrong. I think that by calling on the public for help, the police can more effectively allocate resources to the areas that need them most, but that if the public doesn't trust them and cannot see them, well, they're essentially calling from an unknown number – it's likely to go unanswered.
Okori S. Lewis Mccalla is an award-winning Digital Designer from Bristol. Believing that technology and intelligent design will benefit society, his ethos is "engineering change". Okori was awarded the Ben Martin Apprentice Award in 2020 for his work in art & tech. Okori was also made a Social Capital Network Scholar in 2020, a programme funded by Google. Okori is also a keen artist and director. In 2019, Okori was made BBC New creative having his debut short film A Fashion Show, which aired on BBC Four and BBC-Iplayer. With a bachelors in Marketing from Lord Ashcroft International Business School, Okori is passionate about communication and the obligation institutions and corporations have to spread the right message