I'm going to keep this short and sweet. Ill give you the movie, you go watch the movie and then we can discuss the movie.
#1. Black Panther
Director – Ryan Coogler
Cast- Chadwick Boseman, Micheal B Jordan, Lupita Nyomg'o, Danai Gurira
The first all black casted movie in the Marvel universe, which is also directed by a black director.
#2. The Incredibles 2
Director-Brad Bird
Cast- Samuel L Jackson, Sophia Bush, Sarah Vowell, Holly Hunter, Craig T Nelson
The 13 year long wait for this movie would have grown men and women first in line to see this movie.
#3. Avengers: Infinity War
Director- Anthony and Joe Russo
Cast- Robert Downey Jr, Chris Evans, Chris Hemsworth, Mark Ruffalo, Chadwick Boseman
The third instalment in the Avengers franchise
#4. Maze Runner: The Death Cure
Director- Wes Ball
Cast- Dylan O'Brien, Kaya Scodelario, Thomas Brodie-Sangster, Aidan Gillen, Walton Goggins
The third movie adaptation of the book
#5. Pacific Rim: Uprising
Director- Steven S. Deknight
Cast- John Boyega, Cale Boyter, Scott Eastwood, Cailee Spaeny, Charlie Day, Burn Gorman
Sequel to Pacific Rim which is based around Jake Pentecost the son of a legendary Jaegar pilot General Stacker Pentecost
#6. Deadpool 2
Director- David Leitch
Cast- Ryan Reynolds, T.J Miller, Leslie Uggams, Stefan Kapičić, Josh Brolin
Ryan Reynolds gets back into the costume of the rude mouth hero Deadpool
#7. Fantastic Beasts and Where To Find Them: Crimes of Grindelwald
Director- David Yates
Cast- Eddie Redmayne, Johnny Depp,Ezra Miller, Dan Fogler, Alison Sudol
Even though the production team and J.K Rowling have got a lot of stick from the casting of Johnny Depp after the Amber Heard abuse allegations. You cannot take away the fact that Depp is an amazing actor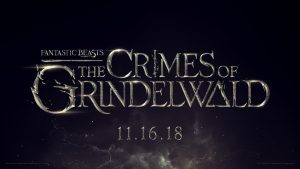 #8. Ant-Man and The Wasp
Director- Peyton Reed
Cast- Paul Rudd, Evangeline Lilly, Walton Goggins, Judy Greer,Tip "T.I" Harris
Sequel to Ant-Man
#9. Mission: Impossible – Fallout
Director- Christopher McQuarrie
Cast- Tom Cruise, Rebecca Ferguson, Simon Pegg, Ving Rhames, Alec Baldwin, Henry Cavill
6th outing for Tom Cruise as main character Ethan Hunt
#10. Tomb Raider
Director- Roar Uthaug
Cast- Alicia Vikander, Dominic West, Walton Goggins, Emily Careywq
Coming back to our big screens after Angelina Jolie portrayed Lara Croft in 2001, but this time bringing a new actress into the fold; Alicia Vikander.
Honorable Mentions:
Mama Mia: Here we go again
Jurassic World: Fallen Kingdom
Aquaman
Den of Thieves