Theresa May's continued survival can only be good for the Conservatives.
Too many ill-advised early morning sessions watching England's cricketers get roundly beaten by their Australian counterparts has helped me realise something: Theresa May would make a brilliant 'nightwatchman'. For the uninitiated, in cricket a nightwatchman is an ostensibly worse player than his/her team-mates, who comes out to bat at the times when it is hardest to do so (usually in the evening just before they finish for the day). This player's lack of ability actually works to the team's advantage by shielding the better players from the threat of getting bowled out by the opposition when conditions are at their most difficult. At the moment, May seems to serve as a political nightwatchman, frustrating her party's opponents by remaining in power during an extremely trying passage of government, depriving them of the chance to have a crack at the prominent Conservatives worthy of having a crack at.
Every day that May remains in the top job is another day through the term of a very difficult government, conducting the contentious Brexit talks and the enhanced scrutiny that goes with it, while simultaneously trying to deal with scandals of sexual misconduct or rogue diplomacy plaguing her cabinet, with strong opposition being provided by a resurgent Jeremy Corbyn. Every day she puts up with all of this is another day a hypothetical successor doesn't have to.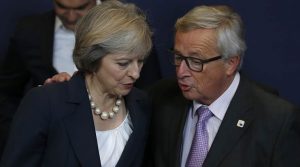 Had she stepped down at some point earlier this year following her disastrous election result, the Conservative Party would likely find itself in an even more difficult position than it already does; whomever it would have chosen to succeed her would likely have enjoyed the briefest of honeymoons before being thrust into the instability and unpredictability currently facing the country while holding on to the most precarious of working majorities in parliament – a situation which any leader would struggle to come out of in a positive light. If this successor lived on to contest the next general election, they would likely do so from a position of unpopularity, while if they were forced out in favour of another leader, the party may very well suffer from accusations of instability from Labour. This perception certainly does not play well with voters.
By remaining in her post, despite her general lack of popular appeal, May prevents either of these scenarios from taking place. Instead, she offers the possibility of seeing out these fractious years, before allowing a new leader (be it Boris Johnson, Ruth Davidson or one of the many other prominent Tories with their eyes on the top prize) to step in and offer a clean break with the past. This would be just in time to lead the party into the next general election against an opposition whose attacks would be far less effective than if they were taking on a leader whose record in office included presiding over the crisis-ridden years we currently find ourselves in.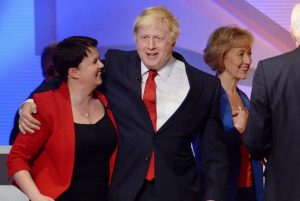 Three potential successors to May (left to right: Ruth Davidson, Boris Johnson and Andrea Leadsom) (Source: The Spectator)
That May's political credibility is irrevocably damaged is almost certainly true, having been reduced to rubble almost overnight by the British electorate on that remarkable night in June. Yet her turn as the Conservatives' 'nightwatchman' may allow a future leader the electoral success she herself has missed out on.