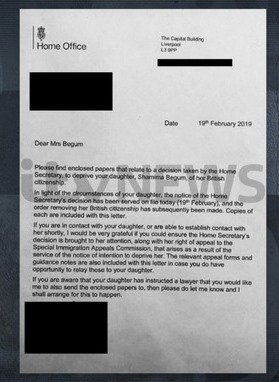 Isis bride Shamima Begum who wanted a return to the UK has had her british citizenship revoked in a letter from the home office.
On Tuesday the letter was received by Shamima Begum's mother and obtained by ITV news.
The letter is as follows:
"Please find enclosed papers that relate to a decision taken by the Home Secretary, to deprive your daughter, Shamima Begum, of her British citizenship," the letter read. "In light of the circumstances of your daughter, the notice of the Home Secretary's decision has been served of file today (19th February), and the order removing her British citizenship has subsequently been made."
Due to Ms Begums dual nationality it means she will not be left stateless.
The family's lawyer, Tasnime Akunjee, posted on a statement on Twitter that said: " The family are very disappointed with the Home Office's intention to have an order made depriving Shamima of her citizenship. We are considering all legal avenues to challenge this decision."
The Begum saga continues and I wonder what will happen next.