by Jireh Antwi
The Samsung S9 & S9+ is here and it's Samsung's best shot at creating a superior camera. Or as they're dubbing it 'The Camera. Reimagined.'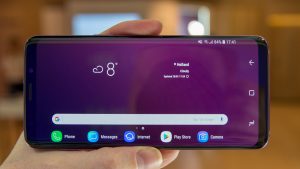 In fact, it's meant to be a direct competitor to the IPhoneX. Samsung devices have a long run of having excellent cameras so for the company to take it to the next level is exciting for a consumer to see.
⚡️ "Samsung Galaxy S9 has arrived!"https://t.co/r7KIQCZuca

— CNET (@CNET) February 25, 2018
The S9 bodes a dual rear camera with the ability to take super bright day light photos and super low light photos with the dual aperture feature which works like a human eye to adjust to lighting levels allowing you to have crisp and clear photos and can switch between F1.5 and F2.4 modes (If its dark the lens opens up to F1.5 mode and pulls in the light for bright and clear photos) (in daylight the lens switches to F2.4 mode to help your picture come out sharp). Also features a 8MP front camera.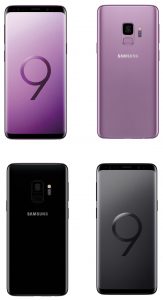 A more improved slow motion capturing rate at 960 frames per second which allows you to create some fun moments, you can also use these slow-motion pieces as a lock screen or create gifs.
The S9 also features an Exynos Processor making it perform faster than the S8, however it still has the same screen size as the S8 with the edge to edge display. Up to 400gb of external storage available with an SD card.  Water and dust resistant like its predecessors and comes with wireless charging as usual. Upgraded AKG speakers with 1.4x more powerful performance than previous Galaxy phones as Samsung are claiming.  Along with Dolby Atmos which provides an immersed sound experience.
The positioning of the fingerprint sensor on the back has also changed, now being below the camera rather at the side, this improves the overall hand held feel and a improved scanning feature for iris and facial  recognition when unlocking of your phone.
Intelligent Scan combines the key elements of iris scanning and face recognition, making it easier for you to unlock your phone in more situations. Learn more: https://t.co/1HCinmcKeR

— Samsung Mobile (@SamsungMobile) February 25, 2018
If you're wondering it's a yes, the Samsung S9 series still has a headphone jack.  Samsung aren't parting ways with that necessity just yet.
The Galaxy S9 features a bold new "headphone jack." With it, you can "plug in" headphones without having to deal with Bluetooth. Amazing!https://t.co/HXW0BdPP6L pic.twitter.com/9xSZBtklAQ

— CNET (@CNET) February 25, 2018
Some other interesting new features is the AR Avatar – by taking a selfie you can create an augmented reality emoji of yourself and send it as videos and photos and in chats. It's basically a version of the Apple Animoji. Likewise, the new colour options of Coral blue and Lilac purple is an addition to the previous S8 colourways, however they aren't going down a treat as they aren't necessarily attractive colours for everyday use or compared to its competitors.
Why is it so hard for samsung to make a pretty colour like copper or rose gold…. they always come with the ugliest shades of pink and blue so I keep picking boring ass white or black phones.. #GalaxyS9

— ?? TXT LOCKDOWN ?? (@KimTaeKangTae) February 25, 2018
Let us know what you think of the Samsung Galaxy S9 & S9+ and if you consider it a big enough upgrade to part with your device.
Jireh is a Microbiology and Molecular Biology graduate from the Manchester Metropolitan University.  He has a passion for various different sports, scientific discovery and trainer brands.