by Ellie Tivey
It was Tuesday 22nd Jan 2019, that the nominations https://oscar.go.com/nominees for this year's Academy Awards were announced. Outcries against the accuracy and importance of these nominations seem to be as reliably annual as the nominations themselves. It is undeniable however that, whether you agree with them or not, these nominations serve as an excellent lens through which to closely observe the workings, preferences, and tastes of modern Hollywood
The factoid that any movie-lover is most keen to get under their belt each year is that of which film earned the most nominations. In 2019's case, it is a dead tie between Roma, Alfonso Cuaron's exquisitely subdued Mexican drama, and The Favourite, Yorgos Lanthimos' predictably insane and powerful period piece. Both films are up for the more eminent awards of the evening, laying claim to Best Picture, Best Director, Best Actress and Best Supporting Actress nominations, among others.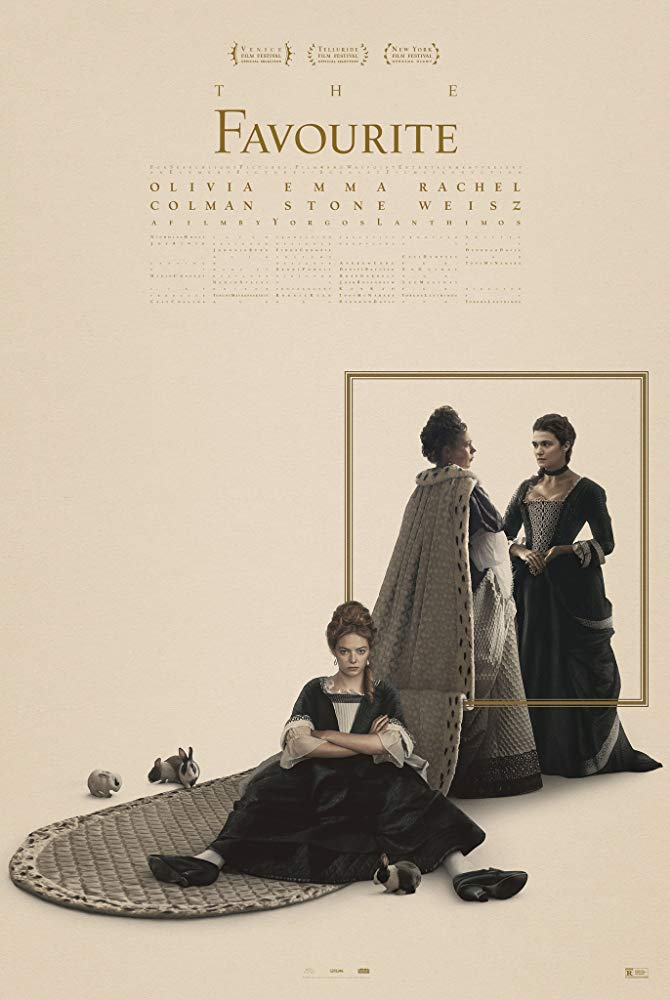 These two films taking top spot seems indicative of a shift in Hollywood's priorities, and audience's tastes. It seems to be that big-time director's are getting ever more comfortable indulging their more artistic, non-consumerist desires, with increasingly positive consumer response.
Admittedly, Lanthimos' wonderfully absurd filmic approach has been blazing this trail for years already. The beautifully crafted surrealism of The Favourite is a continuation of the fully-realised filmic style already entrenched in his past works, including The Lobster, and Killing of a Sacred Deer. But with The Lobster being nominated only for Best Original Screenplay in 2015, and Killing of a Sacred Deer receiving none at all, this is the first year that the Academy has allotted such wide reaching praise to Lanthimos' technique. On the contrary, the delicate artistry and restricted tone of Roma stands worlds apart from Cuaron's past work, with the seismic blockbuster Gravity being his most recent release.
Clearly, this seems to be the year where otherwise 'off-the-wall', more independent films are given the praise and recognition once reserved only for Hollywood blockbusters and cinema smashes. It could all be down to timing, although one has to question how much of Roma's success can be allotted to the ever increasing cultural influence of streaming service Netflix. Netflix have hosted the film since December 2018 and have undeniably granted it wider reach than its fleeting display in selected independent theatres did.
Either way, the emergence of reinvigorated respect for films that many would once have labelled as 'inaccessible' to wider audiences is an irrefutably positive thing. The Lobster and Roma are in a league of their own among these nominees. They both represent an international audience on the precipice of discovering and loving more about film than 'blow 'em up' fight scenes and gushy love stories. They display an industry's recognition of the modern audience's ever increasing desire to be intellectually and emotionally challenged. When these deeply entrenched consumerist priorities of Hollywood are challenged by the success of such films, who knows what could happen?
Ellie is a recent graduate in History and Politics from the University of Manchester. Originally from Bristol, Ellie moved to Manchester in 2015 and has no intention of leaving any time soon. She spent the final year of her degree as Editor of the university's only historical publication, The Manchester Historian, and continues to present/produce weekly news videos for a Manchester start up, Student Inspire Network. She has dreams of becoming a journalist and hopes to embed her passion for politics and popular culture in all of her work