The 68th annual NBA All-Star Game is fast approaching – there's a new star in the West, and some surprising observations across the board from this years voting.
The 2019 NBA All-Star starters have been announced this week with the Western Conference leading with LA Lakers' LeBron James (captain), Golden State Warriors' Steph Curry & Kevin Durant, Houston Rockets' James Harden and OKC's, Paul George. Some interesting observations can be made from the players votes, notably, Steph Curry edging out James Harden in the backcourt – Curry receiving 161 votes to Harden's 153. Curry also received nearly a million more fan votes than Harden.
Luka Dončić was second highest overall in the fan vote with around four million votes in the Western Conference, however, he didn't get a starting place due to low media and player votes. If Ben Simmons wasn't able to get an All-Star spot last year with his rookie performance, Luka's inclusion is questionable – even with his massive European fan base. If the fan vote was the final decider, though, the likes of Luka Dončić, and veteran's Wade and D-Rose would have all possibly been starters. Derrick Rose has had a resurgence in his performances this season with the Timberwolves, but whether that's deemed All-Star worthy is debatable.
Anthony Davis also missed out on a starting position as the media and players votes placed him third on the front-court starters, but the fan vote ultimately saw Paul George get the spot in the tiebreaker. Not all is lost, though, as Davis will surely be one of the first players picked by either captain due to the superstar ability we've seen from him night in night out since he's come into the league.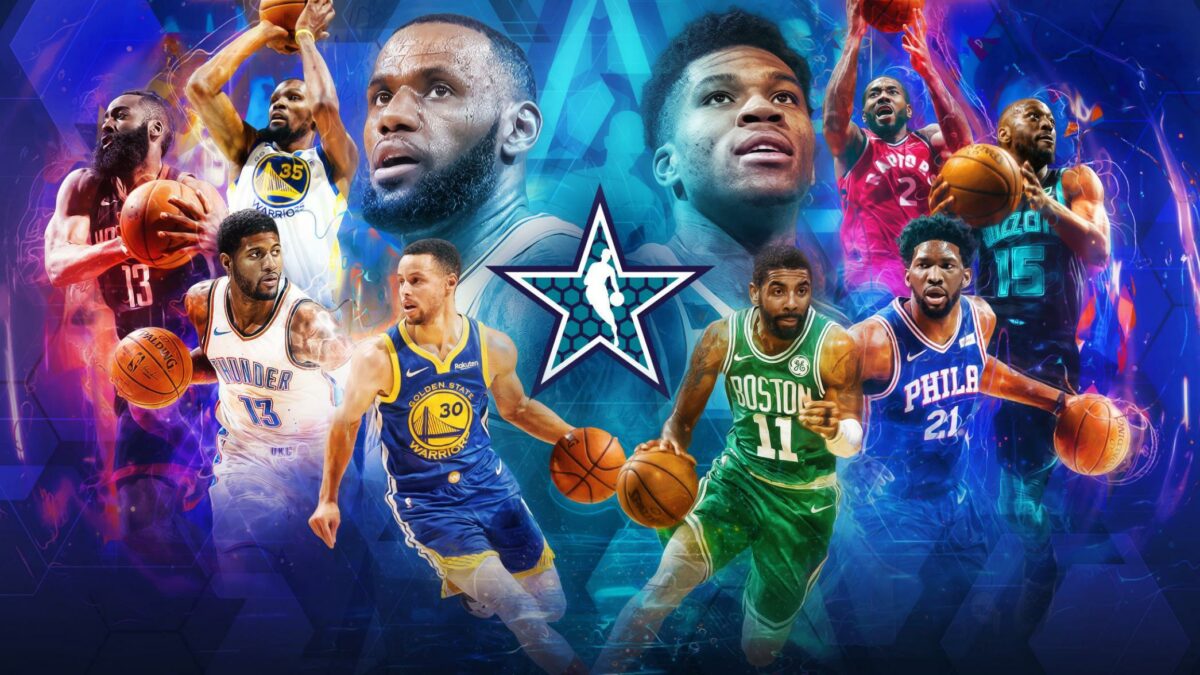 For the Eastern Conference, we have Milwaukee Bucks, Giannis Antetokounmpo leading (captain), Boston Celtics Kyrie Irving, Toronto Raptors Kawhi Leonard, Philadelphia 76ers' Joel Embiid and Charlotte Hornets very own star man Kemba Walker!
With LeBron leaving the Eastern Conference and heading westward, the next expected captain would have certainly been Kyrie Irving. However, Kyrie has been berated for not possessing the leadership quality he thought he had when he joined the Celtics, as his team still struggle to stake their claim as worthy championship contenders.
It seems amongst fans that Giannis is a more exciting prospect to watch, receiving nearly half a million more votes than Kyrie. Can we be too surprised, though, with his incredible athletic ability in relation to floor coverage, dunking, defending and ease of scoring? Giannis has been constantly building upon his previous years, and is somewhat now starting to shoot more confidently – his rise to stardom is well deserved.
Since the NBA All Star Game will be held in Charlotte this year, fans will be ecstatic that they'll have their own representative in Kemba Walker. This will be sure to put to ease any trading rumours surrounding him, as Walker enters into free agency this summer.
Based on these starters alone it's fair to say that the West is still as stacked as ever, having four of possibly the top five players, if not top ten, in the whole league.
The All-Star Game is shaping up pretty nicely with these team selections. Steph and LeBron on the same team, and defensive juggernauts in Leonard and Embiid on the other. Now we await the live televised team selections by each captain to see the final match up for the 68th NBA All-Star Game. The captains will draft 8 players each from the Starter Pool in the first round and then 14 players from the Reserves Pool in the second round. Positions or conference affiliations won't matter with the picks that the captains make. This All-Star game is geared to be a thrilling one!
The 2019 All-Star Game will take place in the Spectrum Centre, Charlotte on the 17th February 2019, coverage on TNT from 7PM (ET).
Keep updated with TCS for more sports news.