Utah Senator Orrin Hatch has announced that he will not be standing for an eighth term of office when his seat is contested later this year. This would potentially pave the way for former presidential candidate Mitt Romney to return to front-line politics. Despite his age – Hatch will turn 84 in March – he had been considering re-running, having been strongly encouraged by Donald Trump to do so. Hatch has been a political ally to Trump since the latter was elected president. He's contributed to Trump's tax reforms in his role as chairman of the Senate finance committee, as well as suggesting that Trump could go on to become the greatest US president in history.
President Trump with the retiring Orrin Hatch (source: Michael Reynolds/EPA)
While losing a generally favourable figure in the Senate, Trump would most certainly be gaining an adversary were Romney to run and be ultimately successful. Romney was a vociferous critic of Trump throughout the 2016 election campaign, describing him as a "phony" and notably implying in an interview that he had an obligation to his grandchildren to stop Trump becoming president. Trump fired back accusing Romney of "choking like a dog" during his unsuccessful presidential run in 2012. Even a potential thawing of their relationship after Trump won the presidential election, with the two meeting for dinner and even discussing Romney's possible suitability for the Secretary of State position has not led to constant reconciliation; Romney has since denounced Trump's response to the racial tensions in Charlottesville and his endorsement of Judge Roy Moore despite his alleged sexual misconduct.
Mitt Romney had his chance to beat a failed president but he choked like a dog. Now he calls me racist-but I am least racist person there is

— Donald J. Trump (@realDonaldTrump) June 11, 2016
Indeed, if he is elected, Romney may not have to downplay his distaste for the president in the same way that many other congressional Republicans have felt is necessary for their own electoral interests. For one, Romney is already a leading political figure within the GOP. An up-and-coming member of Congress may risk losing out on a long and illustrious career by antagonising a president hailing from their own party. This is particularly true with Trump in power, whose Twitter tirades against even mild critics have become infamous, often inundating them with unwanted publicity. Romney, however, has a high enough profile, having previously served as governor of Massachusetts as well as being a presidential nominee, to survive being persona non grata at the White House without fear of his political reputation being ruined.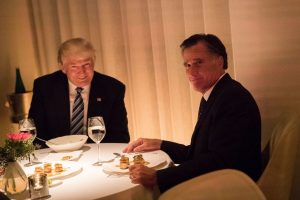 Romney and Trump's infamous dinner after the latter was elected president (source: Getty images)
Arguably a more important reason why Romney may be emboldened to challenge Trump's actions, however, is the Utah seat he would be running for. Despite being almost as comfortably Republican as you can get (the state hasn't voted for a Democrat for president since 1964), Utah voters do not necessarily espouse a Trump-type Republicanism. Instead their politics is generally defined more by an evangelical conservatism than Trump's aggressive nationalism. This makes them perhaps less likely to forgive Trump's past transgressions such as his comments about women or his support for Moore, which may not be consistent with their own religious values. In fact, remarkably for a Republican president, Trump's approval ratings in the state only remain positive by the finest margins. Romney, in comparison, is likely to be popular among Utahns given that he, like approximately 60% of the state's population, is of the Mormon faith and will likely share similar values with them. This means Romney would probably have little to fear from voting against or criticising Trump in the Senate, given that he would likely be more in tune with the views of his electorate in Utah than Trump would be, and would thus not risk losing his seat.
If Romney does decide to stand for Hatch's vacated seat, which he is rumoured to have expressed a private interest in, the stage could be set for internal strife within the Republican party.