This year's NBA season gave birth to a crop of future basketball superstars. Here's an overview of which rookie players rose to the occasion, on a consistent basis throughout the 2017/18 campaign.
Ben Simmons
Ben Simmons is a point guard who's regarded to be a transcendent player. He was originally Drafted in 2016 as number 1 overall pick. Unfortunately, he broke his foot and didn't play for the whole year. Luckily enough he was entrenched in the NBA culture, learning and studying of the kind of player he needed to be for the Philadelphia 76ers. Along with Joel Embiid he is known as part of 'The Process', a plan to transform Philly into a title-challenging team. Despite, being at the forefront of the race for rookie of the year, he lacks a long and mid-range shooting game. However, he makes up for it by being big and strong. At 6 feet 10, Simmons is known for his raw ability to drive to the rim. The Australian born player moved to America and attended LSU for his college career (averaged 19 points, 5 assists, 12 rebounds) he was dubbed Lebron James part 2 or the 'Prince', due to his high basketball IQ. Even though he never participated in the NCAA basketball finals, scouts had seen enough to place him in number one draft position. In the NBA he's averaging 16 points, 9 assists, and 9 rebounds. In the regular season nearly averaging a triple-double, is a well-respected feat. He passed Magic Johnson's number of triple-doubles in a rookie season, with a total of eight.



Simmons show glimpses of greatness throughout the regular season. Are we looking at a Magic Johnson 2.0? ( Image via Sports Illustrated)
Donovan Mitchell
Whilst playing for Louisville cardinals Mitchell averaged 15.6 points, 2.7 assists, 4.9 rebounds. The 6 foot 3 shooting guard and the number 13 draft pick for Denver nuggets, was traded on the night to the Utah Jazz. The attention on Mitchell leading up to the draft wasn't a lot and now he's the hottest prospect from this years draft even though he wasn't number one or even top ten! He elevated the Utah jazz play-off chances in a tough Western conference with less talent on his team compared to Benn Simmons. For the Jazz he averaged 20 points, 4 assists, 4 rebounds in the regular season. He also set the Jazz scoring record for a rookie with a 40-point game against the New Orleans Pelicans. Mitchell was also the 2018 All-Star Slam dunk contest winner with his recreation of Vince Carter's iconic dunk. He even rocked Carter's Toronto Raptor Jersey from 1999.

Donovan Mitchell pays homage to Half Man, Half Amazing to take home the #VerizonDunk Contest trophy!#PhantomCam pic.twitter.com/o1zrdHhuT7

— #NBAAllStar 2021 (@NBAAllStar) February 18, 2018
It's fair to say in the playoffs there was quite a difference in their performances. Donovan Mitchell has been able to despatch the reigning MVP Russell Westbrook in the first round whilst salvaging an away game against the number 1 seed in the Western Conference, Houston Rockets,  in the second round. Whereas collectively the Philadelphia 76ers had a great playoff run. Ben Simmons had a number of games where he disappeared and due to his lack of shooting ability and shot selection was really easy to guard. This weakness was especially exposed in the second round against the Boston Celtics who won the series 4-1.
The Rookie of the Year award is a regular season performance trophy and with both players being exceptional overall it might start weighing on people's minds with what they've seen in the playoffs to make their deciding factors.

Honourable Mention : Jayson Tatum

Jayson Tatum the small forward for the Boston Celtics, number 3 pick in 2017 draft, has all the fundamentals locked down and steps up when it really matters. He can shoot, he can create and he can defend. Averaging 13.9 points, 1.6 assists and 5 rebounds per game. For someone who's a rookie he has the skill level of a player who's been in the league for 4/5 years, moreover he has been a crucial piece already for the Celtics this season due to the injury of Gordon Hayward.  In this year's playoffs, he has been the most exciting rookie to watch. More importantly, under the leadership of Brad Stevens, Tatum's weaknesses can easily be transformed into his strengths. Case and point, Isaiah Thomas, who was exceptional for Boston despite being listed at 5 foot 9.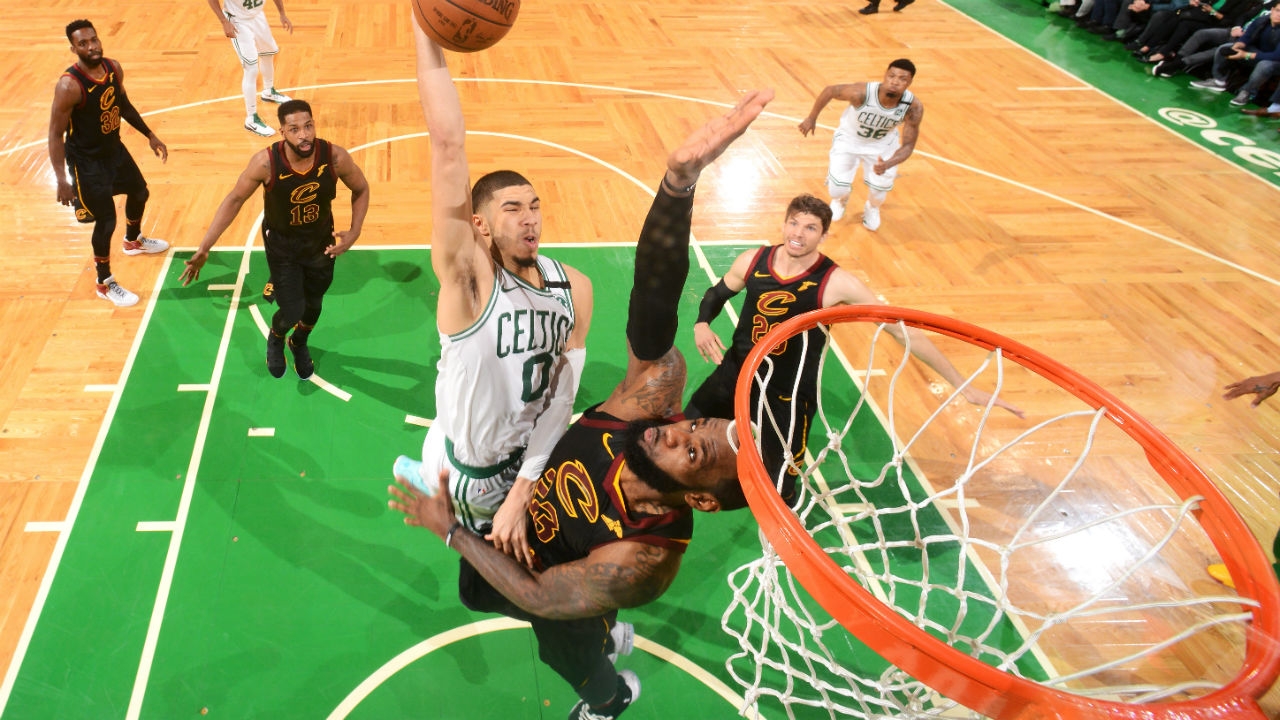 Tatum laying down a devasting dunk on LeBron James. (Image via Youtube)
June 25th 2018 is the date of the award ceremonies for all the categories this year including the MVP, Sixth man of the Year, Defensive Players of the Year and so forth. Whatever the outcomes of these there will be a lot to talk about in the off-season with moves all over the league imminently happening.
Let us know who think will take the title of NBA Rookie of The Year. Comment below.