Following an ongoing social media witch-hunt, 40-year-old TV presenter Caroline Flack was found dead in her North London flat on the 15th of February a few weeks before her trial. The prominent TV hostess, who was renowned mainly for her role in presenting Love Island, X-Factor and I'm A Celebrity Get Me Out of Here, committed suicide by hanging, as found at an inquest in London. Her death has fuelled outrage and raised questions regarding what ultimately compelled her to take her own life.
Gaining insight into the lack of mental health support available for people in the limelight, the mainstream media and the increasing prevalence of cancelled culture can strengthen our understanding of Flack's final fleeting thoughts and the cultural outlook we as a nation have developed towards celebrities and public figures.
An Imperfect Victim
Prior to her death, Flack had been subject to intense scrutiny by the tabloids and the general public following her arrest on Thursday 12th December where she was subsequently charged for domestic assault.
After the incident, Flack was at the receiving end of a cascade of intense criticism from fans and the general public who, after her arrest, reviled the TV star publically on her social media channels. With a recently disclosed history of domestic abuse (as revealed by her ex-fiance), many were beginning to doubt Flack's credibility as an individual and her professional suitability for the role of Love Island presenter. This led her to eventually step down from the role.
The conversation, therefore, follows on from here – did Flack's own flawed decisions warrant this influx of abuse? Was the online hate the overarching cause of her death or was it a potential history of mental illness? What can be gathered from this discussion is that a complicated personal background should not detract from the tragedy of an individual's passing. Yet despite this, as human beings, we inevitably judge others based on their actions and evaluate our own character through judging our intentions. This mentality has ultimately lead to increasingly untenable and critical reactions to celebrities and influencers.
A 'far from perfect victim' can be considered a victim nonetheless. The barrage of scrutiny and hateful comments – compounded by an anxiety-ridden waiting period from the delay in her arrest and potential conviction – could evidently be seen to contribute to Flack's fragile mental state – as confirmed by her family and close friends.
Measures to reduce the stress imposed on defendants through shortening waiting periods between trials has been considered by the CPS as the implications of Flack's death have accelerated reform regarding how defendants with underlying mental health issues are dealt with. It can, therefore, be seen, that Flack's deplorable and somewhat volatile personal background was used as a springboard for many to initiate a campaign of online bullying that further deepened pre-existing mental strains which have been speculated to have eventually led to her death.
The Question of Cancelled Culture
Alongside her personal situation, the tabloids and social media can be perused in their role in causing Flack's death. As a result of being a household name, Flack's dominant online presence was indisputable.
The digital age in which we are living has made disseminating opinions, facts, lies and stories easier and more accessible. The prevailing trend of cancelled culture has added further legitimacy to this new phenomenon – as ordinary social media users take it upon themselves to condemn the actions of public figures. This has revamped the scope of mob mentality in the current era and has somewhat increased its detrimental impact. Cancelled culture in action can be seen today mainly online, affecting not only legitimate TV stars such as Caroline Flack but also other influencers who have grown to become prominent in their respective industries and communities such as James Charles. As a result of a torrent of abuse on social media following a scandal for which he was 'cancelled' by the online community, the social media make-up artist subsequently alluded to his fragile mental state and suicidal thoughts.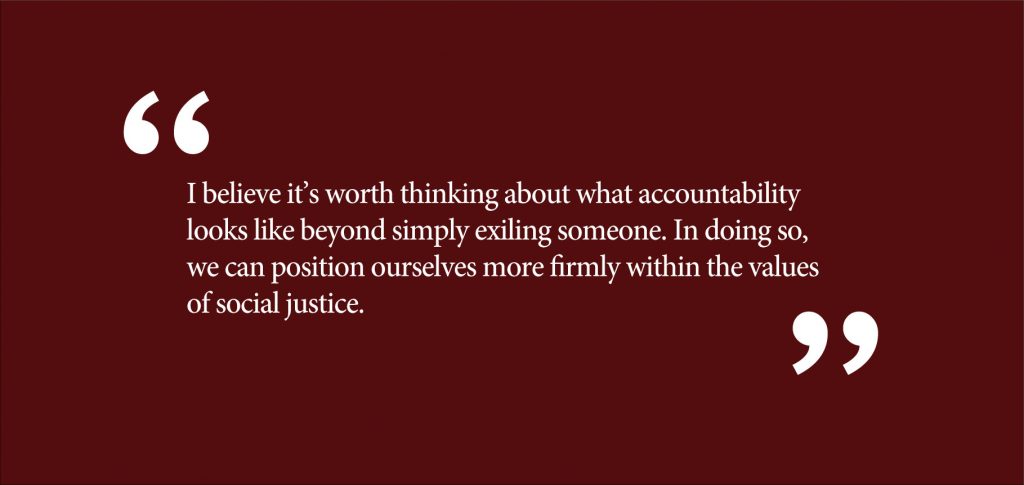 Furthermore, irresponsible reporting used by more traditional media outlets such as tabloids have also contributed to mob mentality by circulating inflammatory headlines and somewhat advocating hateful abuse for profit. Both these components can be seen to have further intensified the general sentiment regarding Flack around the time preceding her trial.
Cancelling Love Island: an Obsolete Solution?
The final leg of the debate instigated by Caroline Flack's death revolves around the future of Love Island. With a controversial history of exacerbating the mental health of its participants, Flack is the third individual associated with the show to have taken her own life. This has called into question how suitable the programme is from not only a viewing standpoint but also from the perspective of the participants.
After the cancellation of The Jeremy Kyle Show in 2019 following the suicide of Steve Dymond after a failed lie – detector test, action to match such drastic measures with Love Island have been called for. Since this hasn't yet materialised it can be argued that there is a conflict of interest when considering the cancellation of the show as it has procured a steady fanbase over the years and a substantial viewership. However, the question still remains: to what extent did the inherently toxic message projected in Love Island attribute to Flack's death?
From a surface view of the facts and an understanding of the general context of Flack's personal situation – Love Island's controversial reputation doesn't correlate with her passing. Despite this, the underlying detrimental effect it seems to have had on the mental health of its participants aligns with the overriding themes in Flack's personal narrative.
Questions over how to safeguard mental health, improve social relations and potentially advocate for a more regulated digital environment are all therefore important considerations and conversations to be had in the wake of this tragedy.