Last week, former President Barack Obama delivered a speech as part of the 2021 United Nations Climate Change Conference. In it, he calls for global cooperation, asking world leaders to think about the risks associated with climate change. He encourages them to lower emissions and push their governments and companies towards a "clean energy future".
He spoke with urgency and criticized the nations, industries, and political parties that are slowing progress on that front.
Specifically calling out India, China, and Russia, he noted that "most nations have failed to be as ambitious as they need to be." "The ratcheting up of ambition that we anticipated in Paris a few years ago has not universally been realized," he continued.
Speaking directly to the younger generation, he said, "You've grown up watching many of the adults who are in positions to do something about it either act like the problem doesn't exist or refuse to make the hard decisions necessary to address it… Folks in my generation have not done enough."
While criticizing the deniers and obstructionists, he also expresses empathy for those who must still rely on fossil fuels or those who have more immediate concerns (ie. hunger, electricity, crisis) than a slowly warming globe. He mentioned the mother in rural India just looking to keep the lights on or the blue-collar worker who could never afford a Tesla. Both of these people, he said, are at risk of being ignored and left behind in the race to clean energy.
This is perhaps the most interesting insight in a speech that largely went as you would expect. The insight can be directly applied to current conversations around climate change in the United States.
Alluding to this in his speech, Obama described America's current conversation on climate change, saying, "back in the US of course, some of our progress stalled when my successor decided to unilaterally pull out of the Paris climate agreement… I wasn't too happy about that."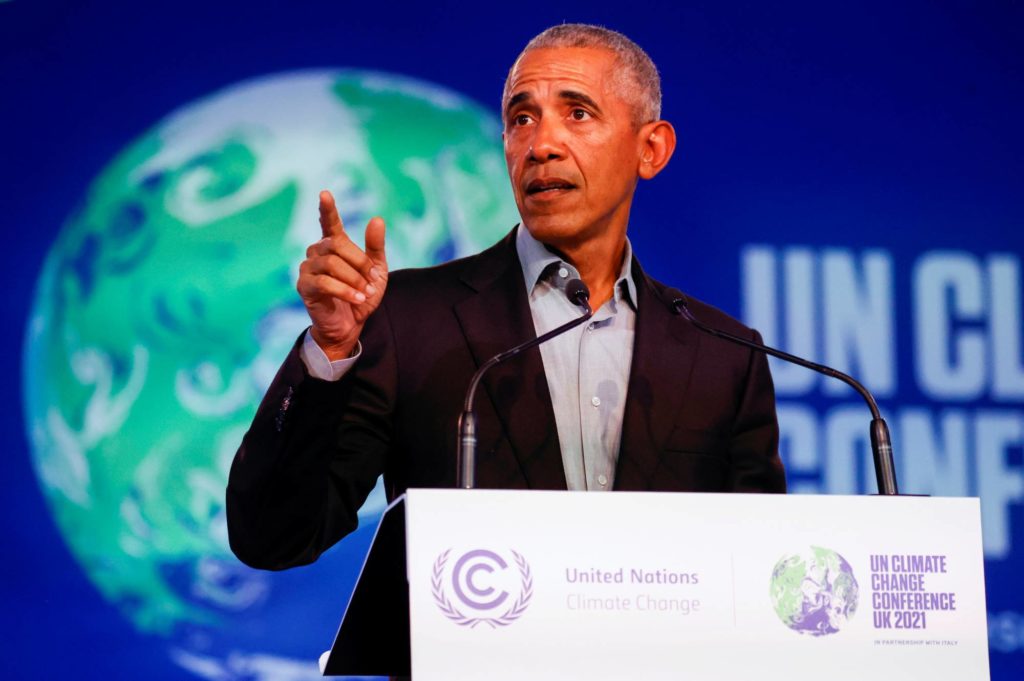 With the US executive branch vocally against climate change policies from 2017-2021, much of the conversation was politicized during Trump's administration.
Remnants of this era resurfaced during negotiations to pass a recent $1.5 billion dollar infrastructure bill. While liberal Democrats like Alexandria Ocasio Cortez, Bernie Sanders, or Elizabeth Warren pushed for the slowdown of fossil fuels and rapid expansion of renewable energy, moderate Democrats like Joe Manchin insisted that industries like coal be protected. This led to weeks of infighting and scapegoating, painting liberals as a "threat to fossil fuels" and moderates as "climate obstructionists."
These characterizations are unproductive, says Obama. He tells his listeners that global cooperation is essential if we are to mitigate the effects of a changing climate. Blame games like the one over the infrastructure bill cannot keep happening if we wish to be effective in saving the planet.
Considering the gridlock over the issue in American politics, he encourages young people to "vote on the issue, as if your life depends on it… because it does."
As the conference ended, headlines leaving the event included newer nations committing to lowering emissions goals (India), a pledge to share clean technology with developing nations, and the passing of the Glasgow Climate Pact, a deal meant to explicitly limit the use of coal.
But will these pledges even make a difference?
Obama is optimistic that they will.
"We need to celebrate these commitments, even as we demand the signatories of these commitments follow through," he said to the room.
"If we stay with it, we will get this done."