It's coming up to Halloween and people all over are searching for their perfect costume, Witch hats are being bought, fake blood is being splattered, but amongst the light-hearted fun, are individuals purchasing outfits to resemble real serial killers? Even if it needed explaining in the first place, here's why you shouldn't be dressing up as The Milwaukee Monster.
Who is Jeffrey Dahmer?
Jeffrey Dahmer, also known as, 'The Milwaukee Monster', was an American serial killer and sex offender who committed the murders and dismemberment of seventeen men and boys between 1978 and 1991. The majority of Dahmer's victims were young, Black, Latino, or Asian men. He was convicted of fifteen of the sixteen murders he had committed in Wisconsin and was sentenced to fifteen terms of life imprisonment on February 17th, 1992. It is thought that systemic racism and institutional failures within the police were one of the reasons why he was able to continue his murders for more than 10 years. Dahmer was later sentenced to a sixteenth term of life imprisonment for an additional homicide committed in Ohio in 1978. He was beaten to death by Christopher Scarver, a fellow inmate at the Columbia Correctional Institution in Wisconsin.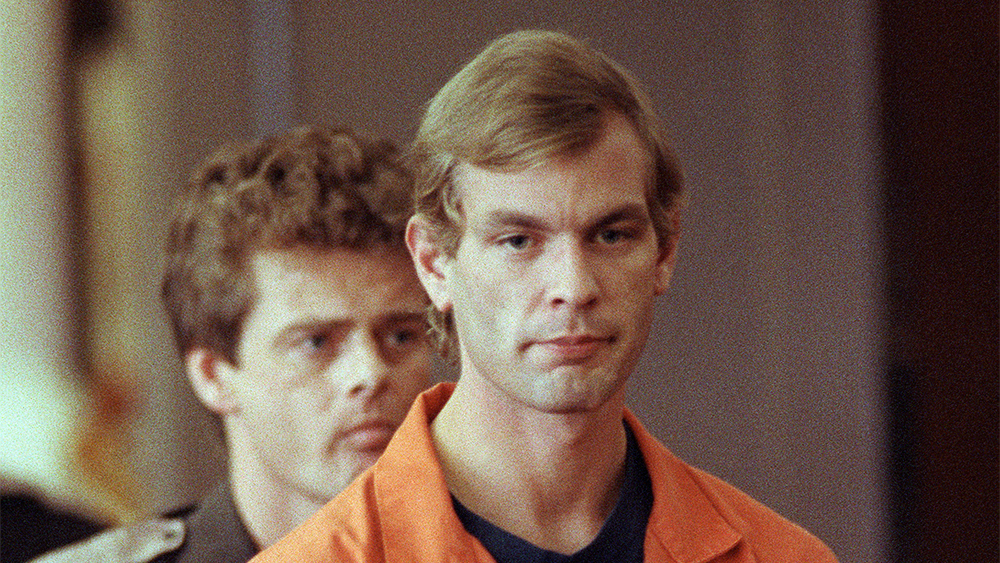 Why is this suddenly being talked about in 2022?
On September 21st, 'Monster: The Jeffrey Dahmer Story' was released on Netflix, starring Hollywood actor, Evan Peters, as Dahmer. The show quickly became one of the most-watched shows on the platform. The 10-episode series depicted the lead-up to Dahmer's murders, showing parts of his childhood, alcoholism, and the most gruesome and shocking aspects of the murders and cases.
However, the series has caused mixed reviews on social media, including some of the victims' families. Rita Isbell, the sister of Errol Lindsey, one of the serial killer's victims, explained her family had not been consulted by Netflix:
"I was never contacted about the show. I feel like Netflix should've asked if we mind or how we felt about making it." But it's not just Netflix's lack of communication with the victim's families which is concerning. A Jeffrey Dahmer costume may be one of the most popular Halloween outfits for 2022.
Is there a confusion between reality and fiction within true crime series?
But the prediction of Dahmer being a popular Halloween costume is part of an even larger conversation, is there a line not being drawn between reality and fiction when it comes to depicting crime in television entertainment series?
There have been other reaction videos that have surfaced which react to the Dahmer series. One which caused much backlash was the TikTok of a woman who appeared to be wearing earrings with Dahmer's face on them, with the caption 'not gory enough for me.' This is not the only individual on social media who felt the depiction of the real-life murders in the series were not gruesome enough. It pushes forward the idea that when presenting these real-life crimes in television series with Hollywood actors people can lose a grip on grip that this is reality forgetting that it isn't fictional content.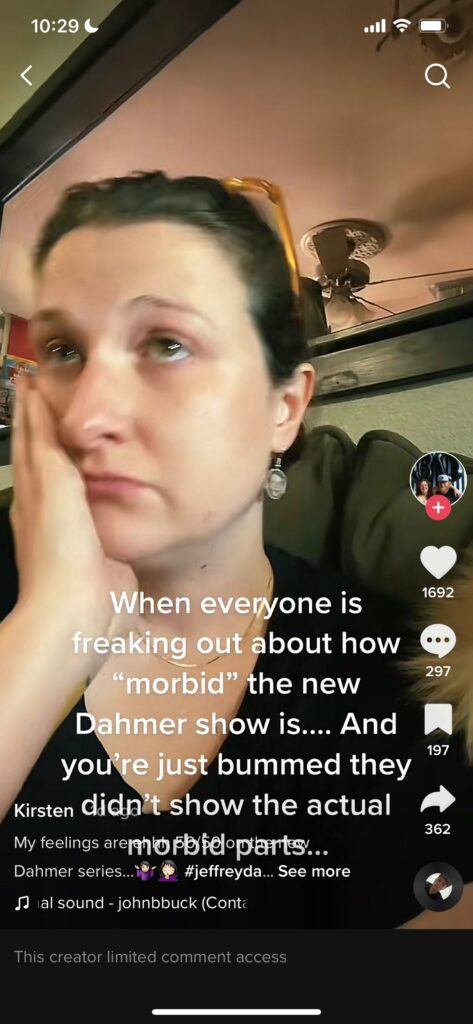 As well as this, the series' inclusion of Dahmer's childhood and alcoholism left some viewers to say that they felt 'sorry' for him. The television series was aimed to give a 'voice to the victims.' It brings up another question of how the series' portrayal of Jeffrey Dahmer was a romanticisation of the events that occurred, viewers were at risk of being desensitised due to the remake of the atrocities that happened.
With the timing of the series release serving as a lead-up to the Halloween holidays, individuals have already been reportedly dressing up themselves or their children as Jeffrey Dahmer. With a quick search on TikTok, it is very easy to find inspiration videos on how to recreate the Netflix Jeffrey Dahmer outfit. Searches for "Jeffrey Dahmer costume" have surged across platforms since the show's release, with that hashtag earning over 8 billion views on TikTok.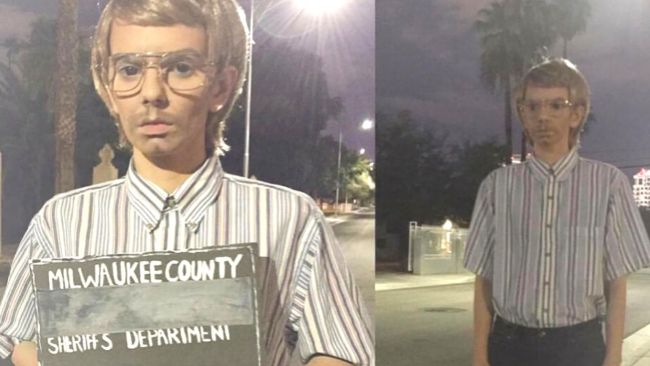 However, some companies are taking a stand against the insensitivity and inappropriateness of the selling of Jeffrey Dahmer costumes. Ebay has banned sales of Dahmer paraphernalia on its platform, saying it violates the e-commerce company's "violence and violent criminals policy," a spokesperson told CBS MoneyWatch. Specifically, the policy prohibits listings that "promote or glorify violence or violent acts, or are associated with individuals who are notorious for committing violent acts," and is intended to promote safety while respecting the victims of violent crimes, according to the company.
Following the reaction to the series release, if it needed explaining, here are a few reasons why it is inappropriate to dress up as a man that took 17 lives.
Consider the families of the victims and what an awful and horrific experience it would be for them to walk past an individual who is dressed up as the murderer of their loved one.
The majority of Dahmer's victims were part of the LGBTQ+ and Black, Asian and Latino communities, dressing up as Jeffrey Dahmer is insensitive towards these communities and shows little care towards them. 
It's romanticising a real-life serial killer.
So before you run out to buy your Halloween costumes, bear in mind that dressing up as real-life serial killers is not a light-hearted joke… it's just incredibly weird.