by Uzma Chaudhry
It's not a total secret that there's a muted hostility towards Muslim passengers on any flight that isn't the PK710 7pm flight to Lahore every Wednesday and Friday. Whether consciously, or unconsciously, there is a very visible, extremely clumsy change in facial expression when they spot your un-ironed hijab among the sea of budget airline passengers travelling to Dublin. Perhaps it's important to add that they could, very reasonably, be mortified at the sheer number of creases you've had the audacity to leave the house with. And I'll be the first to admit that I'm not proud of my total inept-ness in the hijab ironing department (sorry Mum) but in the instance it's not that, I've created a handy list of tips on how to minimise that terroristy vibe that visibly Muslim passengers seem to unknowingly emulate. Fear not brothers and sisters, I've got your back. Unless you insist on travelling in crocs. In which case, I can't (read won't) help you.
Paint a smile on your face DESPITE THE FACT THAT IT'S 4AM.
(Very real, and definitely legitimate) Studies have shown that 78% of Muslims that smile whilst flying will have a more comfortable flight. If you can't lift those cheek muscles at 5am, Fenty Beauty do a damn good liquid lipstick. I advise you beg your friend to help you draw on a Joker-esqe grin to appease the masses and put those non-Muslims at ease because trust me, someone who spends £19.00 on a lip paint, isn't about to blow anything up any time soon.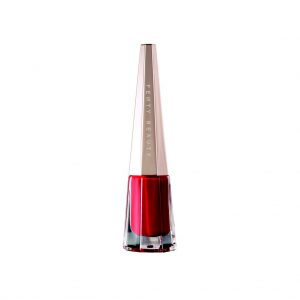 Fenty Beauty lipstick from Rihanna's new collection of make-up.
Don't read. Anything. In any language. Out loud. Or in your head.
This one is fairly self-explanatory. Our timelines and newsfeeds in the past year have been bombarded with stories from Muslims being kicked off their flight for merely speaking in languages that aren't English through to professors being escorted off the plane for working on differential equations. The safest way of minimising suspicion is to adopt a vow of silence for the entirety of the flight except if asked what flavour peanuts you'd like or to comment on how mild the air is.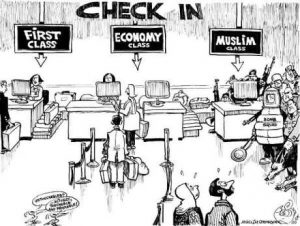 Don't be too friendly with other passengers. But also don't be distant. A little bit of friendly but not totally creepy.
There's an undeniable urge to want to prove to those around you that you're approachable, conversational and very accepting. You're allowed to make conversation in the lounge but limit your topics to the weather, X Factor, and at a stretch, the rising cost of Freddos. There is a risk of course of appearing too interested though. So avoid asking intrusive questions such as what prompted their decision to pair green shoes with a purple pair of jeans.
Exclusively wear British Flag Merchandise
In one final attempt to break down an imagined barrier, failing your painted smile, and enlightened conversation on whether the X Factor is fixed, you can emulate Britishness in the most overt way possible. Use a British Flag to adorn your head, face, arms, legs and even socks where possible. Sing the national anthem before take-off, drink Yorkshire tea exclusively out of your Queens Golden Jubilee mug and on landing exclaim how excited you are to establish British sovereignty in the country you've just arrived in.
I feel it's also important to say that this fear is deeply rooted in disillusionment post 9/11 and amplified beyond any kind of rational, objective sentiment. This unattainable quest to integrate and dissolve an us versus them barrier is not only exhausting but impossible. I'm not claiming by any means that appropriate safety measures shouldn't be taken. I'm all for sellotaping up windows before take-off having not (yet) bought into Ryanair's organic air conditioning in the way of gaping holes in the aircraft. Just, where you're statistically still more likely to be struck by lightning despite boarding 20 flights a year, tone down the unfair animosity towards people with creased and uncreased hijabs. But not crocs. Never crocs.
Uzma Chaudhry works full time in business sales at Telefonica. She is studying Politics, Philosophy and Economics part –time with Open University as a means to make sense of the world in which we exist! She is a v·inspired ambassador whose work revolves around empowering young people into volunteering and leadership. In her spare time she enjoys musing in her blog and has writing pieces on faith and race, offering a more holistic perspective on current affairs. If she has any juice left by the end of the week, she creates Youtube videos for her channel Caruzmatic as well as run a small venture in selling her bespoke art for ucdesigns.co.uk