by Ife Sarumi
In the past ten years reality TV has been on demand for our viewing pleasure thanks to the likes of shows such as; Big Brother, Geordie Shore and Jersey Shore. Viewers can switch on their TV to watch the inconceivable shocking displays of debauchery on these shows. You would think we would at some point stop watching, except people became more and more addicted with each new episode as if they're living vicariously through their favourite characters. It is then no surprise that these shows are still very much relevant and sought after. They've shaped our 'pop culture' today. As each protagonist finds new ways to keep us entertained, producers satisfy our thirst for entertainment with new creations of exciting British reality TV shows. Shows such as Made in Chelsea and Love Island, popular shows amongst the British public, are created. Why? Because they achieve their purpose. They remove us from our own daily (perhaps) mundane realities of life and offer us a new dimension to focus on (even if it's just for one hour on a Sunday evening).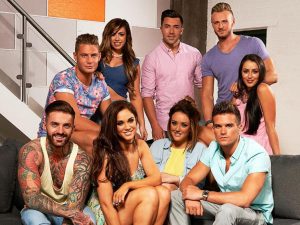 However, there seems to be a reoccurring theme with these shows: the low representation of ethnic minorities, specifically black women is glaringly obvious. Some editors have assumed that perhaps the British public do not recognise ethnic minorities in their daily lives, and so would not be able to relate to them on screen. This based on the idea that audiences are drawn to characters they can relate to. It does feel true that ethnic minorities would not seek the option to be on reality TV due to the current lack of representation. Its a vicious circle. Either way, Black women are still misrepresented even when they are finally given a platform.
Here is the most recent case study: Joanna Jarjue, a contestant who made the final round on the Apprentice 2017. If you are an avid social media user, you will have observed the typical negative adjectives that she was branded with throughout her time on the show. Words such as "aggressive" and "uncooperative" where in overflow. Contrastingly, other viewers held the opinion that she was simply "passionate" and "frustrated" because she was not being listened to and so her exasperated nature was justified. Compared to her colleague on the show, Elizabeth McKenna who Lord Sugar himself described as "overbearing" and "bossy" and was still defined by him as "hard working", Jarjue seems to have caught a rough deal. An onlooker would have assumed Jarjue was the weakest candidate on the show when compared to other contestants. Weekly she was subject to negative comments by her colleagues and even on social media. Yet, despite obstacles such as her age (23) hindering her business experience and maturity, or her race, which she cannot erase, she had the "best record to date" observed by Karen Brady (a judge on the show). This forces us to beg the question, was their intention to force Jarjue to play the "angry black woman" narrative this season?
After the Guardian article on the portrayal of Alexandra Burke on Strictly come Dancing had been circulating, Jarjue decided to defend her stance on the social media platform, Twitter. She wrote;
Was obvious to me what my 'character' was going to be & cried about it behind the scenes but was always scared to voice it out of fear of looking like I was playing the 'race card'. Glad so many other people have noticed especially after it's so blatant after the final 5 ep. https://t.co/XNE68Ywqny

— Joanna Jarjue (@joannajarjue) December 16, 2017
But Jarjue would not be the only Black woman on British reality TV to 'suffer in silence' to avoid 'playing the race card'. Although 'Big Brother' contestants are cast to be controversial and argumentative, when Black contestants do not play up to this they are perceived as that regardless, due to racial stereotyping. Aware of this unwritten fact is Deborah Agboola, a 2017 Big Brother contestant who was pegged by betting companies as a favourite to win, but still could not shake off that racial stereotype. She landed in third place, despite her popularity both at the betting shops and on social media because she had to combat the preconceived stereotype of her ethnicity before she could be deemed as tolerable by her housemates and Big Brother fans. Despite her efforts, she was labelled as aggressive by housemates during arguments. To which Agboola responded, "If I took away my skin colour…no one would say I'm aggressive."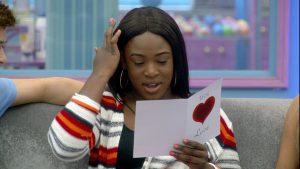 Whenever you see a black woman playing herself on TV, she must first ascribe to the consequence of being presented as 'angry', even if that is not in her nature. Only then would she have satisfied the intention of the producers – to put one token black woman who plays up to the perceived stereotype of the 'angry black woman' in society on the show. While black women are shown disdain for displaying a natural human reaction, their white counterparts are rewarded for it, because their reaction is warranted and stereotyped as being gentle and harmless. McKenna for example, on 'The Apprentice' was praised for being passionate about the success of her team and so was justified for being overbearing and treating her colleagues as though they were sub-servient to her. However, Jarjue was vilified for being argumentative and uncooperative when she expressed her thoughts – even when she was calm.
Kehinde Andrews, a Sociology professor and co-editor of Blackness in Britain had similar observations, stating that "Every time you see these reality shows, you see they get ethically cleansed very quickly. These shows speak to how black and ethnic minority people are viewed with suspicion across Britain."
This means no matter how much a Black woman tries to run away from the stereotypical perception of the 'angry black woman', due to conscious and unconscious bias in the British public they will always be labelled as the aggressor. Now the discourse we should be having is demystifying stereotypes and propelling a range of representations on our screens to enhance inclusion and decrease racial prejudice.
Ife Sarumi was born in Nigeria but her formative years were spent in the UK. She is passionate about female empowerment and how politics can serve in aiding this cause. This is her main reason for studying BA Politics and Philosophy at the University of Hull and is currently involved in numerous social initiatives advancing the progression of her passion. Keep up with her progress on Twitter: @ifesarumi1