Since becoming the 45th President of the United States of America, Donald Trump has found himself in more than his fair share of arguments with his fellow celebrities, the latest of which is the Tonight Show's Jimmy Fallon.
In 2016 Fallon interviewed Trump and, as most things concerning Trump seem to do nowadays, the interview had a viral moment. A short clip of Fallon ruffling Trump's hair became a moment loved by few but overall hated by masses. In a recent interview Fallon expressed regret over how he had handled his interaction with Trump. He also opened up about the backlash he had since received and the low ratings that his show has had since the interview aired.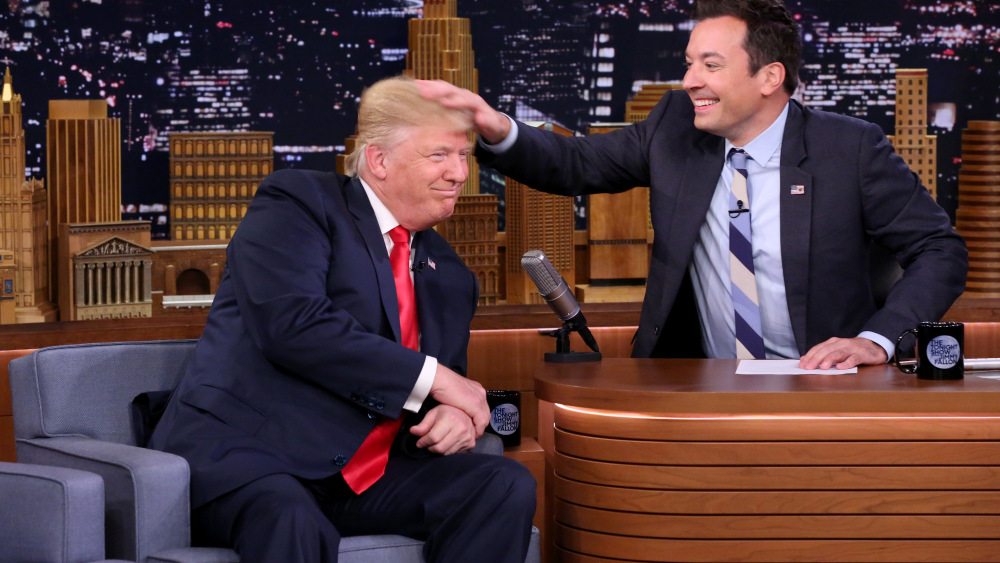 This didn't go down so well with Trump who took to ranting first on twitter and then at a rally in South Carolina.
.@jimmyfallon is now whimpering to all that he did the famous "hair show" with me (where he seriously messed up my hair), & that he would have now done it differently because it is said to have "humanized" me-he is taking heat. He called & said "monster ratings." Be a man Jimmy!

— Donald J. Trump (@realDonaldTrump) June 25, 2018
In the tweet Trump claimed that Jimmy called him and implied the call was to thank him for the "monster ratings" that the show had received and he went on to tell Jimmy to be a man and to "stop whimpering"
Jimmy responded using is monologue during the Tonight Show. He opened by giving a shout out to their 'Number 1 fan' – the President of the United States. He went n to say "As you may have heard, last night the President of the United States went after me on twitter. So Melania, if you're watching, I don't think your anti-bullying campaign is working". Fallon also asked if Trump didn't have anything better to do than tweet him and then in retaliation he made a donation in Trump's name to RAICES – the Refugee and Immigrant Centre for Education and Legal Services.
"I've never called this human in my life," Jimmy Fallon said of Trump suggesting that the host called to say he got "monster ratings" thanks to him. "By the way, Donald, I don't know if you've seen my ratings the past two years, but you didn't help."

— Frank Pallotta (@frankpallotta) June 26, 2018
Fallon also separately addressed the issue of the call during the show. He alleges that the call never took place and that he had never used the term "monster ratings" and he also implied that his ratings actually got worse, not better as a result of their interview.
However, in true Trump fashion, a tweet didn't suffice. During his speech at a rally in South Carolina he went into details about how the hair ruffling moment came about and spoke briefly about the phone call that he claims took place and explained that the "be a man" tweet was due to the fact that Jimmy had apologised for "humanizing" Trump. He didn't stop there though, Trump then went on to call the Late Show host Stephen Colbert a lowlife and Jimmy Kimmel terrible.
Colbert, Fallon and Conan O'Brien banded together to make a comedic video response addressing Trump's comments at the rally. They make reference to Trump's comments by addressing each other as "Lowlife" and "Lost Soul" with Conan acting as though he's completely unaware that Donald Trump, or as he refers to him in the video "the real estate guy who sells steaks" has even become President.They even found a way to tie in a joke about meeting for lunch at Red Hen, the restaurant that Trump's Press Secretary, Sarah Huckabee Sanders was asked to leave.
This isn't the first time that Trump has found himself tweeting celebrities, in fact, it happens so frequently that it's hard to keep up. Whether it's some sort of power move or a cry for attention, we'll never know but we'll try our best to keep you updated.