Since Samuel Paty's beheading in France, other countries in Europe have had several attacks on their soil. In two cases, the terrorists attacked a church and a synagogue. One cannot help but feel as if the attacks are part of an attempt to challenge and overthrow Western culture. We must stand up to these people, or risk crumbling from within.
In November 2020, Austrian police responded to a co-ordinated attack by armed terrorists in Vienna. At the time of writing, five people have been confirmed dead and several more have been wounded. The attack took place simultaneously in six different locations, one of which were near a Jewish synagogue. The synagogue, known as Seitenstettengasse (the main temple in Vienna), is believed to be where the first incident began. Jewish community leader Oskar Deutsch reported that the synagogue was fortunately closed at the time of the attack. The response from European leaders has been clear and supportive.
These attacks have been strongly condemned, including by French President Emmanuel Macron, who said that "Europe must not give up", in relations to these attacks. In this context, to "give up" something means to acknowledge a problem, challenge or conflict at hand. It's no coincidence that these attacks have happened so quickly, following Macron's uncompromising stance on France's secular values and freedom of speech. It's also no coincidence that two of the subsequent attacks were carried out on or near religious property (a church and a synagogue). Europe is under attack.
Emmanuel Macron made himself clear when he condemned the attack. He said, "We the French people share the shock and grief of the Austrian people, struck this evening by an attack in the heart of their capital, Vienna. After France, a friend of ours is attacked. This is our Europe. Our enemies must know who they are dealing with." The attacks come less than a month after French high school teacher Samuel Paty was beheaded for 'daring' to show his pupils satirical cartoons about the Islamic Prophet Muhammad in a lesson about secular values and freedom of speech.
"France has been attacked by Islamist terrorists because it embodies freedom of expression, the right to believe or not to believe and a certain way of life. The French people… will not surrender any of France's values…"

Emmanuel Macron, in a letter to the Financial Times
Since then, attacks have taken place at a church in Nice, and at a synagogue in Vienna. All these attacks happened within weeks of each other, with the method of the attack also being particularly savage. Both Paty and a victim of the Nice attack were beheaded, and it's reported that people in Vienna heard what sounded like automatic guns being fired. Reuters reports that a gunman in the Vienna attacks previously tried to join Islamic State in Syria. The frequency and ferocity of these attacks paint a picture of the challenge that Europe now faces, as well as sending a clear message to world leaders; these attacks could (and probably will) become more frequent.
Following the attack in Vienna, the UK has raised its terror level from 'substantial' to 'severe'. According to the BBC, UK authorities believe that an attack is 'highly likely', and Home Secretary Priti Patel said the British people should be 'alert but not alarmed'. Of course, this is a logical and understandable reaction to the previous attacks, and currently the UK has no intelligence of an imminent incident. Even so, one cannot help but feel a sense of inevitability in reaction to this. Whenever there is a senseless loss of life, inspired by a particular ideology, there will be those who see it as a success and attempt to emulate it. They will feel convicted enough to push the boundaries and create copycat incidents, further pushing the momentum to inspire others to create their owns attacks. It's a vicious cycle. It could be argued that this is the whole point of the terrorism; to create an environment that is so dangerous that people are scared into silence. 'Obey us, or be killed', is the narrative.
The attacks in France and Austria were caused by Islamists (not Muslims – there's a distinct difference). Samuel Paty's death was because he made the fatal error of teaching children about secular values (including freedom of speech) by showing Charlie Hebdo's cartoons depicting the prophet Muhammad. The other attacks in Nice and Vienna involved a church and a synagogue respectively. One of the people who died Nice was the sexton of the church. It's no coincidence that they targeted individuals who 'insulted' them by exercising their rights to speak and worship freely, as neither insulting the prophet Muhammad nor being Christian or Jewish was acceptable to them.
France is a secular state politically, yet the Pew Research Center found that approximately 54.2% of French citizens regarded themselves as Christians. Across Europe, a Eurobarometer survey found that Christianity Is the largest religion, accounting for 64% of EU citizens. Therefore, it could be argued that not only were these attacks on individuals, but an attack on French culture (and by extension, European culture) itself, both religiously and secularly. This is extremely dangerous.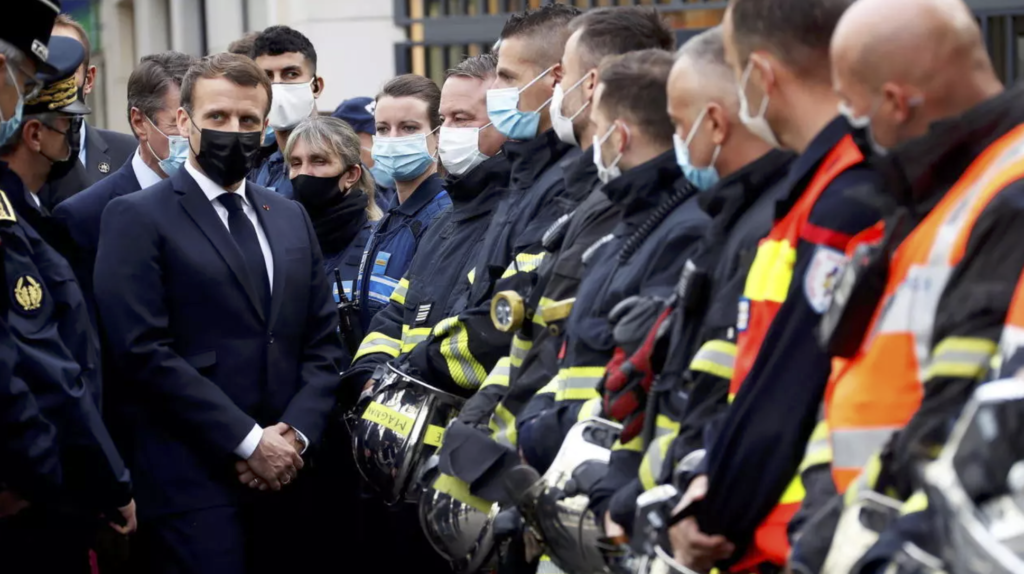 It has been demonstrated that fear and intimidation are tools used to coerce people into giving up their rights. Whenever people fear for their lives, they go into a state of mind known as 'fight or flight' (scientifically known as the acute stress response). This is triggered by a release of hormones that prepare us to either stay and deal with a threat, or to find safety. How that 'safety' manifests itself varies depending on the situation; in the context of terrorism, it means to appease terrorists and give into their demands.
If such a demand was to be made by people who choose 'flight', the result would be to give in to the Islamist demands. However, in doing so, they would have to sacrifice civil liberties; ones which some aren't willing to give up so easily. The Islamists wouldn't stop with Charlie Hebdo; they would seek to enforce an entire cultural upset from the ground up. They would never be happy until their worldview is imposed onto the citizens of the country. Freedom of speech would be no more.
"They who can give up essential liberty to obtain a little safety, deserve neither liberty nor safety."

Benjamin Franklin, 1775, Founding Father of the United States
History teaches us to be vigilant of our civil liberties in the wake of national traumas. There is no compromise in cases like these. Europe is under attack by those who to seek to impose their views upon nations and their cultures. Their tactics are to use fear and intimidation to coerce people to give up fundamental rights, in the name of peace. Blasphemy laws and the basic premise of freedom of speech cannot coexist in countries like France. It's one or the other. If we truly value our culture, religious freedom, traditions and values, then there can be no room for weakness.