Every day in the UK, someone dies waiting for an organ transplant. To enable more people to save more lives, the law around organ donation has been changed.
What is the opt-out system?
From May 20th, new legislation, Organ Donation (Deemed Consent) Act came into effect creating an 'opt out' system, following a number of other countries including Wales and Spain. This means that every adult living in England is automatically considered as an organ donor unless they have a recorded decision to not donate or are part of the excluded groups.
It is commonly referred to as the 'Max and Kierra Law' in recognition of Kiera Ball, a nine-year-old whose organs was donated after a fatal car accident, saving 4 lives including that of nine-year-old Max Johnson whose heart was failing after infection.
Why is the law around organ donation changing?
The opt out system is in response to the national shortage of donors and the increasing demand of organ transplants. There are currently over 6,000 people on the UK Transplant Waiting List and currently around 400 people die waiting each year.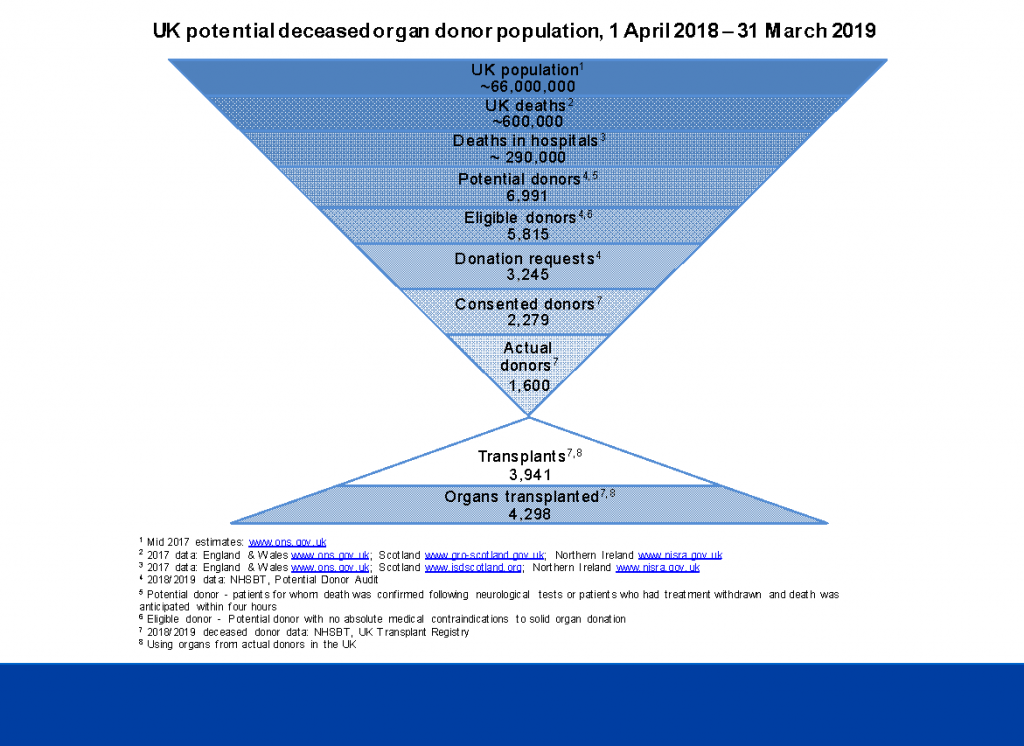 It is hoped that the opt out system will lead to 700 more organ transplants by 2023 and start a national conversation around organ donation especially within Black, Asian and Minority Ethnic (BAME) communities.
Why is ethnicity important in the conversation on organ donations?
In the UK, a higher proportion of people from BAME backgrounds develop high blood pressure, diabetes and certain forms of hepatitis, are more susceptible to organ failure and in need of a transplant at some point in their lives. Genetic matches between donor and recipient are key to transplant success, and people from the same ethnic group are more likely to be that match.
BAME patients are overrepresented in the transplant list but only make up 6.5% of the organ donation register. For every black deceased donor , there were 31 black patients in need of an organ.
The challenge in increasing the number of BAME donors often stems from cultural and religious beliefs; in a survey of 1000 BAME Londonors, 51% said they were unwilling to donate for religious reasons. A common assumption shared is that your organs are needed after death, and that you should go to your maker whole so donating organs would compromise that. Furthermore, it's often reported that some communities lack trust in the government system and believe that the duty of care given by health professionals would be greatly reduced if they were on the organ donor register.
To break down these myths and barriers, and to increase support for organ donation within BAME communities, NHS Blood and Transplant have partnered with community-based organisations such as Caribbean and African Health Network (CAHN), who work to empower and equip faith and community organisations to shape and deliver health services across Greater Manchester. CAHN leads the Precious Life Savers project aimed at increasing awareness, knowledge and support for organ donation. Rev Charles Kwaku-Odoi, Chief Officer of CAHN says "recruiting faith leaders as ambassadors for organ donation and improving diversity in organ donation nursing specialism will aid in overcoming myths and barriers in the black community".
There are some exceptions to the rules for people under 18 and family and religious preferences will be taken into account. As the majority of the population welcomes the opt in system, this may mean a much wider pool of people on the register. However without tackling the distrust and lack of information within communities at its root, as well as within faith groups and teachings, this legislation may make the situation worse. Giving up bodily control, even to 'save lives' can be problematic, given the impropriety and historical inequality black and brown people had and continue to have with the state and health systems.
Words and deeds
Discussions in families, with children and in forums where people's concerns are actively listened to are all still very necessary to empower people with facts. Only 42% of BAME families agreed to organ donation by a deceased relative, compared to 71% of white families in NHS Blood and Transplant statistics. Families are simply not having these conversations and BAME people feel it's safer to say no in these moments of crisis. While the above recent campaign shows it is open conversations that matter, it's not only within family groups. 2017 figures showed 47% of UK donations happened when the patient's wishes were not known at the time of death. Training for doctors and intensive care staff to not only have informed and compassionate conversations with patients' families but to listen, understand their loss and normalise the impact of donation, especially for those with possible religious or cultural misgivings. Transparency engenders trust.
Spain, a world-leader in donation rates has a refusal rate of just 18%. Dr Rafeal Matesans who leads their national transplants organisation, attributes their success to training 16,000 intensive care doctors in identifying potential donors and 200 coordinators specifically to spend more time with patients and families, generating "open discussions" between them and systems. Tailored work of faith and community organisations tackle access to information and taboos, but more must be done to mirror this approach within the wider health systems, to engage multicultural populations as active partners and supporters in their own care.
For more information and to register your decision visit: www.organdonation.nhs.uk
Adesewa Adebisi is a recent Biochemistry graduate from The University of Huddersfield with an upcoming Masters of Research in Oncology. She is also Sabbatical Officer for the University of Huddersfield.