Content Warning: article contains physical, emotional and sexual abuse
The facts
Two hundred fifteen children have been found under Kamloops Indian residential school, one of the largest residential schools in Canada.
Chief Rosanne Casimir of the Tk'emlups te Secwépemc First Nation has said that there are more places to search in this residential school, meaning the figure could rise.
Following this, meetings have taken place across the country as Indigenous leaders investigate other grounds.
Since the discovery, there has been mass outrage and horror by many Canadians and across the world.
On May 29th, people gathered outside Vancouver Art Gallery, where 215 pairs of kids' shoes were displayed to showcase the discovery at Kamloops Indian residential school.
Residential schools
Between 1874 and 1996, 130 or more residential schools existed in Canada, and these schools took children from First Nations, Metis, and Inuit backgrounds. In the 1920s, it was mandatory for parents to send their children to these schools, and if they failed to comply, parents would be sent to prison. Children in these schools were forced to speak English and French and not their Indigenous languages. They were also forced to convert to Christianity, and the Roman Catholic Church were responsible for up to 70% of the residential schools, including the Kamloops Indian residential school.  
According to the Truth and Reconciliation Commission (TRC) report in 2015, this school system was deemed cultural genocide. Children in these schools were subjected to physical, emotional, verbal and sexual abuse from staff. It has been reported that up to 6,000 children died in these schools, but the number could be even higher due to bodies being reported missing and never being found. As late as 1945, the death rate for children attending residential schools was nearly five times higher than those attending other schools in Canada. In the 1960s, the rate was still double that of other Canadian schoolchildren. These residential schools were poorly built, poorly heated and had poor sanitation.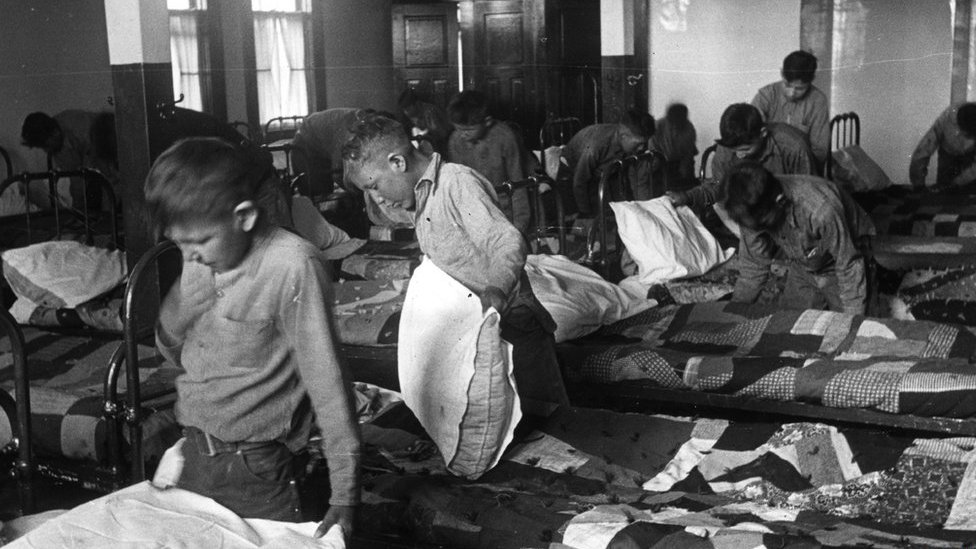 Reactions
Since the discovery at Kamloops Indian residential school, Canada's prime minister Justin Trudeau has suggested that searching for more unmarked graves was "an important part of discovering the truth". He has also called for the Pope to apologise for the Catholic Church's role within these residential schools and "to step up" and take responsibility. There is growing pressure for the Catholic Church to apologise for its role in this school system, but it has refused to do so. This is despite Trudeau requesting the Church to issue an apology during a meeting, in 2017.   
In 2019, the Canadian government committed 33.8m Canadian dollars over three years to develop and maintain a school student death register and set up an online registry of residential school cemeteries. So far, the National Centre for Truth and Reconciliation has only received a fraction of that money. From the TRC report in 2015, there were 94 calls for action and six recommendations, and according to CBC, 10 of the projects have been completed, 64 are in progress, and 20 have not begun.
Assembly of First Nations National Chief Perry Bellegarde has said that "the outrage and the surprise from the general public is welcome" regarding the findings at Kamloops Indian residential school. However, the chief continued and suggested that "the report is not surprising." According to Terry Teegee, regional chief of the British Columbia Assembly of First Nations, survivors of these schools have been telling "horror" stories of these schools for decades.
There have also been protests in the country, including at Ryerson University in Toronto, demanding investigations into these schools and for the Pope to issue an apology.
Protestors at Ryerson University dismantled a statue of Egerton Ryerson, who was one of the many people responsible for Canada's residential school system.
University president Mohamed Lachemi has said that the statue will "not be restored or replaced."
Lawmakers and First Nations groups are now calling for all former residential schools to be examined.